Shiplap. Farmhouse sinks. Rustic chic. HGTV star Joanna Gaines made all these things famous thanks to her show, "Fixer Upper" where she starred alongside her hubby, Chip, as they remodeled people's homes in and around Waco, TX.
Along with being the queen of the modern shiplap movement, she is also quite a cook and baker. I got her cookbook "Magnolia Table: A Collection of Recipes for Gathering" a few years ago and I love that her food is flavorful and yummy with just a little bit of fuss.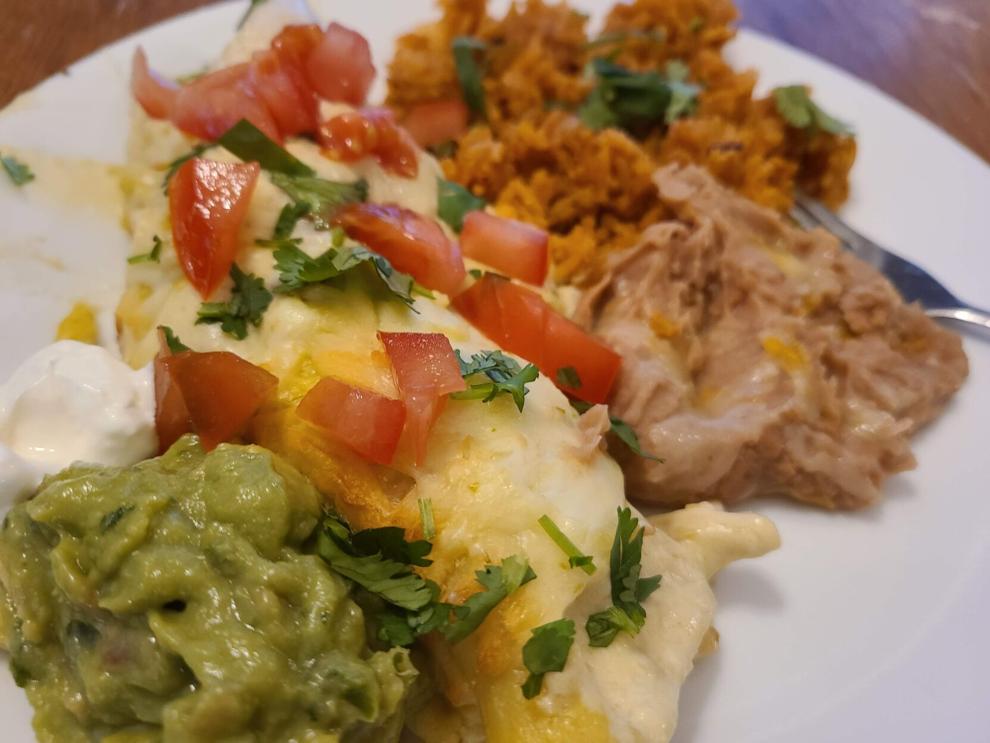 We were feeling like Mexican so we decided to make her Sour Cream Chicken Enchiladas and Mexican Rice. 
To be honest, there were pros and cons to this recipe. My regular chicken enchilada recipe takes a long time to make as I do it almost all from scratch including the enchilada sauce. Joanna's recipe uses useful shortcuts such as rotisserie chicken and quick store bought ingredients like canned enchilada sauce, sour cream and cream of mushroom soup. I loved the quickness and my husband loved, loved these enchiladas, but for me, they just weren't as good as my other go-to recipe.
I think that once my kids get old enough they would love these and my husband said to add them into the regular rotation.
On the other hand, I love, love, love her Mexican Rice recipe. It's fast, but doesn't cut corners on flavor. 
All in all, I would make this again when I am craving enchiladas, but don't want to commit a solid couple hours to making them. I would definitely recommend the rice though with any Mexican dish you are craving. 
So thanks for dinner, Joanna Gaines
Sour Cream Chicken Enchiladas
Vegetable oil spray
2 10-ounce cans mild green enchilada sauce
1 10.5-ounce can condensed cream of chicken soup
1 8-ounce container sour cream
4 cups shredded meat from 1 rotisserie chicken 
1 4-ounce can diced green chiles 
1 14-ounce bag grated mozzarella cheese (about 3 ½ cups)
10 10-inch soft flour tortillas
1 vine-ripened tomato, cut into ¼-inch dice
½ cup chopped fresh cilantro 
1 lime, cut into wedges
Mexican Rice for serving
Canned beans for serving
Position an oven rack in the top third of the oven and preheat the oven to 350 degrees F. Spray a 9x13 baking dish with vegetable oil.
In a large bowl, whisk together the enchilada sauce, chicken soup and sour cream. Spread about 1/2 cup of the sauce in the baking dish. Set aside the remaining sauce.
In a medium bowl, combine the chicken and the chiles. Toss until well combined and set aside.
Set aside about 2 cups of mozzarella for topping the dish. 
Sprinkle some mozzarella on a tortilla then add some of the shredded chicken and chiles. Tightly roll up the tortilla and space it seam side down in the prepared pan. Continue with all of the tortillas, chicken and mozzarella. And put the tortillas into the baking dish as they are filled. Push the others up against one another as necessary so that all the filled tortillas fit in a single layer.
Pour the remaining sauce over the filled tortillas. Bake for 20 minutes. Remove from the oven and sprinkle the reserved mozzarella on top. Bake until the cheese is melted, about 15 minutes.
Serve with chopped tomatoes, cilantro and lime wedges. Also can be served with Mexican rice and some kind of beans.
Mexican Rice
3 Tbsp. vegetable oil
1 1/2 cups long-grain white rice, rinsed (only necessary if your rice's instructions directs you to do so)
1 tsp. ground cumin
1 white onion, finely chopped
1 garlic clove, minced
1 (8 oz.) can tomato sauce
2 1/4 cups chicken broth (or water)
1 tsp. kosher salt
1/2 tsp. freshly ground black pepper
1/2 cup minced fresh cilantro or parsley, optional (for garnish)
Heat the oil over medium heat in a large saucepan.  Add the rice and saute, stirring, until lightly browned (about 10 min.).  Add the cumin and cook for 30 seconds. Then add the onion and garlic, stirring often until softened (about 5 min.).
Add tomato sauce, chicken broth, and salt and pepper.  Bring to a boil, stir once, cover, and reduce the heat to simmer for 20 minutes.  Remove pan from the heat and let it stand still covered for 10 minutes.
Fluff the rice with a fork and sprinkle with cilantro/parsley.
Both recipes reprinted from Magnolia Table: Copyright © 2018 by Joanna Gaines. Published by HarperCollins Publishers.