Aug. 8 has long been a day that reminds me to take my time, never pass on making someone laugh and maybe fall asleep in a chair.
That's because Aug. 8 is my grandfather Richard Anderson's birthday.
Born on Aug. 8, 1937, weighing 8 pounds and 8 ounces, at 8:08 — this is all according to him — Richard Anderson was born with his first story built in.
Gramps has been gone for almost two years now, but his stories – and there were many — live on in his children, grandchildren and great-grandchildren. We never quite knew how much his stories were grounded in reality, but we all enjoyed listening to them as much as he enjoyed telling them. Long car rides with him, my cousin David Willemssen and I usually featured his greatest hits from his days running a grocery store in Sibley or his adventures as a traveling salesman for Farley's & Sather's Candy.
A favorite tale among the family, one that we were able to witness in real time, revolved around Grandpa's rivalry with a squirrel he named Oscar. In the early 1990s, Grandpa complained that Oscar the squirrel was ransacking his and Grandma Gene's bird feeders. Like Wile E. Coyote, Gramps hatched scheme after scheme to thwart his fuzzy nemesis. I remember my sister Jennifer and me wrapping garbage bags around a tree in the front yard as passerby's looked on confused. Of course, Oscar had no trouble hopping from tree to tree, above the garbage bags I guess, and making it to the feeder. After a couple years, Grandpa and Oscar apparently made a truce and the war on squirrels ended.
David and I have a love for sports largely because of Grandpa. Growing up, I remember Gramps being a fan of the Los Angeles/Oakland Raiders. After years of irrelevance, the Raiders lost him to free agency. From that point on he cheered for the Patriots, Ravens, Giants and Patriots again.
I can almost sense a pattern.
Pro football was far from the only league that held his interest. I'd be lying if I said I didn't have an extra sense of excitement in being accepted at the University of Iowa because the Hawkeyes were Grandpa's No. 1 team. Shortly after I started attending UI, he called me up to tell me that he turned his front porch into "Joe's Hawkeye room." Most of his phone conversations would abruptly end with "OK, bye." Years before, he turned David's bathroom into a shrine to the Kansas City Chiefs, clad in red and yellow. The Hawkeye room was far tamer, but I could sense his pride the second I stepped on the lawn for the first time after it was finished.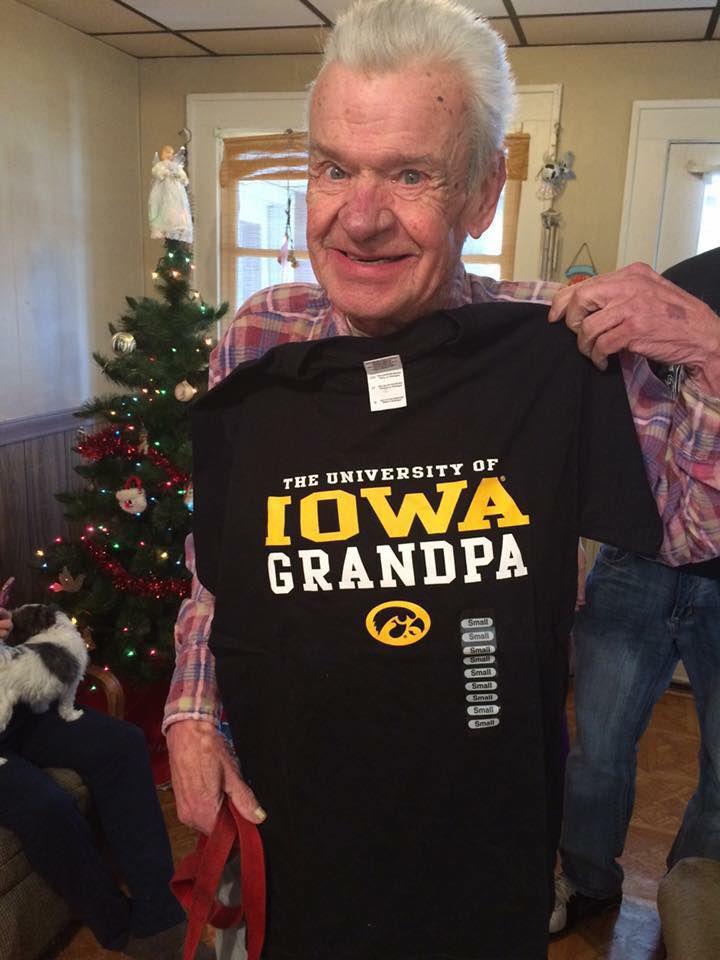 Richard Anderson was dangerous with an extra can of paint. He was once scolded by a firefighter for painting the fire hydrant in front of the house yellow, red and blue. David's 1987 Chevy Berretta got a flat black paint job, which he said he did not ask for. Lawn rocks, grills, swing sets — nothing was safe.
Speaking of paint, David and I spent almost every summer of our youth climbing Grandpa and Grandma's house slapping on a new paint job. We could have scraped off the old paint better and applied primer, but then how would Gramps get us back to do it next year? At the time, I couldn't wait to come down from that rickety old ladder, but now I would risk certain doom in a heartbeat.
If Grandpa wasn't sitting on the porch swing, he would often be found on his lawnmower. For a short period of time, he mowed the lawn for a farmer in the Sibley area. That was until said farmer purchased a herd of goats.
"I was replaced by goats!" he'd say with a laugh.
After his venture as a for-hire groundskeeper, Gramps bought a pop-up camper trailer. No, he wasn't going to post up near his favorite fishing hole. He promptly had the top of the camper removed so he could use it as a garbage trailer. He drove around Sibley in his station wagon that he purchased for a cool $100, offering to pick up furniture and appliances to be brought to the Northwest Iowa Solid Waste Agency & Recycling south of Sheldon. He got the biggest thrill out of ascending that giant hill — of trash.
Even in hard times, Grandpa found a way to make everyone smile. During Grandma's funeral in 2015, Gramps bravely stood in front of us and did what he does best — he told stories. Some of these stories I hadn't heard before and I was in such awe that I wouldn't dare try to retell them now, in fear that I'd mess up the punchline. The pastor made one attempt to retake the podium, but Grandpa remembered another story before he found his seat and hastily shuffled back to the front of the room.
This is the time of year that David, his sister Katie Willemssen or I would help Grandpa log into a pro football picks game so he could routinely beat us for another season. Now we look back fondly at the countless memories we had with him.
OK, bye.