I can't imagine gaining weight for about nine months and then getting rid of it all of a sudden.
I've learned more about pregnancy in July and August than I've ever thought I would in my life thanks to two free childbirth and parenting education classes.
My wife, Christina, and I took an "Understanding Birth" course on July 16 and a "Baby & Breastfeeding Basics" class on Aug. 14 at Sanford Sheldon Medical Center.
After taking those courses, I have a new appreciation for what Christina is going through as she carries our first child, especially with what I had the chance to experience after the latter class.
Have you ever heard of The Empathy Belly? I had seen them in movies and TV shows before, but I had never worn one — until Aug. 14, when Christina wanted me to wear the pregnancy simulator for a little while.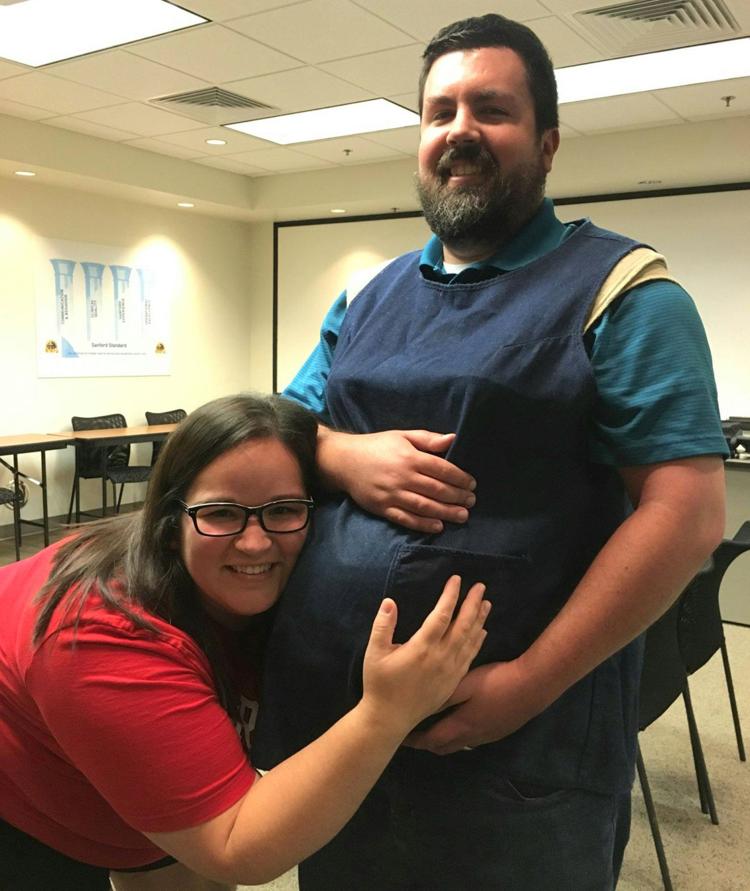 That way, I would briefly get to experience how it felt to carry around weight like a woman who is about nine months pregnant. Delighted, Christina — and our friends Josh and Bri Harrell, who also are expecting their first child — took photos while I waddled around.
I walked around the room we were inside in the hospital's basement while wearing the pregnancy simulator and lied down on the floor as well. I'm already out of shape, so the struggle was real as I huffed and puffed during this experience.
I also walked up and down a short flight of stairs, which, of course, caused me to breathe harder and harder the more I did that. My wife and our friends were enjoying the entertainment I was providing.
However, I was not the only one who had to wear the pregnancy simulator. Josh also had the chance to wear it, so at least I was not alone in learning what it is like to carry the weight of being about nine months pregnant.
I also have a low pain tolerance, so I'm extremely happy that my wonderful wife is carrying our daughter and not me. Christina is one tough woman, and I'm lucky to have such a lovely lady in my life.