It's Little Debbie Christmas Tree snack cake season.
Let's the sugar rush begin. 
I know that it's not even December yet. We haven't enjoyed the wonderful food binge that is Thanksgiving and that it's too early for Christmas. Tell that to the stores.
The holiday decorations, presents and food are already out in full force at retailers and I am at their mercy.
Some of my favorite Christmas food memories include the Little Debbie Christmas Tree Cakes and now the cakes just wake up my taste buds for Christmas. 
I was shopping with my son a few days ago and there it was. Right there on the shelf was the crack of the Little Debbie snack cake world — The Christmas Tree cake.
I am not ashamed to admit that I grabbed four boxes. 
The rest of the year I can take or leave a Little Debbie snack cake, but it's a rare occurrence that I actually buy them. 
I have a theory about why these snack cakes are so much better than the rest.
It's science. It all has to do with the ratio of the amount of edges to the amount of center of the cake. The Christmas Tree's unusual shape boosts the edge to center ratio. This should resonate with people who love the edge brownie pieces.
My love, some would call it an obsession, with these particular snack cakes is legendary with my family and friends. They call me when they spot them in-store or send me pictures of the box. When one person spots them then it's time to hit the stores and snatch them up!
This year, I passed down the obsession to my son.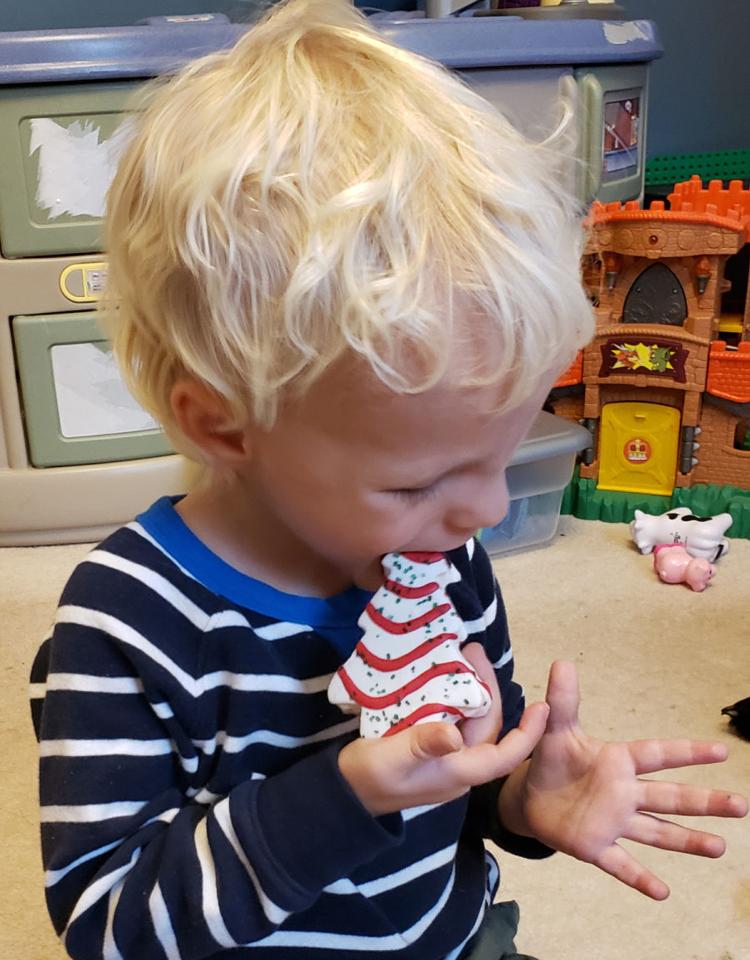 Harrison is almost three and had his first Little Debbie Christmas Tree Cakes this year. He's hooked. He ate pretty much a whole box in two days in a combination of toddler manipulation and outright thievery. 
He then proceeded to tell mama that we had to buy more. Lots more.
I didn't tell him that we had more already. I have them buried deep in a cupboard and only bring out one snack cake at a time — not the whole box. I learned my lesson.
Harrison might not realize it yet, but it's beginning to taste a lot like Christmas.