When the weather turns sunny and warm that means one thing to my taste buds: BLTs.
I absolutely love them and associate them almost exclusively with the summer season. I love their simplicity and their downright scrumptiousness. The weather has turned toward summer and therefore I am craving BLTs recently and decided to take my normal sandwich up a notch by checking out what celebrity chefs do to make their BLTs stand out from the crowd.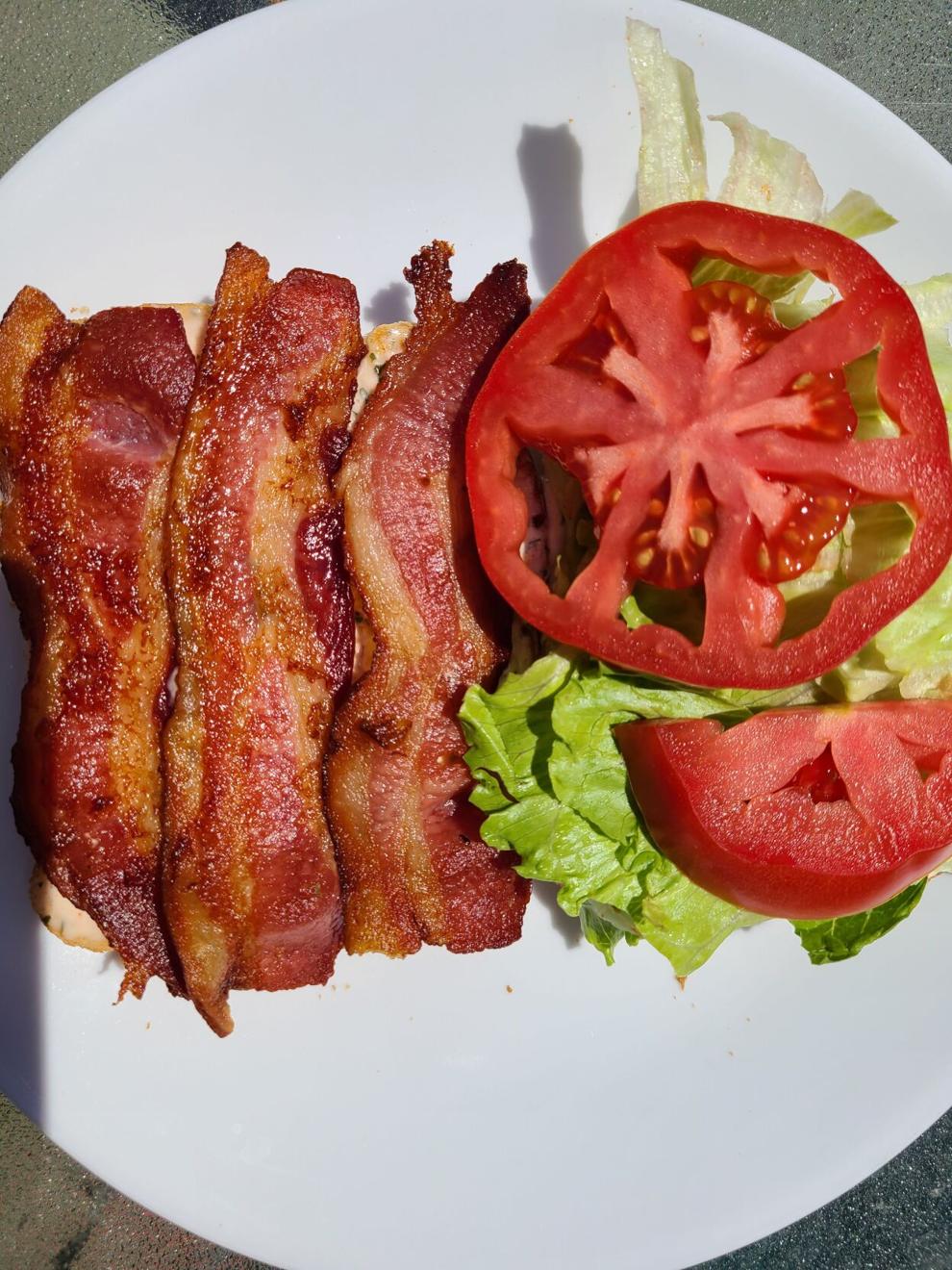 I didn't feel up to making a shrimp remoulade with deep fried tomatoes like Bobby Flay does. That seemed too ambitious for me. After weighing the other options I decided to try Joanna Gaines' recipe for BLTs. Her secret — an herby mayonnaise. 
I halved her recipe as it was just for my family and we didn't need to make eight BLTs. First I made the herbalicious mayo complete with garlic, chives, parsley, dill, paprika and lemon juice.
Just like her recipe calls for, I cooked my bacon in the oven — it's my go-to way to cook bacon. It's a lot less dangerous with two young kids running around. Also, I think the bacon gets cooked more evenly with less chance for splatter burns.
I toasted my toast like I normally do — in the toaster, sliced up some yummy heirloom tomatoes and washed some iceberg lettuce.
I was set to assemble.
I layered everything together and cut the sandwich diagonally, because I feel like it's a little fancier, and who doesn't like a little fancy every now and then?
The herb mayo took the BLT up a notch. It added some beautiful, fresh taste to an already dynamite sandwich. 
My husband said it was "OK," but my daughter, who isn't quite 2 yet, loved it. She ended up eating at least a quarter of my BLT after I had cut it into small bites for her. 
She must take after her mom.
So thanks for dinner, again, Joanna Gaines. 
Easy Herb Mayo
1 cup Mayo 

1 small garlic clove

1/2 teaspoon salt

2 tablespoon chives

1 tablespoon parsley

1 tablespoon dill

1 1/2 fresh lemon juice

1/2 teaspoon paprika

1/2 white pepper if you have it
Mix together all the ingredients and let them sit in the fridge for at least 2 hours.
Recipe courtesy of Magnolia Table by Joanna Gaines.