My husband brought home a watermelon the other day.
A whole watermelon. 
I was a little worried about it since it was so early in the season, but it was sweet and crisp and oh, so good. 
Even after we'd eaten our fill, I stared at what was left of this huge watermelon sitting on my counter knowing that my household, two adults and two littles, was going to have a hard time getting through all that juicy goodness before it went bad. 
We would certainly enjoy it just by itself but the wheels started turning in my brain. What else could we do with all this watermelon?
I thought about grilling some of it up and even throwing it in some salads. But in the end, when I closed my eyes and thought about watermelon, my taste buds traveled back to my childhood and whispered a recipe to me — watermelon pie.
My taste buds were calling.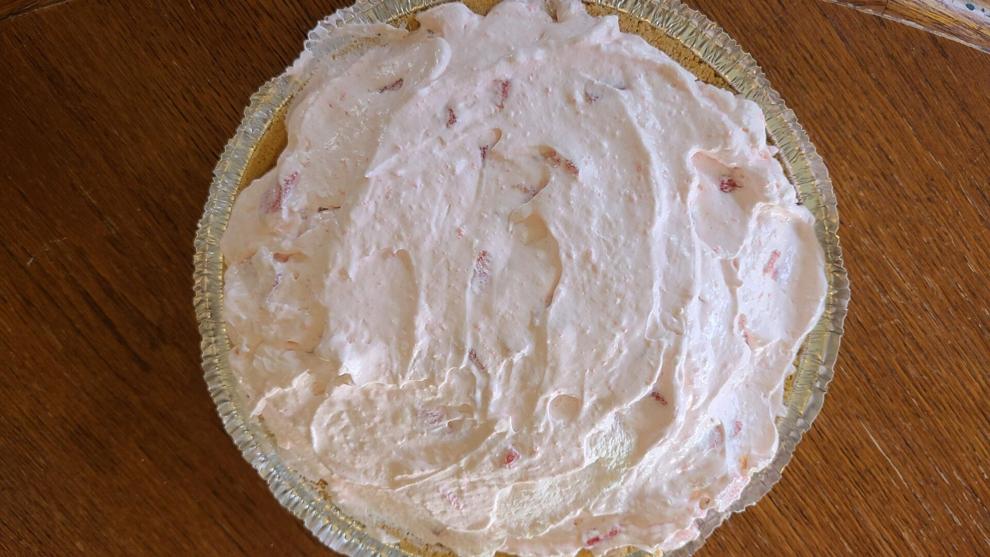 When I was young, this watermelon pie was something that I remember loving. It was fresh, crisp and creamy. I thought it might be something that my kids would enjoy eating and helping me make. 
I can't remember where we got this recipe from — I want to say from a family friend, but it's been lost in the sands of time. But thankfully, we kept a hold of the recipe.
It only has four ingredients, well, five, including some boiling water. And it's easy-peasy to pull together.
My son, who is four years old, loved helping me put this together. My daughter, who is just a few months shy of two years, didn't want to help, but certainly enjoyed helping "clean" up by licking off the spoons and the bowl alongside her brother. 
But they both loved the Watermelon Pie. I'm happy to report that we did, indeed, eat all of that yummy watermelon my husband brought home.
So thanks for dessert, my memory. 
Watermelon Pie
1 9-inch graham cracker crust
1 3-oz. Watermelon Jell-O
¼ cup boiling water
1 12-oz. Cool Whip, thawed
2 cups watermelon, cut into small cubes
Dissolve the Jell-O in the boiling water and cool to about room temperature. Combine the Cool Whip and Jell-O mixture together then gently mix in the watermelon. Pour it into the graham cracker crust. Put the pie in the refrigerator for a few hours and enjoy.