I covered the March for Justice for George Floyd in Spencer a little more than a month ago, but I was recently reminded of the passion for racial justice in the Clay County seat community on Thursday, July 2.
Spencer resident Jeanne-Marie Hardy sent me an e-mail with photos of a chalk mural her daughters, Isla and Ireland, created in the Hardy's driveway July 1 that says "Black Lives Matter" and has a huge heart placed below the phrase.
"What our children have created is beautiful and should be shared while it is still untouched," Jeanne-Marie said in that e-mail.
The last part of that sentence definitely got my attention when I read it, and she later explained part of the reason her daughters wanted to make the artwork was as a show of solidarity with friends of the Hardy family who live in San Diego.
That family's 10-year-old son, Jackson, had drawn his own Black Lives Matter chalk message in their driveway, but it was soon vandalized by having the N-word and a swastika drawn next to it.
"They wanted to kind of support him and put more positivity out there toward the cause," Jeanne-Marie said.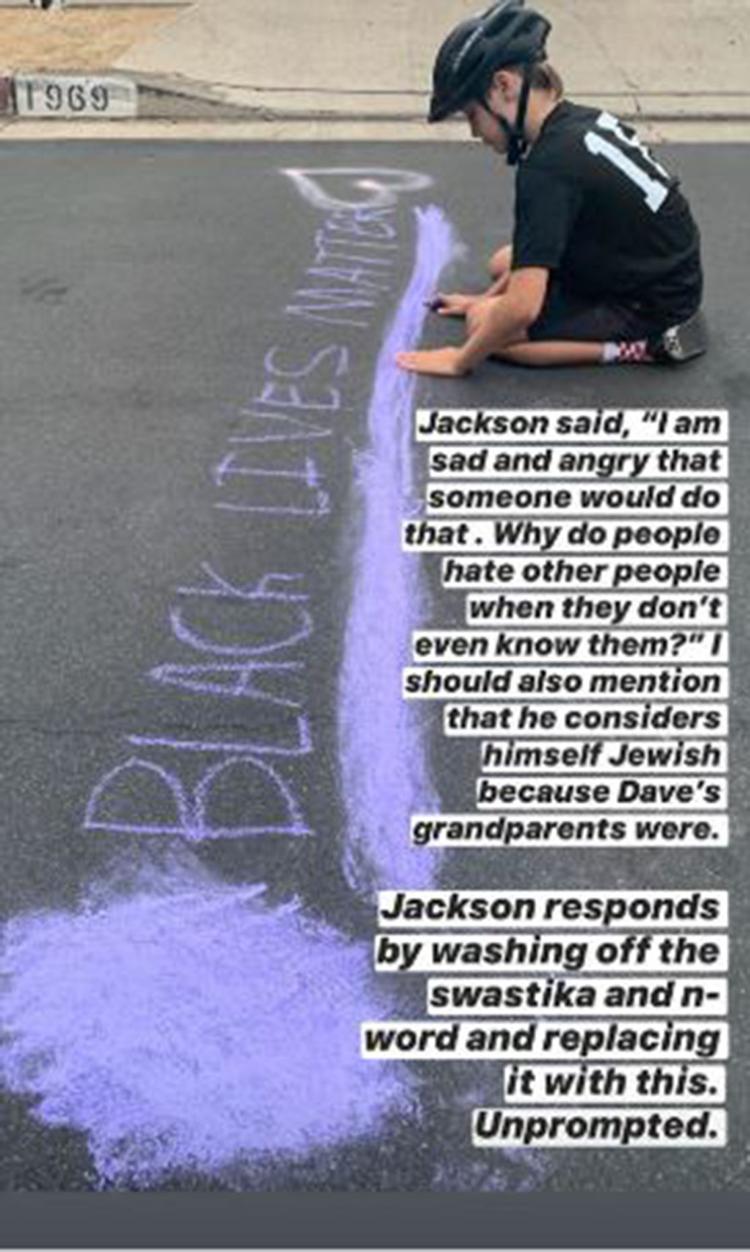 The Hardys have also been involved locally with the Black Lives Matter movement, having attended the aforementioned march for George Floyd.
Jeanne-Marie explained she had heard concerns from neighbors and other community members the march would involve a "riot bus" and that businesses had boarded up their windows in anticipation of looting.
None of that happened, of course, yet there were still several windows boarded up during the march. Jeanne-Marie recalled seeing bystanders, some of whom were armed with assault rifles, watching the event in anticipation of trouble that never materialized.
(I also remember seeing those armed men watching the march stoically— if any were to start an outbreak of violence, my money wouldn't be on the marchers to be the instigators.)
"It was great that there was a great turnout and it was all the things that we were trying to tell people it was going to be, but people had already made up their mind what it was and it had just taken a whole other life of its own, I guess, on Facebook," Jeanne-Marie said.
March for George Floyd in Spencer
Like the speakers who took to the stage at East Leach Park in Spencer the evening of the march, Jeanne-Marie has had her own run-ins with racism while living in the mostly white town as a Black woman with a biracial family.
She and her husband Paul, who is white and works as president of Spirit Lake-based Rembrandt Foods, moved to Spencer in 2017 after having lived in places all across the world, such as Chicago, China, London, Mexico, Miami and the Philippines.
Jeanne-Marie explained being a biracial couple in small town northwest Iowa is a different experience than in some of the larger cities they have lived.
"You don't necessarily stick out like a sore thumb in Chicago and Miami. And I'm from southern California," she said.
"It's a more common thing, so it's not like you stick out for any reason. In smaller towns, people do the double look in the grocery store or at the restaurant or that kind of thing. People take notice."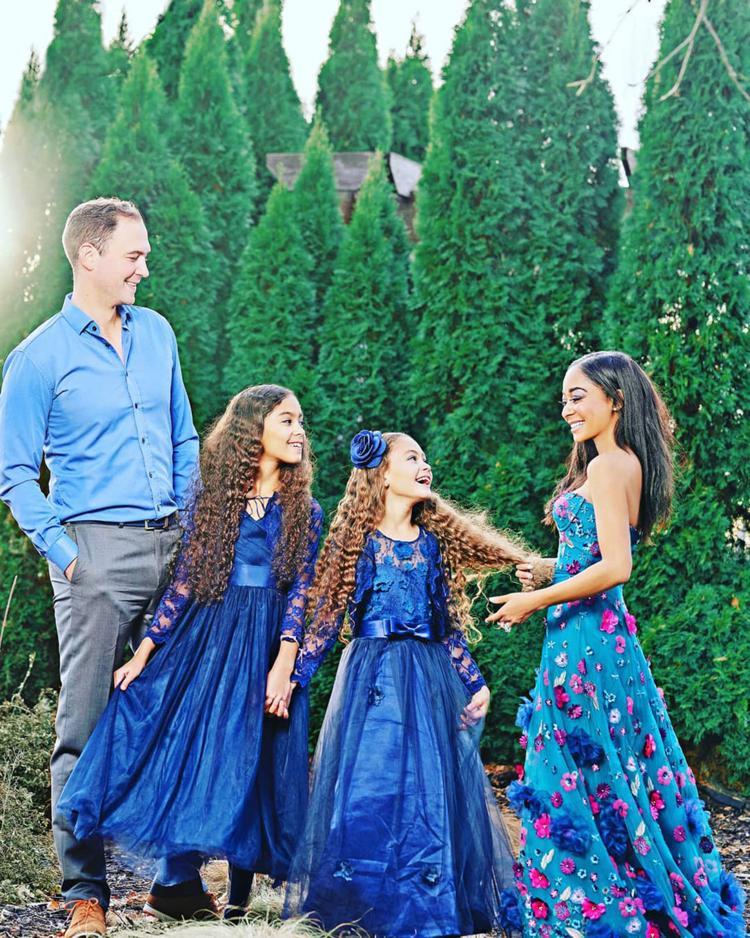 One notable incident occurred while Jeanne-Marie and Paul were in the process of having their house renovated in late 2017.
Jeanne-Marie, who also works as a professional interior designer, recalled entering the home to check on the renovation progress. Since the crew was there specifically for the floor work and wasn't the normal group of handymen who had been working on the house, they didn't recognize Jeanne-Marie as the homeowner.
She remembers one of the men asking her questions such as, "Does the homeowner know you're in the house?" and telling the other crew members they should call the owner about Jeanne-Marie's arrival.
"I'm like, "Well, it's my house, I can come any day that I want to come.' But on top of that, I was like, 'I'm here every day.' They just were working on the floor specifically, so they hadn't been here before," Jeanne-Marie said.
She eventually called her husband and had him call the construction company to settle the matter with the floor workers, who she said were apologetic once they realized she was indeed the homeowner.
Another incident of racism in the community just a few months later played into her and Paul's decision to have their daughters attend classes in the Spirit Lake School District rather than in Spencer where they actually reside.
During a basketball game in January 2018 between Spencer and Storm Lake, a section of the Spencer crowd chanted phrases such as "Go back to where you came from" and "USA!" that were directed at the mostly nonwhite players on the Storm Lake team.
"There were a few local incidents that had happened we had heard about, and then the one that got the most press was what happened at the basketball game at the high school here," Jeanne-Marie said. "So we decided to keep them in Spirit Lake, just trying to find the best fit and the best opportunity for maybe a little bit of diversity in the school, in the classroom."
She said Spirit Lake hasn't been a complete escape from racist incidents but noted racism will be present no matter where one goes.
Unfortunately, another recent example of racism occurred in Spencer July 1 — the same day the Hardy girls made their chalk mural.
My mom was the one who first told me about the incident, which occurred at the Walmart and involved a white female city employee (who has since been fired) yelling racist comments at LaTasha Jackson, a Black woman who was waiting in line ahead of the woman.
It turns out Jackson is the brother of Ty Jackson, who spoke during the Spencer march. He had explained to the crowd how he and his sister were the first biracial babies to be born in the town in the early 1990s.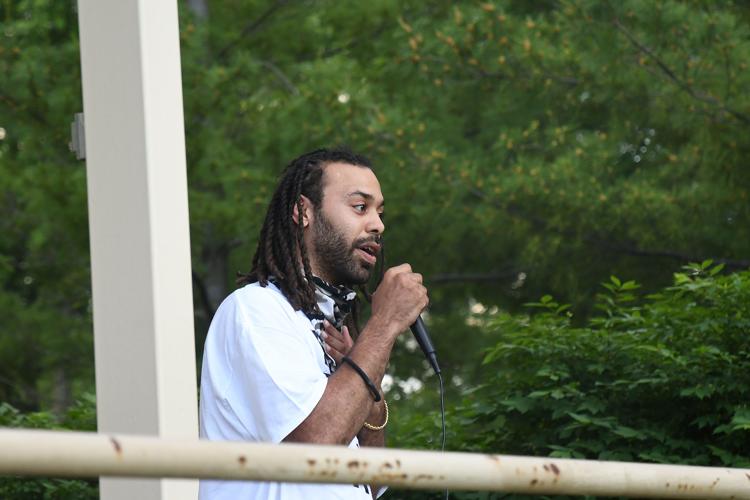 Such encounters of racism this year have come as a shock to many white people this year, since they — myself included — don't experience it. Some white people choose to simply ignore it, or worse, deny that it exists or else find ways to justify the actions of the people being racist while blaming those on the receiving end.
Others, like the people who vandalized 10-year-old Jackson's drawing, seek to push back against any show of support for racial equality and justice.
Jeanne-Marie told me the drawing her daughters made wasn't intended to stir up controversy or make people mad but was instead meant to promote positivity and unity around the Black Lives Matter movement.
I got another e-mail from Jeanne-Marie Monday afternoon. At first, I feared it might be a bad news update where she would say her daughters' work was vandalized or worse.
Instead, she told me her daughters recently made tie-dyed red, white and blue T-shirts for the Fourth and that she had stenciled in "BLM" on the front of them.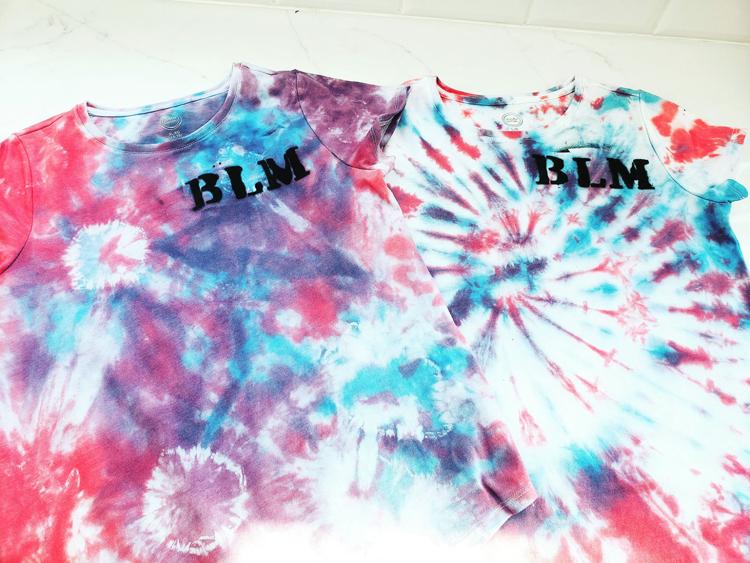 "I have had tons of people DM me asking if they can buy the shirts from us," she said. "I may allow the girls to make the shirts for people who are asking and donate the money to BLM."
To see the shirts or inquire about buying one, visit Jeanne-Marie's Instagram page: @hardy_home.