It was fleeting, but for a little while at least I was in second place.
I had weighed in a stringer of three walleye under 17 inches for the first time during a Walleye Weekend tournament and there I was at 3.83 pounds and just barely off the top spot at Kabele's Trading Post in Spirit Lake.
Of course, this was early on in the tournament and I had no illusions my stringer would maintain that position, especially considering it was at just one of several places fish could be officially weighed.
Still, it was nice to see for a moment.
A friend and I had fished Big Spirit from the moment the season opened at 12:01 a.m. and pulled off the water at about 2:45 a.m.
The original plan had been to set up shop at a spot we liked and slip bobber fish with leeches and cast plastics around rock piles.
The wind and waves had other ideas.
Thankfully, my fishing partner had a couple rod and reel combos already set up for trolling, so we charted a course off the shoreline in just under 10 feet of water.
This proved successful almost immediately and showed why it's always good to have a backup plan.
On the first pass we both caught fish, a double in fact, as we reeled them in at the same time. One in the slot at about 21 inches and a second littler guy.
After getting them both back in the water, we turned around a cruised through the area again.
While we didn't catch one every time through, we seemed to be on a pretty consistent bite catching about 15 fish during our time out there.
After weighing the fish in later that morning I thought our 2-year-old son, Bennett, might be curious enough to check out the fish, so I brought the cooler in from the garage.
Two were still quite lively as I had periodically freshened their water supply, but one had succumbed to the conditions of the cooler.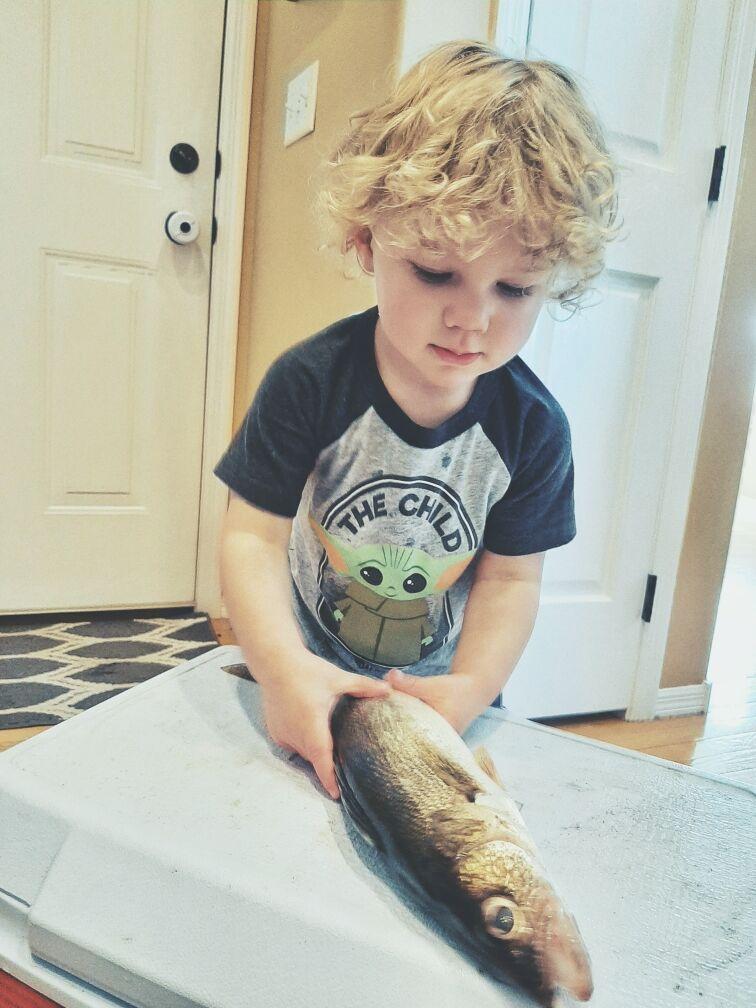 Of course, after poking the motionless walleye a couple times, Bennett just goes for it and grabs one of the lively ones by the head with both hands and lifts it out of the cooler tail flapping back and forth and sprinkling our kitchen floor.
While we both freaked out for a second that he might get poked by the fin spines or something, Bennett simply dropped it back in the water and went back to his toys.
Good to know my future fishing buddy isn't queasy about handling fish!
It was a good consolation prize considering I didn't catch one of the 10 tagged walleye worth $39,000, and my stringer ultimately didn't place in the top three and earn any prizes.
In fact, first place was more than a full pound heavier than what I weighed in and third place ended up being more than half a pound better my three fish.
Now I have a target number to reach next year.
And maybe a few years after that Bennett will be right there with fishing the Iowa Great Lakes into the wee hours of the morning.