Spring is an odd time.
Yesterday we were wearing shorts, lathering on the sunscreen and grilling up dinner.
Today (Monday, May 4) it's cold, rain is imminent and I am definitely not cooking outdoors today. 
It is perfect slow cooker weather.
I decided earlier that I wanted to make some soup. On damp days there is nothing to beat hot soup that warms you all the way to your bones.
I faced a dilemma. I hadn't planned on making soup, so I had to devise a plan based on what I already had in stock and wouldn't take a lot of time to pull together. 
Luckily, I was able to find a recipe for a meatless soup, as it is Monday, and I had all the ingredients in hand. Slow Cooker Chickpea Sweet Potato Stew was the solution!
It was a really easy soup to throw together. The hardest part was peeling the sweet potatoes because they were shaped funny.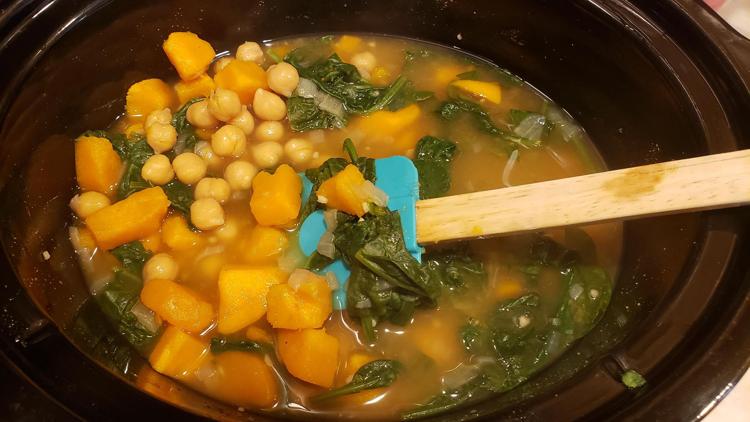 But the rest was just dump and wait. That's what I love about slow cookers. 
This recipe was chock full of spices and the smells permeated the whole house while it cooked. By the time it was finally ready, I was salivating. 
Overall, I thought the combination of the chickpeas, sweet potatoes and fresh spinach offered a variety of textures and the spices in the soup packed a punch of flavor. 
I loved the soup and can't wait to have it for lunch again tomorrow. My husband, the unabashed carnivore, hasn't tried it yet as he is at work today. But I can already hear him, "It would be better with chicken."