This week marks my eighth consecutive Friday of covering high school football, a sport which I know exactly nothing about.
Need proof? When I was 13, I explained in great detail to my mom that the Super Bowl was a fancy benefit dinner where people sat around and ate soup from really nice dishes.
Realizing the Super Bowl is actually a sporting event became one of the formative moments of my life.
In my own defense, I grew up in a household without TV and was home-schooled K-12 in a family that never participated in sports. My opportunities for exposure to football were greatly limited.
Still, you'd think I would have picked up on the basics. After all, I grew up in rural southeast Minnesota where the Vikings/Packers rivalry is the only heated thing during the winter.
But no. To this day, I still forget when the Super Bowl happens. I associate football with the fall, so my world is rocked every February when halftime ads start popping up and I realize somewhere, somehow, adults are still chasing a pointy ball around on artificial turf.
My lack of football knowledge is well-known in my family, so when my mom heard I was going to be covering football this fall with the rest of The N'West Iowa REVIEW team, she knew I was in well over my head. To help me out, she sent me perhaps the best and only book from which I can hope to learn to understand football: "Football for Dummies."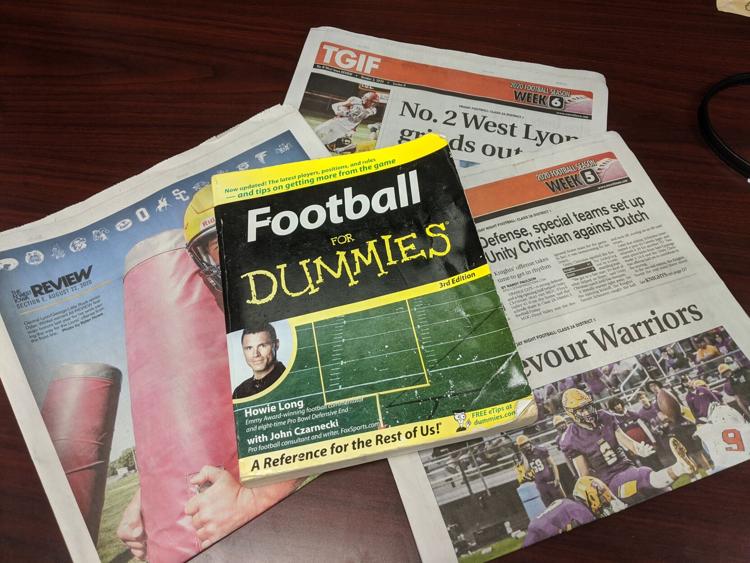 I haven't had a chance to actually crack the covers yet, but helping cover Friday night football these last few weeks has been a crash course in the rudiments of football. I now know that there's a defense and offense. Touchdowns and yards for rushing and passing. Sacks — not the kind for potatoes. And fumbles, of which I've made my fair share as I try to talk to coaches.
My biggest football fumble was, fortunately, not made while I was responsible for writing about the sport. Instead, I was trolled by my own mother.
As a junior in college, I came very close to attending a homecoming football game, which would have been the first football game I attended in my entire life. Although I ended up backing out at the last minute, I texted my mom to share this milestone — and to chuckle over the fact that I was so ignorant I had to ask someone how long a football game is.
My mom managed to get her own chuckles out of it.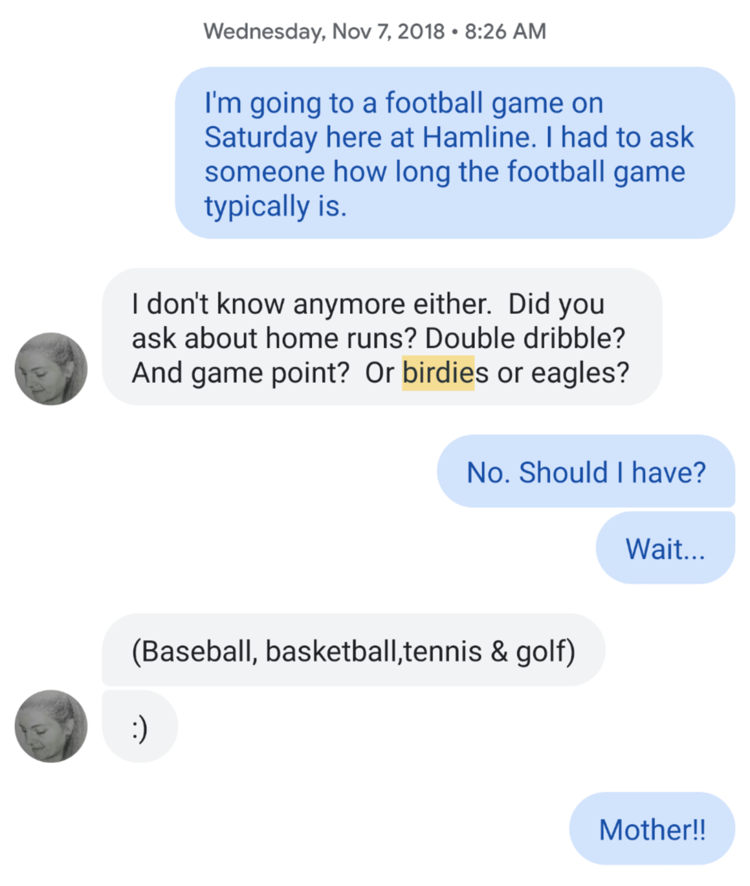 It's worth noting that football is not the only sport of which I am largely ignorant.
Luckily, Scott Byers, our extremely capable sports editor, has kept me from making too many epic mistakes. I'd hesitate to call myself football-knowledgeable, but I've made progress. I can talk to coaches with confidence and translate game stats into legible game coverage.
I have yet to actually watch a game of football, but I'm gradually getting closer to that, too. Last week I hung out at the Hartley-Melvin-Sanborn field for half an hour. It was to grab photos of the homecoming court, not for a game, but since it's only the second time I've set foot on a football field, I'm calling that progress.