Moving to a new state and putting down roots in a new community is a challenge under ordinary circumstances. Doing it in the middle of a global pandemic should come with a warning label that says "Hope you enjoy reading because everything else is canceled."
If there was a warning label, no one told me before I joined the staff of The N'West Iowa REVIEW in early August and transplanted my life from rural southeast Minnesota to rural N'West Iowa.
While I've enjoyed my stay in Iowa so far, settling in and meeting people has been especially difficult, largely because of the pandemic which has canceled most opportunities to meet new folks.
Luckily, I have a job that takes me out into the community almost every day, usually to talk to perfect strangers.
This is how I met Orange City's resident YouTuber: 8-year-old Abbey Beadner.
ORANGE CITY—Abbey Beadner is only 8 years old, but she's ready to teach the internet how to …
And how I came to spend several hours on Labor Day weekend watching the first tractor pull I've seen in probably a decade.
SHELDON—Tractors will be pulling their weight at Sheldon's annual mini tractor pull, schedul…
It's also how I found myself helping paint Alton's new community mural celebrating the 100+ years of history since settlers from Luxembourg made their home there.
ALTON—For Amber Hansen, creating community murals is more than putting paint onto a wall; it…
I owe this lucky break to staff writer Randy Paulson, who wrote the story on the mural but sent me to shoot photos while he was stuck in meetings. When Amber Hansen, formerly of Alton and the artist behind the mural's design, said anyone was welcome to come and help paint, I saw an opportunity to meet people and volunteered immediately.
Turns out painting a mural, at least during the early stages, is a lot like doing a paint by numbers.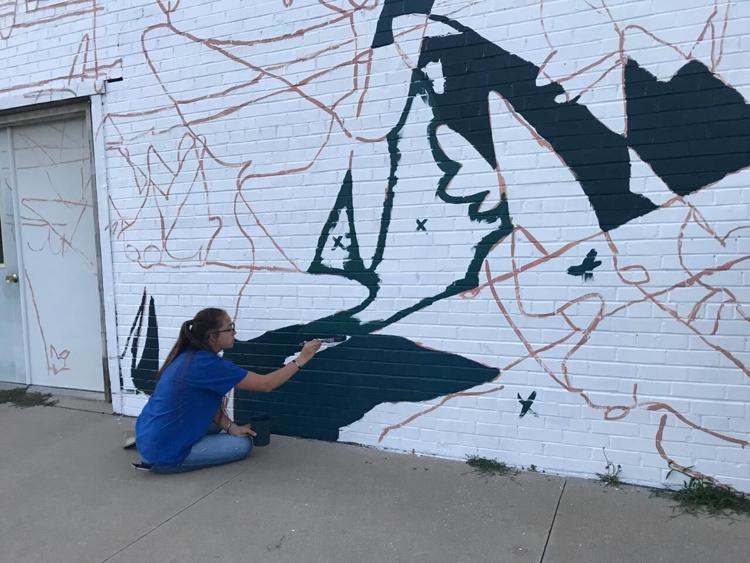 Hansen – who shares my last name, though we aren't related as far as we know – stenciled in vague outlines and shapes on the wall of the L&M Enterprises building in downtown Alton. Volunteers like myself filled those in with shades of blue, green and sometimes purple or yellow.
During those first days of painting in the colors, I couldn't visualize how the vague dark blobs I was painting on the wall would fit into the finished mural. But after two weeks of painting, and another few weeks of Hansen adding details, I'm thoroughly impressed.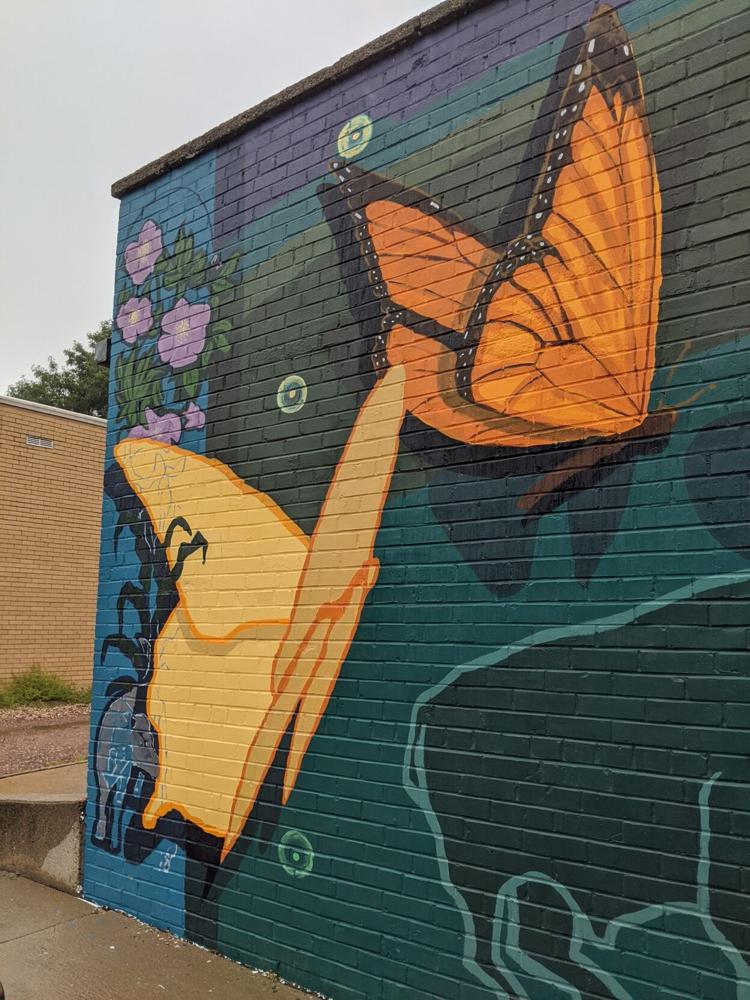 The mural isn't quite done yet. Those beautiful big butterfly wings will eventually hold scenes of contemporary life in Alton. Hansen has yet to fill those in, so I'll be sure to swing by later this fall to keep tabs on her progress.
Besides being a fun way to spend a few evenings, painting the mural also paid off in my social life. I enjoyed swapping stories with fellow painters about the similarities between N'West Iowa and southeast Minnesota. Better yet, while chatting up Hansen's mom Janet, I became the lucky recipient of fresh homegrown tomatoes, cucumbers and zucchini, the overflow from her garden.
I'm just putting this out there – in exchange for fresh tomatoes and cucumbers, I am prepared to become friends with almost anyone. So if you have story ideas, piping hot news, or more garden-fresh vegetables than you know what to do with, you can reach me at lhansen@nwestiowa.com and I'll be all over it.
Alternatively, if you hear about other mural painting projects, my paint-spattered jeans are waiting in the closet. I'm not an artist by any stretch of the imagination, but if you need someone to slap paint on a wall, I'm more than capable.