Driving on a frozen lake is still a weird feeling for me.
It's something I've done a handful of times each of the past few winters since I've started pursuing fish through the ice here in the Iowa Great Lakes.
But the first time or two each season always is a bit surreal.
Driving and parking at spots you fished from a boat four months earlier seems odd.
And knowing that the "road" to get there is simply made of a couple feet of ice can be unnerving at first.
I typically wait until I've seen plenty of full-size trucks cruising around before I venture out for the first time in my small SUV.
Then it's a matter of access.
Some ramps get more beat up by vehicle traffic than others. Some are subject to ice heaves that render them inaccessible.
Once those obstacles are cleared, both practically and mentally, the perks of being able to drive around the ice are many.
Physically it's obviously a lot easier than schlepping a sled full of gear around, especially if the plan is to pursue multiple fishing spots.
Along the same lines, you can obviously cover more ground more quickly if the fish aren't biting at your first stop - or second, or third, for that matter. If you're walking out, you're going to be limited to how far you're willing to hoof it.
Of course there are limitations to where you can go safely in a vehicle as well. Paying attention to ice conditions at both the access points and out on the ice itself is incredibly important.
Another benefit is having a built-in wind break wherever you go.
If it's not all that cold out I won't go through the time and effort of unloading my flip-over shack and when it's windy I can simply drill my holes close to my Jeep and duck out of the icy breeze.
Sometimes it's both bitterly cold and gusting out of the north, so being able to double up on the wind protection with the vehicle blocking the shack is great. Add a portable heater and it's downright cozy.
So far I've ventured out in my Jeep four times this winter, all of them during or after the recent deep freeze that blanketed a good portion of the country and made me as confident as I could possibly be in the ice under my tires.
And I've had some good luck with the fish since driving out as well.
Most recently I drove out from the Highway 71 boat ramp in Okoboji heading straight for a cluster of other vehicles and a GPS waypoint I'd marked on my phone from a previous winter.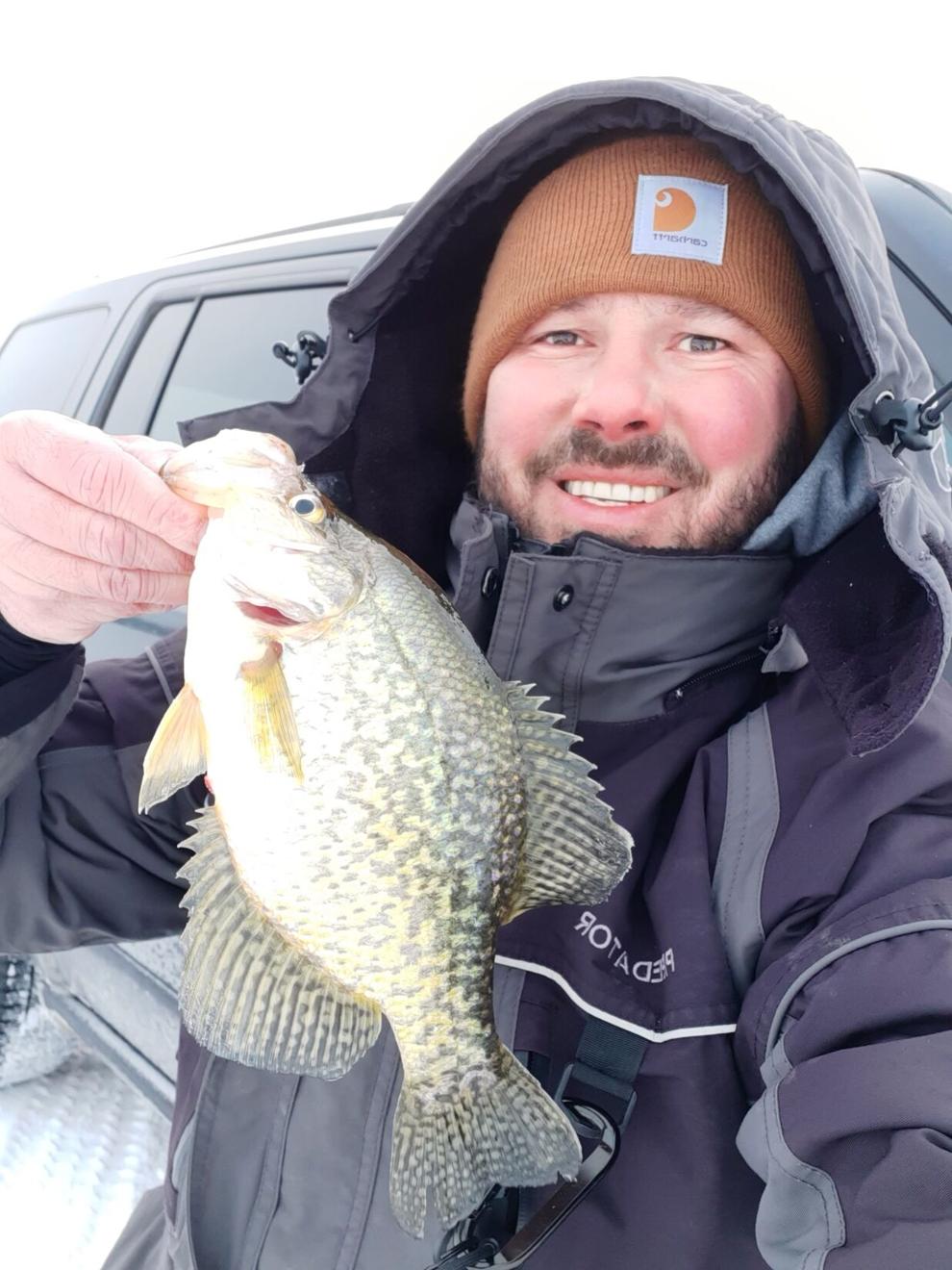 Following a trail broken by the trucks before me, I cruised across the main basin of East Lake Okoboji.
I drilled two holes right outside by passenger door and almost immediately caught a crappie. Then another one. Followed by a few yellow bass.
As long as it's safe to do so, I'll surely be driving to that spot a few more times this winter.