"Not sure if it's newsworthy but the second oldest tree in Sioux Center just fell down tonight."
Receiving that text from a Sioux Center resident and fellow church member Wednesday, June 17, touched on my love for community history and my love for my community neighbors because of their willingness to share such awesome things tidbits.
Though the text came at 7:55 p.m. and I didn't find it until after my kids went to bed, I knew exactly where this silver maple stood...or rather lay. Every time I'd leave my in-laws going south on Second Avenue Northwest and come to a stop at the Eighth Street Northeast intersection, I'd see the large stump containing just one of its four large branches and wonder about it: How old was it? Why hasn't anyone cut it down? If only trees could talk.
This was my chance to learn.
I'm thankful tree owner Harlan Bootsma was willing to answer my 9 p.m. call and let me come over!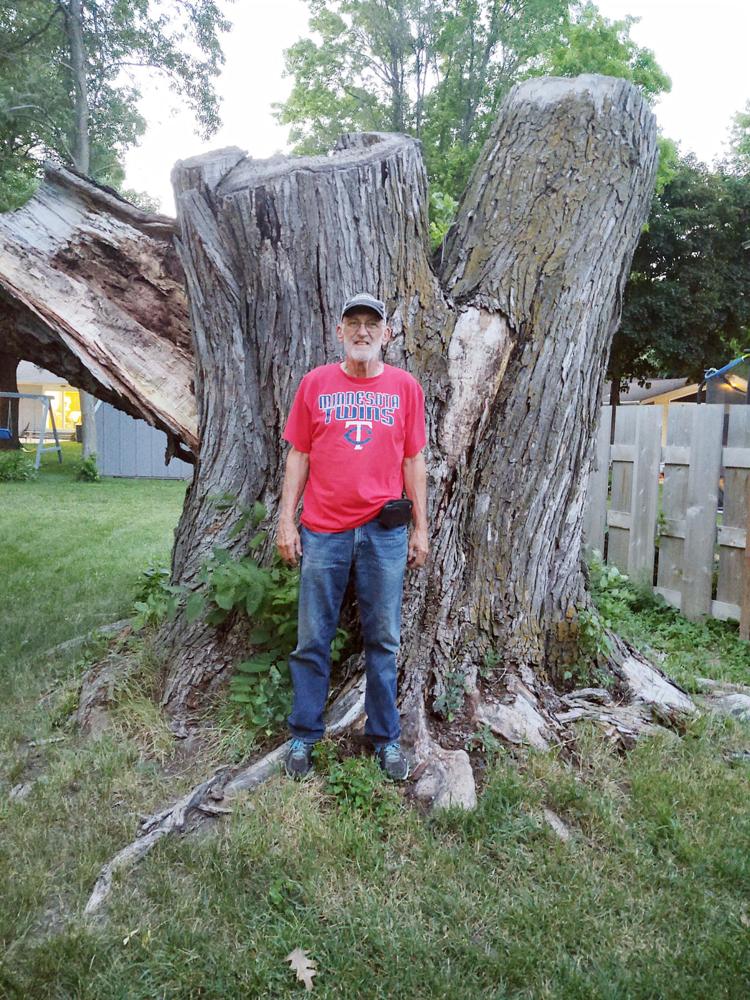 Said tree is located at the back of Harlan's property at 254 Seventh St. NE. Harlan and his wife, Barb, have lived there about 40 years now. Their home was built as a farmhouse in 1918. They're not sure exactly when the tree was planted.
According to Harlan, their previous next-door neighbor to the east, Elmer Houtkooper, had stories to tell.
"He was in his 80s and said to me that tree was big when he was little," Harlan said. "We don't exactly know if it's the second oldest but it's one of the oldest trees in town if you go by what Elmer told us."
At the peak of its life, the silver maple had four large branches stemming from its trunk, one of which fell on a neighbor's fence three years ago and two others Harlan had a company cut down due to them hanging precariously over more neighbor property.
"I know the one limb alone looked odd but I knew if it ever fell, it would just fall on our property so we left it be, letting the tree decide when it had enough," Harlan said.
Harlan's backyard neighbor who texted me, Dan Elgersma, saw the tree come down. Harlan and I walked over to his house to hear what he saw.
"Early that afternoon my kids were going to sit on it," Dan said, noting his 4-year-old especially loved the platform swing hanging about 30 feet down from the tree. "I saw that the swing was sitting on the ground. I raised the chain up, tested it. Seemed like it was OK. I was pushing the kids on it a half hour before it went down. We came back to our house and were playing in the sandbox. We heard a couple shudders, like a crick, crick. And then it just fell down."
The windy, dry days this week took its toll.
"The numerous green leaves on the branch showed it had life, the trunk just couldn't hold it up anymore," Harlan said, noting much of the trunk — which takes four people holding arms outstretched to reach around it — was rotting away.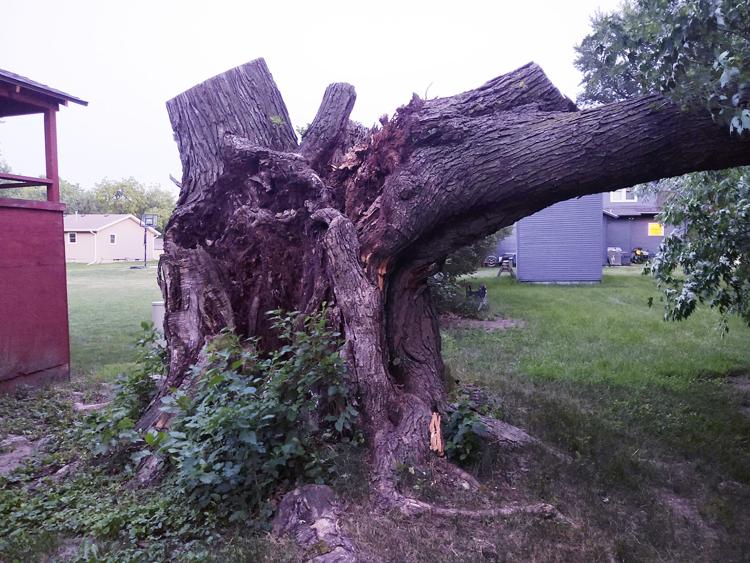 Harlan's back property line is about 128 feet, he said. The fallen limb lays across nearly all of it.
"If trees could talk, I'd love to hear the stories this tree would tell," Elgersma said. "My kids had lots of fun on it. They were even climbing it just a week ago. Who knows how many more people enjoyed this tree in some way."
I'd love to hear those stories, too.