SIOUX CENTER—A 7-year-old Sioux Center resident offers two green thumbs up for a lawn company that surprised him on his home turf.
About 8 a.m. Friday, May 8, eight crew members of Down2Earth Lawn Care stopped by Sawyer Bleeker's home to give him some company swag and commend him for his awesome mowing job they saw him working on just three days before.
The first-grade student at Sioux Center Christian School was out mowing his front lawn Tuesday afternoon, May 5, while his mom, Beth Bleeker watched.
This is the first year he's been allowed to mow on his own.
"I just like mowing, it makes me happy," he said.
He said it's fun because he gets to "enjoy God's creation" while working.
In his toddler days, the family had a riding mower. Beth said Sawyer loved riding along while mowing or using a toy mower while walking by a parent as he got older.
"Sawyer has always had an interest in mowing and he's always been a cautious child," Beth said. "We thought since he has this interest and cautious nature, let's let him mow. My husband or I are always there watching. And we have safety talks about the machine before mowing."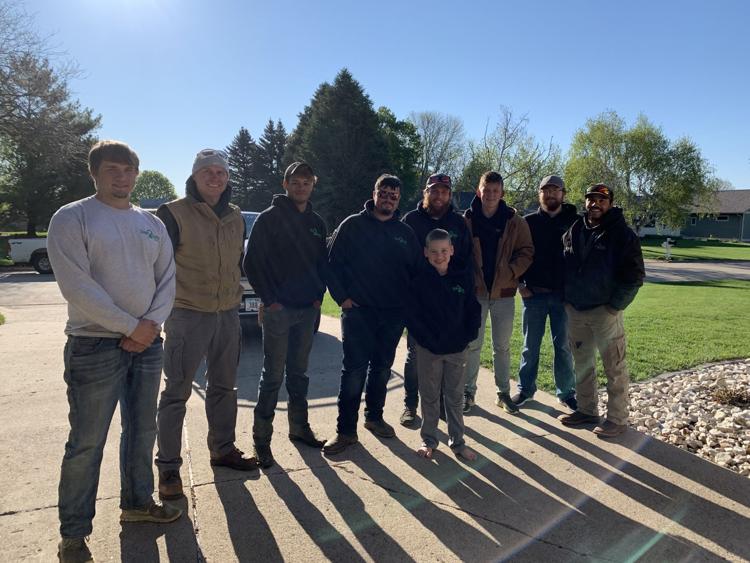 As his interest in mowing grew, so did his interest in professionals in town. Sawyer said he noticed Down2Earth at the dump, their vehicles around town and especially enjoyed their entry into the Summer Celebration parade last year.
"While 'working,' he pretends to be employed by his favorite lawn crew, Down2Earth," Beth said. "He has loved spotting this crew around town since he was a little boy."
On Tuesday it just so happened Down2Earth crew members were working on a lawn next to the Bleeker house and noticed Sawyer's "nice straight lines," and gave him a thumbs up.
By Friday, Sawyer's real-life heroes were on his doorstep, just wanting to offer some encouragement before they went to work that day.
"It was awesome," said Sawyer all full of smiles.
Lawn care foreman Daniel Fennig, who's been with Down2Earth for six years, said Sawyer made his day Tuesday so he just wanted to give back a little.
"I saw this kid mowing in his front yard with his mom and it made my day to see that," he said. "It was pretty cool he was out there mowing because that's how I learned, about that age.
As he rolled away in his vehicle, Daniel heard Beth shout to her son, "Your heroes just stopped and talked to you. Isn't that awesome?"
"That just stuck with me," he said. "I really try to teach my guys that everybody is watching you, especially in a smaller community. That our job is beyond straight lines in a yard, we have to have a community image as a company, we need to show respect and encouragement. If he's watching us, I wanted him to know we're watching him and appreciate what he's doing."
They gave a crew hoodie and sweatshirt and spent a moment with Sawyer before being on their way.
"It was just a cool moment, cool to make a little guy smile; something I'm glad all my guys got to be a part of," Daniel said. "I don't have kids but if I did I know it would be cool of someone did it for my kid so wanted to pay it forward a little bit."
Beth said it was the second time the crew had come as they stopped by Thursday but the family wasn't home.
"It goes to show Down2Earth lives up to their name — they're living into that motto so beautifully," she said. "They made my son's day and truly a positive lasting impact on my son. This is what living in a small town is all about — building community relations through one simple act at a time."