Someday, I'd like to teach a course called "community journalism" to give budding reporters a true idea of what it's like to work at small, local papers.
From my experience, most journalism school professors prepare you as if you're going to be uncovering the next Watergate — not to say you can't do just that but on a smaller scale at the local level — but a lot of them didn't really breakdown community journalism.
As the name implies, it means covering your community but it also means understanding, embracing and becoming a part of your community no matter how ridiculous its naming conventions are.
When you work and live in small towns, you can't sit in the rafters and cast down your news judgment from a perch; you need to be in the trenches with the people you cover.
It's why I try to shop local, promote and attend community events and volunteer time to various causes.
It also means coming to realize that there is no story too big or too small for you to cover, something I learned the fun way back in my rookie year.
I was working at the Newton Daily News in 2013 and that same year the company acquired two weekly papers, the Jasper County Tribune in Colfax and the now-defunct Prairie City News.
Since I covered the Jasper County Board of Supervisors meetings, my stories would run in those papers too.
On a random Tuesday afternoon in October, I found myself alone in the Daily News newsroom trying to crank out a story on that week's supervisors' meeting to meet the early evening deadline for the other two papers.
I like to hone my focus on every story, but I try to provide an extra layer of attention to meeting stories since you're recapping an event with important implications for the community.
As I'm cranking this story out — again I'm alone in the newsroom — all the phones kept ringing and the caller ID said it was from circulation, which was not only a separate department but in a separate but attached building.
I tried to ignore it since the call since I had nothing to do with circulation but I finally relented and answered.
On the other end of the line, a circulation staffer asked me to come over to their office and bring a camera because there was a woman there who grew a really long green bean and wanted us to take her picture.
I. Was. Furious!
Here am I trying to write this super serious meeting story and you want me to come take a picture of a woman holding a long green bean? I begrudgingly grabbed my terrible Nikon point-and-shoot camera and went to get the picture.
My anger subsided as soon as I saw the green bean lady who was accompanied by her beaming husband.
She was an older lady with a head full of white hair, a cane and a big smile on her face. She went to the circulation office because she couldn't navigate the stairs to go inside the news office.
She showed me the green bean and said it originally came from a seed package she purchased in Hawaii 20 years earlier but had misplaced.
After finding the long-lost bean seeds, she decided to plant them and BOOM! Super green bean! I should note, she didn't oversell it.
It was almost two-feet long and as she held it up she challenged any other gardener to top her bean by boasting "Can't beat that!," which is what I captioned the photo when it ran in the Oct. 16, 2013, issue of the Newton Daily News.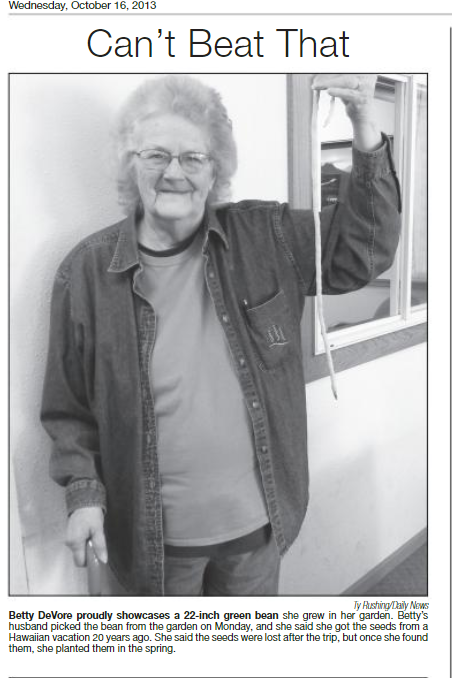 I like to tell this story because it captures the beautiful absurdity that is covering local news.
I've covered presidential candidates, house fires, hall-of-fame dogs, high school clubs, pancake breakfasts, just about every type of public meeting you can imagine and more.
I've also covered Betty DeVore's record-setting green bean.
You can't beat that.