I now know how Kevin McCallister felt in "Home Alone 2: Lost in New York" at the Plaza Hotel.
For those not in the know, McCallister, played by Macaulay Culkin, gets on the wrong airplane during a family vacation and accidentally ends up in New York City. He uses his father's credit card to check into the Plaza Hotel, a luxury hotel in Manhattan. About midway through the movie, McCallister orders a bunch of room service and eats way more ice cream than he should.
Well, I basically did the same thing with cookies recently, although it was just one cookie. Well, technically two, but I'll get to that.
Last weekend, I was in Cedar Falls covering high school state football semifinal games. I watched Boyden-Hull/Rock Valley take an early 7-0 lead but unfortunately fall 44-7 to Harlan last Thursday. Then I watched Central Lyon/George-Little Rock dismantle Camanche 41-0 on Saturday. The real magic happened on Friday though.
Based off the suggestion of Morningside College SID Mark Adkins, I ate at a pizza place called Other Place with Sioux City Journal sports editor Justin Rust. It was good and I enjoyed it. After that, I found perhaps my new favorite place on the planet. On the same block was a store named Insomnia Cookies. I'm 34 years old and get as excited as a little kid just thinking about it.
If anybody has been to Southern Hills Mall in Sioux City, it is similar to the American Cookie Company but better.
Insomnia Cookies is open 11 a.m.-3 a.m. Yes, you read that right. They also deliver. If anybody tries them, they also would want them constantly delivered.
What did I order at Insomnia Cookies? I didn't order just a normal cookie. I ordered a Big'wich, which is two cookies with buttercream frosting in the middle. They even let you pick which two kinds of cookies. I incorrectly assumed I'd have to get two of the same kinds of cookie. Not at Insomnia Cookies though. I got a double chocolate chunk cookie and a white chocolate macadamia nut cookie. Behold, this glorious delicacy.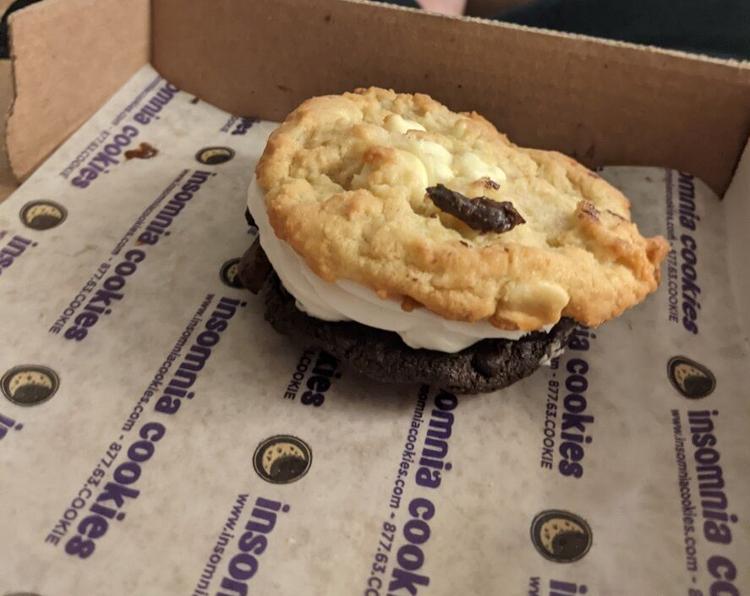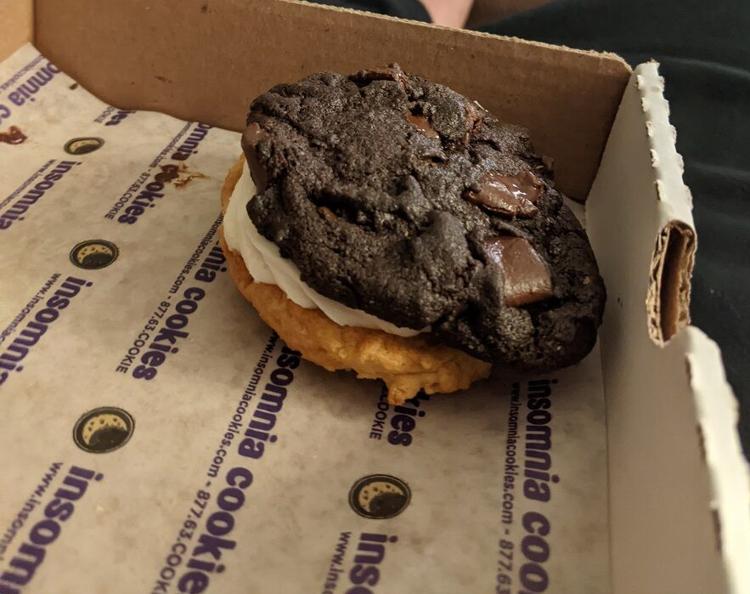 Rust went slightly different. He got the Cookie'wich. It's the same as the Big'wich, but it's ice cream instead of frosting in the middle. His also looked great.
I wanted to grab some more on the way out of town on Saturday, but I was facing a three-and-a-half hour drive back to Sheldon and it was the wrong direction from the UNI-Dome. I also hadn't eaten since breakfast and wanted something a little more substantial than just cookies. Honestly, I kind of regret not stopping to get more. Those cookies haunt me now. I turn into Cookie Monster just thinking about them.
The closest Insomnia Cookies to Sheldon is in Mankato, MN, and it's 132 miles, or two hours and nine minutes, away. I've never been to Mankato before. I don't know if I'll drive there just to get cookies, but I'm much more likely to travel to Mankato at some point in time than I was two weeks ago.
Long story short, if any Central Lyon/George-Little Rock football fans are going to the Class 2A state championship game on Friday, Nov. 20, I would recommend trying cookies from there. Also, if they want to bring me a few cookies on the drive back, I won't say no to that.