SIOUX CENTER—Charlotte Kooima of Sioux Center was determined to finish an Ironman Triathlon this time after the way her previous attempt came up short.
Even if it meant doing it virtually.
Kooima, a 49-year-old registered dietitian and volunteer emergency medical technician, first competed in the 2019 Ironman Arizona triathlon in Tempe in November.
An Ironman Triathlon consists of a 2.4-mile swim, a 112-mile bike ride and ends with a marathon run of 26.22 miles.
The Ironman Triathlon also features strict cutoff times. A race usually begins at 7 a.m. Competitors must complete the swimming portion in two hours and 20 minutes. Then the biking portion of the race must be finished in eight hours and 30 minutes. The entire race must be finished in 17 hours or at midnight if the race started at 7 a.m.
In Arizona, Kooima finished the swimming portion in one hour and 55 minutes. Everything was going well during the biking leg of the competition until she blew out her back tire at mile 93. Kooima got the tire changed but missed the cutoff time and was listed as a "did not finish," or DNF.
"I was crushed," she said. "At first when I was pulling up to the turnaround, I had noticed people kind of in a bottleneck at the turnaround, which is not uncommon. In my mind I thought, 'Oh no. Somebody fell over. Somebody got hurt.' As an EMT I was like, 'Oh, I need to help somebody.' Then as I got to the top of the hill where people were standing, I realized what was going on."
One of the race officials came over and took the chip off her ankle and told her she missed the cutoff time by two minutes.
"I could hardly even breathe," Kooima said. "Seriously, I didn't know what came over me. I was just so devastated. That's the best way I can describe it. I was shocked. I was absolutely shocked that I had missed that time cutoff."
Not one to give up, Kooima signed up for a Ironman Triathlon in Houston.
"I figured I had all this training in and I just didn't want to let it go for another year or who knows when," she said. "So I signed up for Texas shortly after the whole Arizona fiasco."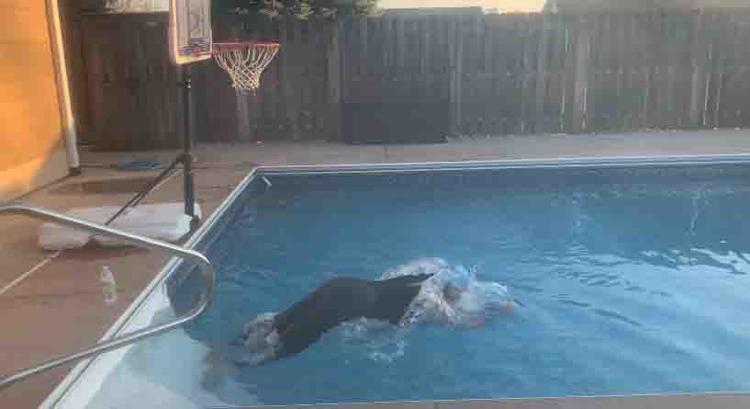 The race was scheduled for April 25, but six weeks earlier it was postponed because of the coronavirus. Kooima was far enough into her training schedule that she wanted to continue. She belongs to a few race groups on Facebook and asked if they wanted to continue too. Some of them did, so they formed a group and decided to do a virtual Ironman Triathlon on April 25, the same day they originally were supposed to do it.
Kooima had a few issues she had to deal with for the swimming portion. She was able to do the swimming portion at a friend's house. She wore a wet suit while swimming, which is legal if the temperature for the water was in a certain range. The water was 67 degrees, which was in the range for a wet suit.
The second issue was she had not swam in six weeks.
"I was like, 'OK, this is going to have to be muscle memory,'" she said.
Finally, she was swimming in a pool smaller than she was used to. Instead of counting laps, Kooima used her Garmin watches triathlon setting so it would buzz every 1,000 yards.
"I knew I had to have four buzzes before I could consider starting to look closer at the watch," she said. "It's easier to count to four, obviously, than it is to count all those laps, so I didn't even bother with the laps."
Kooima finished the swimming portion in one hour and 43 minutes, 37 minutes under the cutoff time.
For the biking portion she used a stationary bike in her garage.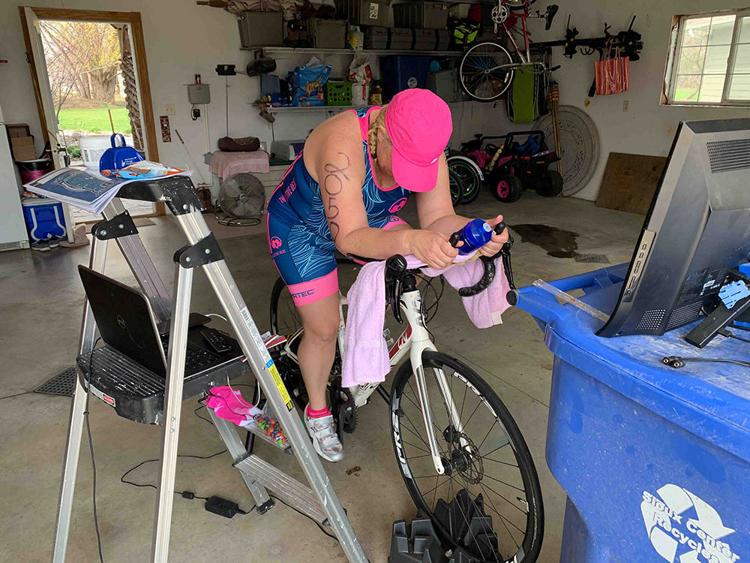 Like a standard triathlon, her transition time between the end of swimming and the start of biking counted toward her total. In this case that was Kooima traveling from her friend's house back to her garage.
She used the app Rouvy for the biking portion, which lets the bike simulate whatever course the rider chooses. Kooima had been training for the Texas course, so that's the one she used on race day.
Kooima's tire problems from the Arizona race did not reoccur on her stationary bike. In fact, she started cheering when she got to mile 94, which was a mile past where she had problems five months earlier.
"No one was around me and maybe people heard me that were walking on the sidewalk or my neighbors, but I did a couple of good cheers in the garage and pedaled harder," she said. "I was determined to finish and I was determined to complete this. I knew I could and I just needed to. I don't know how else to describe it other than I just didn't allow another option to occur. I just had to do it."
Kooima finished the biking portion in seven hours and eight minutes, which was an hour and 28 minutes under the cutoff time.
For the 26.22-mile run, Kooima mapped out a 5.6-mile loop that ran through the Dordt University prairie in Sioux Center.
"I ran four main loops and then I just had to tack on a smaller loop to finish out the run," she said.
After being devastated when she could not finish the triathlon in Arizona because she missed the cutoff time, Kooima finished her virtual Ironman Triathlon in 16 hours, 39 minutes, which was 21 minutes under the cutoff time.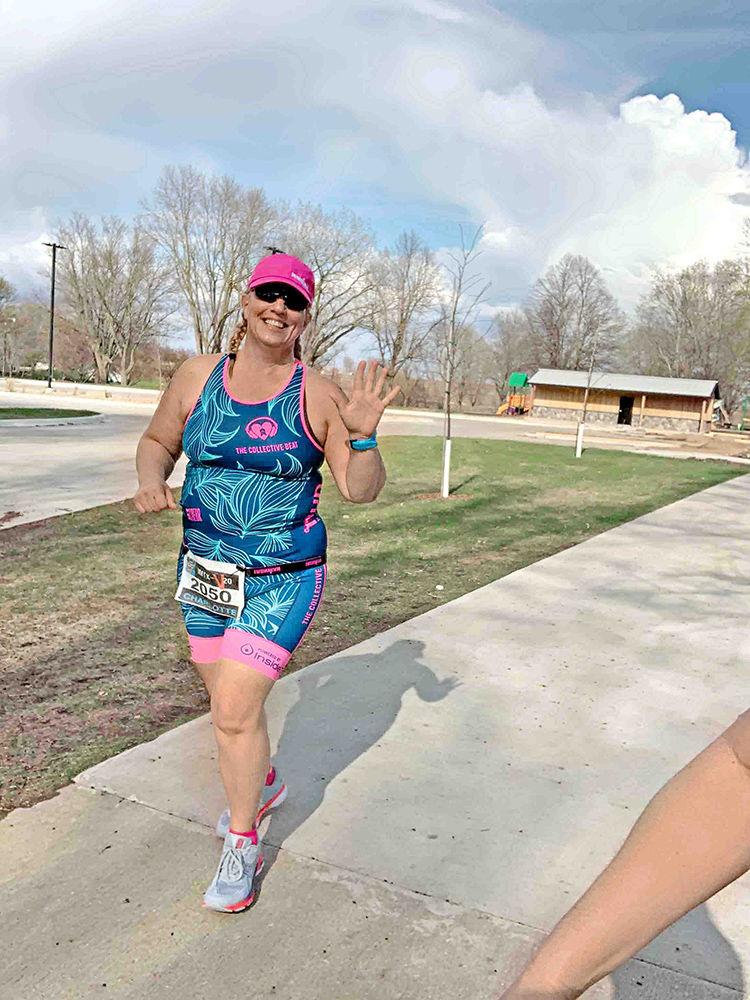 The one thing Kooima missed that day was Mike Reilly, an announcer for the Ironman Triathlon, saying her name. Reilly is famous for saying the name of a person crossing the finish line, then adding, "You are an Ironman."
Fortunately, Matthew Seedorff, a sports reporter for FOX 26 Houston, was doing a story on the triathlon getting postponed. He talked to Kooima for a story for the television station and later talked to Reilly who saw video of her finishing the race.
"Apparently one of my friends had uploaded it and Mike Reilly sent a virtual crossing the finish line name calling as I crossed the finish line in my little virtual finish line, so that was kind of cool," she said.
Reilly was right. Kooima is an Ironman.