REGIONAL—We're changing up our powerhouse programs series a bit this week.
In the prior two weeks, we've lumped all the fall sports into one section and all the winter sports into the next.
This week, however, we are giving the sport of track and field its own section.
The long history of the sport means more opportunities for success and N'West Iowa schools have certainly taken advantage of that. Even if you consider a relay — which utilizes four athletes — as just one individual championship, N'West Iowa schools have captured 396 gold medals.
According to the Iowa High School Athletic Association, Iowa's state meet has become the largest coed high school state championship in the nation.
In 2018-19, track and field was the second-most popular sport by participation for the IHSAA with 12,012 boys participating and the IGHSAU with 9,908 girls participating.
Boys track and field
Track and field is considered the IHSAA's original sport. The first state meet in track and field for boys was held in 1906. Before that, Grinnell College and the University of Iowa in Iowa City each hosted "open state meets" in the 1890s and 1900s. Those meets were more regional in nature. Even after the IHSAA's first sanctioned state meet, the University of Iowa continued to hold its meet for several years and Grinnell hosted an Iowa State Championship Meet for high schools and colleges 1895-1925.
Ida Grove won the first two IHSAA sanctioned state championships.
The boys track and field state meet was a one-class event 1906-47. It went to two classes 1948-52. It has been a four-class meet ever since.
The smallest schools, defined as Class 1A, have used a form of a district meet as a state-qualifier since 1926. Class 4A started using season performance to qualify for state starting in 1983. Class 2A and 3A followed suit in 1990. All classes went to a district/state-qualifying meet in 2004. The state meet became a coed event in 2005.
Iowa switched to the metric system for measuring track and field events in 1978.
The earliest state championship for a N'West Iowa team came when Primghar took the Class C crown in 1956. The most recent came last year when George-Little Rock took Class 1A.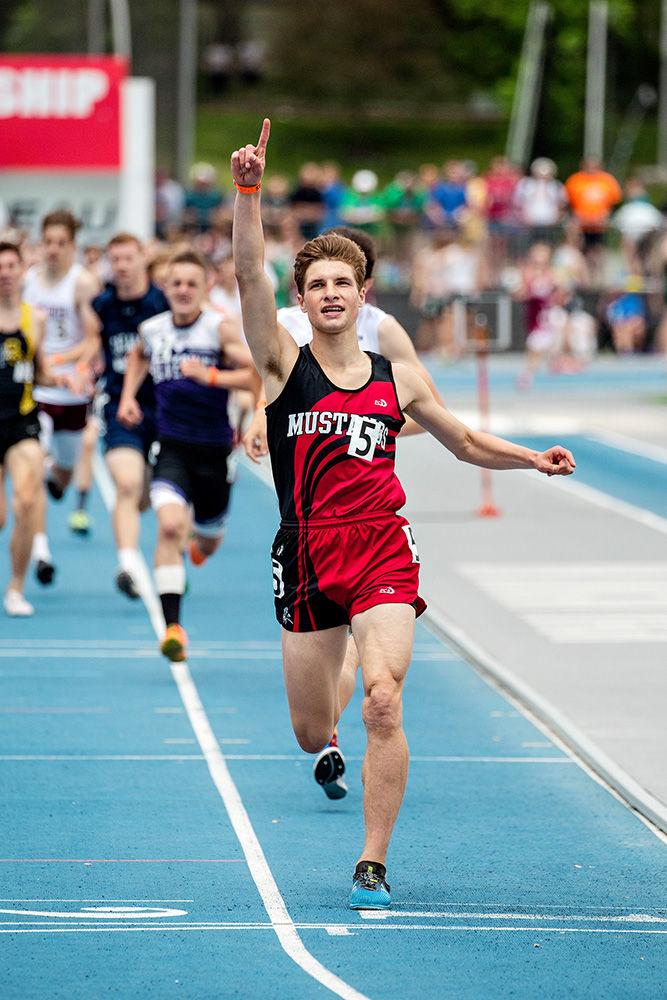 In all, N'West Iowa schools have brought home IHSAA team championships 18 times. Six area programs have won two state titles.
A.G. Kruger, who threw the shot and discus at Sheldon High School, represented the United States in the Olympics three times in the hammer throw. He was the 2008 Olympic Trials champion in the event. Kruger won the USA Track and Field national championship in the hammer in 2006, 2007, 2008, 2009 and 2013. Kruger was the NCAA Division II national champion in the hammer throw for Morningside College in Sioux City in 2001. He won the national title in the weight throw eight times.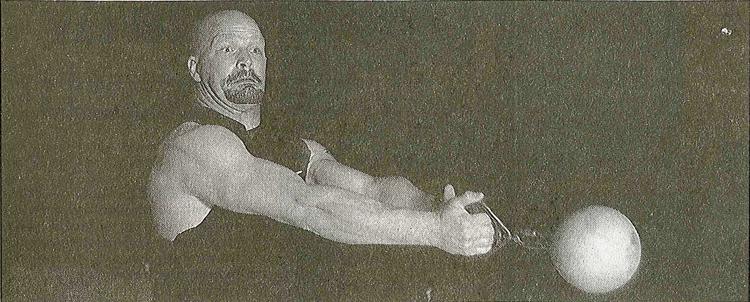 Kruger holds the American records in the 35-pound weight throw and the 56-pound ultra weight throw. He also holds the 35-39 age group world record for the throws pentathlon — a combined event consisting of the hammer throw, shot, discus throw, javelin throw and weight throw. He competed for the Ashland Elite Club professionally. He now is an assistant track and field coach at the University of South Dakota in Vermillion.
Unity Christian High School graduate Tyler Mulder never reached his Olympic dream, but was a track and field professional for several years after being an eight-time All-American at the University of Northern Iowa in Cedar Falls. He ran for the Nike Oregon Track Club 2009-16. He is the men's track and field coach at Hawkeye Community College in Waterloo.
Gehlen Catholic has the most individual state titles among N'West Iowa schools with 21. Sioux Center is next with 18.
Gable Sieperda of Central Lyon set state meet records in the 1,600-meter run and the 3,200-meter run in 2018. He clocked in at 4 minutes, 13.78 seconds in the 1,600 and 9 minutes, 9.60 seconds in the 3,200.
Among records that will never be broken because the events have been discontinued, three N'West Iowa runners are among a group of four tied for the fastest 100-yard dash time in a Class 2A state competition at 9.9 seconds. Jack Bintz of Sutherland did it in 1964, Warren Johnson of West Lyon matched it in 1967 and Dave Harskamp of Sioux Center joined the club in 1968.
Maurice-Orange City set the Class 2A state meet record in the 440-yard relay in 1973 with a time of 43.8 seconds and in the 880-yard relay in 1 minute, 31.2 seconds.
Sioux Center set the Class 2A record in the shuttle hurdle relay using 33-inch hurdles in 2014 with a time of 56.99 seconds. The event has since switched to 36-inch hurdles.
Among the individuals who won three events in one state meet are N'West Iowans Jon Reimer of George who did it in 1963, Paul Barnhart of Gehlen Catholic who did it in 1986 and Darwin Vande Hoef of Rock Valley who did it in 1989.
N'West Iowa schools that won three relays in a single state meet included Primghar in 1956 and Maurice-Orange City in 1986.
Vande Hoef won the high jump in three consecutive years starting in 1987. Gehlen Catholic won the 800-meter relay three years in a row starting in 1993. West Lyon won the 400-meter relay three years in a row starting in 1998.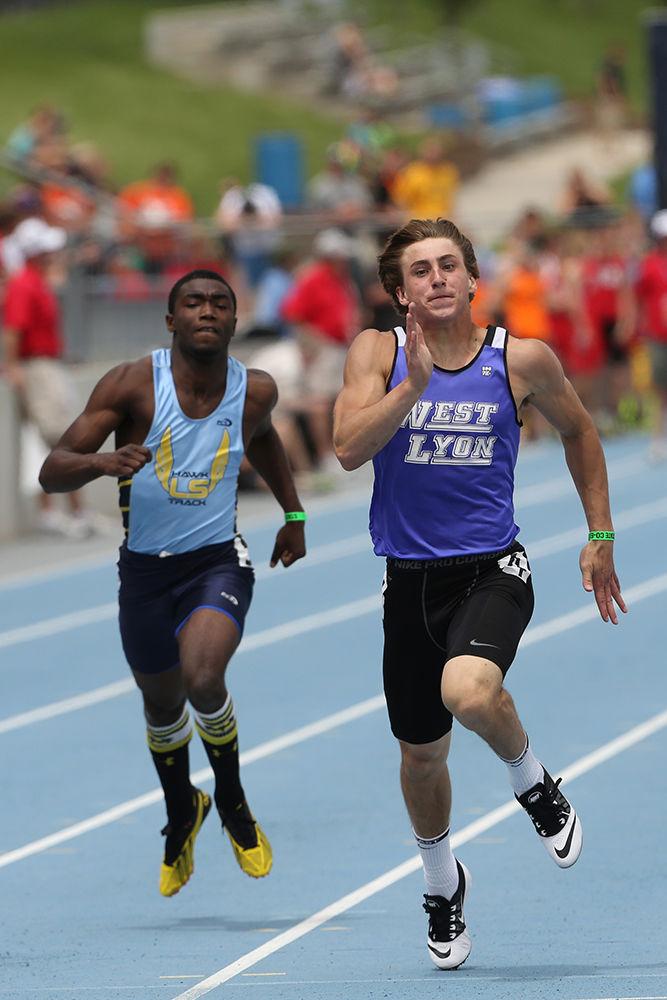 Girls track and field
The Iowa Girls High School Athletic Union did not crown its first champion until 1962. Sentral, which was located in Fenton, won the first two crowns. It was a one-class event 1962-76.
The IGHSAU went to three classes in 1977 and N'West Iowa saw immediate benefits. Western Christian won back-to-back Class 2A state titles 1977-78. Sioux Center won Class 2A in each of the next two seasons.
The state meet became a four-class event in 2004 and has remained that way since.
Western Christian and Gehlen Catholic each have three state championship teams. N'West Iowa teams have captured 11 state titles overall.
The state titles do not do justice to how dominant Western Christian has been as a program. The school has seen 33 individual event championships, including the relays. The next highest total of individual titles for a N'West Iowa school is 19 for Okoboji, which includes titles won by Milford High School. Unity Christian has 17 individual event wins at state.
The totals also do not include two of the most dominant athletes in the region, Cheri Blauwet of West Lyon and Keri Siebrecht of Sheldon. Each competed in the wheelchair events, which are not counted in the team scores at the state meet.
Blauwet probably is the most decorated athlete in the region's history in terms of international honors. She competed in college at the University of Arizona in Tucson, beginning her racing career as a sprinter and later focusing on longer events. Blauwet has won seven medals at the Paralympic Games, including a gold in the 800-meter T53 race in Athens, Greece, in 2004. She also has a silver medal and five bronze medals. She won three medals in Athens after winning four at the 2000 Paralympic Games in Sydney, Australia.
Blauwet has won the New York City Marathon twice, Boston Marathon twice and Los Angeles Marathon four times.
Siebrecht won 15 individual state championships in the wheelchair events for the Orabs. She won four events at the state meet in 2017, 2018 and 2019. Siebrecht is tied with Ashley Miller of Tipton for the most individual titles in state history.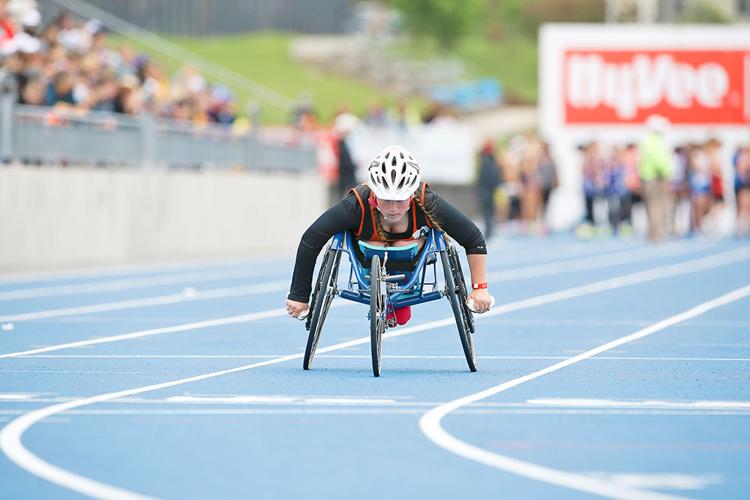 A few other N'West Iowa athletes managed the sweep of four events in a state meet. Bonnie De Boer of Western Christian did it twice, in 1977 and 1978. Her daughter, Brooke Wolterstorff, won four events for Western Christian in 2012. Tammy Warner of Sheldon led the Orabs to a state title when she won four events in 1984.
Three-event winners from N'West Iowa include: Jan Hall of George in 1982, Vonda Velgersdyke of Western Christian in 1984, Nancy Van Der Zwaag of Boyden-Hull in 1984, Denise Cuttell of George in 1985, Dolly Hansen of George in 1985, Jill Freed of Sanborn in 1987, Sarah Pluim of Unity Christian in 1992, Kristen Hansen of Okoboji in 2000, 2001 and 2002, Kayla Gesink of Western Christian in 2011, Kim Kroeze of Western Christian in 2011 and Siebrecht in 2016.
Kristin Hansen of Okoboji won one event, the 3,000-meter run, in four straight years 1999-2002. Alexis Conaway won four straight titles in the high jump 2011-14. Siebrecht won four straight titles in the wheelchair 100 and the wheelchair 400 2016-19.
Leah Seivert of Sibley-Ocheyedan set the Class 1A state meet record in the 3,000-meter run in 2013 with a time of 9 minutes, 56.54 seconds. MOC-Floyd Valley set a record in Class 3A for the 1,600-meter relay with a time of 3 minutes, 53.05 seconds in 2014. Western Christian set the Class 2A state meet 3,200-meter relay record with a time of 9 minutes, 24.86 seconds in 2019. Gehlen Catholic set the Class 1A state meet record for the shuttle hurdle relay in its preliminary race in 2012, finishing in 1 minute, 5.44 seconds. Conaway has the state meet record for Class 3A in the high jump, clearing 5 feet, 9 inches, in 2014. Blauwet set two state meet records in 1998, winning the wheelchair 100 in 21.48 seconds and the wheelchair 400 in 1 minute, 15.14 seconds.