LEMARS—Gehlen Catholic High School boys track and field coach Jeremy Schindler thought his team had a chance to do something special at the state meet in 2020.
Schindler, who has been the head track and field coach for the Jays since 2014, said he is a confident person and tries to exude that to his team.
Aside from that, he still had high expectations for the spring season.
"I'm going to just flat out say it, we were trying to win a state title," Schindler said. "It wasn't just, 'Let's see how many events we can get down to state.' It was evident in practice. When I set the times that they have to make in practice, they weren't just meeting the times. They were crushing them."
Gehlen Catholic placed 16th in Class 1A at the 2019 state meet and had a wealth of experience on the team when practice started in 2020.
Unfortunately, it will forever be a what-if scenario for Schindler and the Jays because of the coronavirus pandemic.
On March 15, Gov. Kim Reynolds recommended all schools close for four weeks, postponing spring sports. The Iowa High School Athletic Association and Iowa Girls High School Athletic Union eventually canceled their spring season on April 17.
The state-qualifying meet was scheduled for Thursday, May 13. The state track and field meet would have been May 20-22 in Des Moines.
Schindler said he knew it was a bad sign when the NBA postponed its season on March 11.
"I told the guys, 'I don't know what's going to happen, but until we hear word that our season is done, we're going to keep preparing to accomplish all of our goals,'" he said. "They responded very well."
Schindler said everyone was shocked by the governor's announcement on March 15.
"We had been having some of the best practices that I've ever been a part of as a track coach," he said. "They took it all in stride and then here comes Sunday and she closes down schools and the rest is history."
Schindler said all his athletes were ahead of schedule before the season was stopped.
"I had to keep rechecking my math," he said. "I was thinking, 'Am I being hard enough on these guys? Well, these are the same times we were running last year, and they're killing it.' We were loaded and we were talented."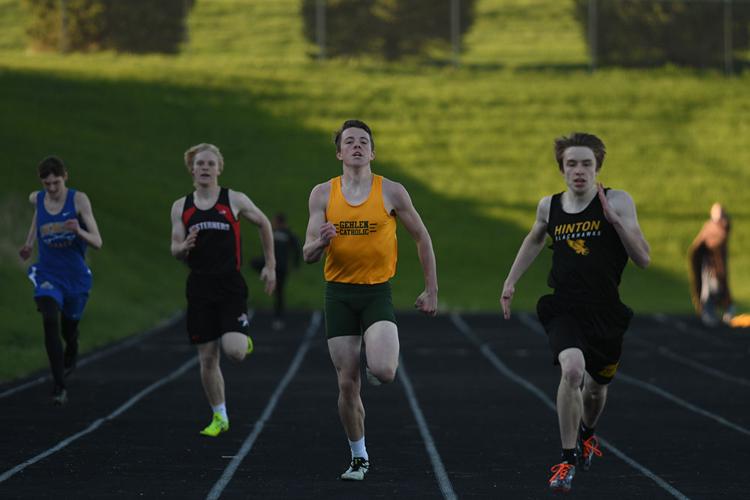 The list of athletes that could have helped guide the Jays to a team state title, which would have been the third in school history, starts with senior Will Roder. He won the 3,200-meter run at the state track meet in Des Moines.
Roder, who will compete in track and cross country at the University of Mary in Bismarck, ND, in the fall, won the race in controversial fashion, although none of it was his fault. The 3,200-meter run is eight laps and an official miscounted the laps. Roder was declared the champion after completing seven laps when nine of the 10 runners stopped after the seventh lap.
"Once the state meet was done and over with, kind of the way he won it, he was disappointed that there were some people out there that were questioning his win," Schindler said. "I know that was fuel to the fire. He wanted to prove to everybody this year that it wasn't a fluke."
Schindler said his opinion is that if the officials had not messed up the lap count, Roder still would have won the race anyway.
"He believes that and I believe that," Schindler said. "It was unfortunate that's the way it happened. Obviously, we're glad that he got recognition as the champ, but we wanted him to have a shot and really defend that title and prove to everybody that it wasn't a fluke and that he is an extremely talented runner."
Roder placed fourth at last year's state meet in the 1,600-meter run.
Schindler said Isaac Vaske was another senior who could have had a great season this spring after qualifying for state in the 400-meter hurdles last year.
"He's another extremely hard worker and had a shot to medal and he false started at the state meet," Schindler said. "This year was kind of his road to redemption. He made the commitment to join the cross country team and to continue to work on his fitness throughout the year. Then to have the track season pulled away from him without really getting a shot, that was devastating."
Schindler mentioned a final senior, Ethan Peters, who competed in track for the first time last season and qualified for state in the high jump. Peters placed 18th at the state meet by clearing 5 feet, 9 inches.
"He did not have a good showing at state in the high jump," Schindler said. "A lot of that was nerves. Being down there all by yourself, he was very nervous. This year he came back and he knew what to expect. He was ready to shine and he honestly had a shot to break our school record."
Gehlen Catholic returned its entire 3,200-meter relay team that made it to the state meet last year in juniors Jeff Augustine and Traegan Kramer, sophomore Ethan Herbst and senior Carson Tesch. Juniors Derek Nilles and Derek Van Arb joined Peters and Roder on a distance medley team that ran at state. Augustine, Peters and Vaske ran on the 1,600-meter team at state. Nilles, Von Arb and Vaske ran on the sprint medley at state in 2019.
Schindler said it is disappointing to see opportunities like that be taken away from the students.
"They're good kids and they understand why it happened and they're getting through it," he said.