IRETON—Much like Rocky Balboa in the 1985 movie "Rocky IV," West Sioux High School sophomore Levi Koopmans is using old-school workouts during the coronavirus pandemic.
For those unfortunate souls that have not seen "Rocky IV," the movie follows Balboa, played by Sylvester Stallone, training for a boxing bout with the Soviet Union's Ivan Drago, played by Dolph Lundgren, during the height of the Cold War.
One of the highlights in the movie is a montage of the different ways the two pugilists train for the fight. Drago trains with a team of professionals using state-of-the-art, high-tech tech equipment and anabolic steroids while Balboa trains in an isolated cabin in Siberia by sawing wood, running in the snow, climbing mountains and pulling people in the snow in a sled.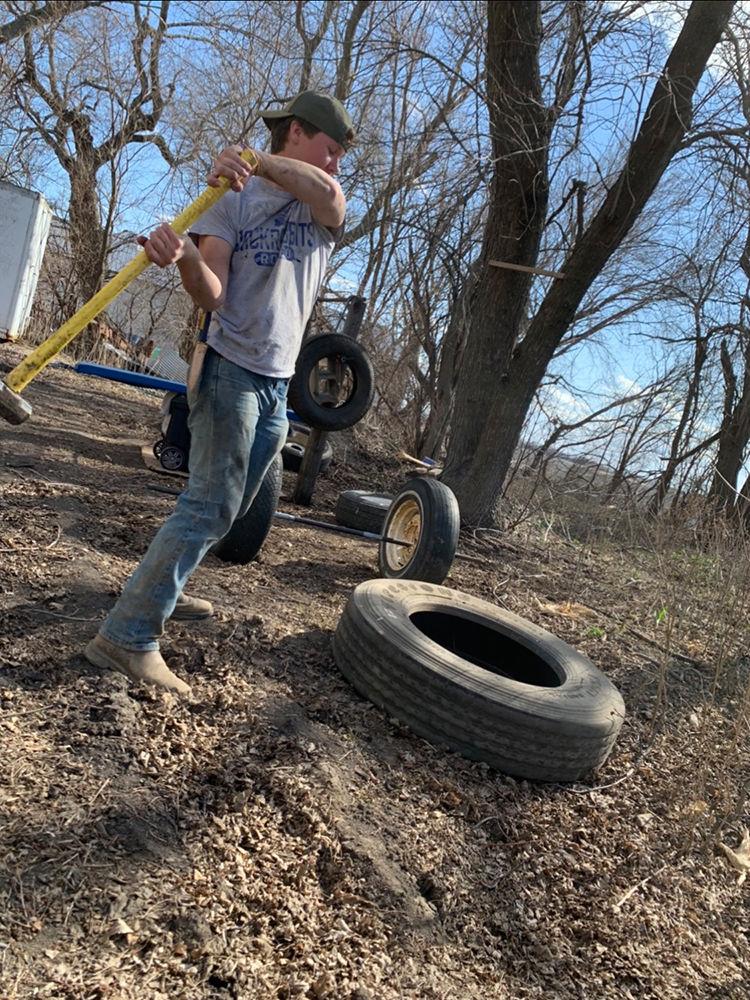 "It always gave me goose bumps when I watched that movie and when he was doing that," Koopmans said. "So that did kind of inspire me a little bit."
Koopmans has a film collection of the first six "Rocky" movies, minus the "Creed" spinoffs, that he has watched multiple times with his father, Jim.
The 16-year-old said he started working out in a low-tech way on April 14.
He first had to build some suitable equipment.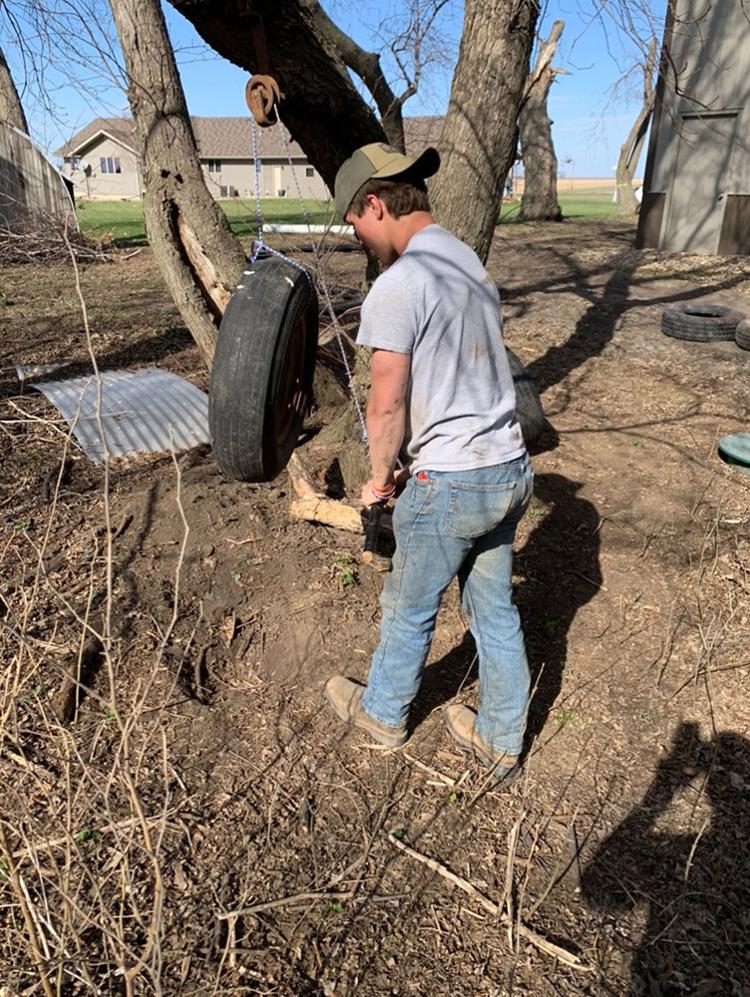 "Everybody else was getting better and lifting and stuff and I knew I couldn't stay the same," Koopmans said. "If I don't start lifting soon I'll just get weaker. So, I just came up with some ideas in my head and put in the work."
He crafted a weight rack using electrical posts to form the base of the rack and meat hooks to rest the bar on when not in use.
Koopmans then put tires or cinder blocks on the ends of the bar to add weight. He uses it for doing bench press or squats.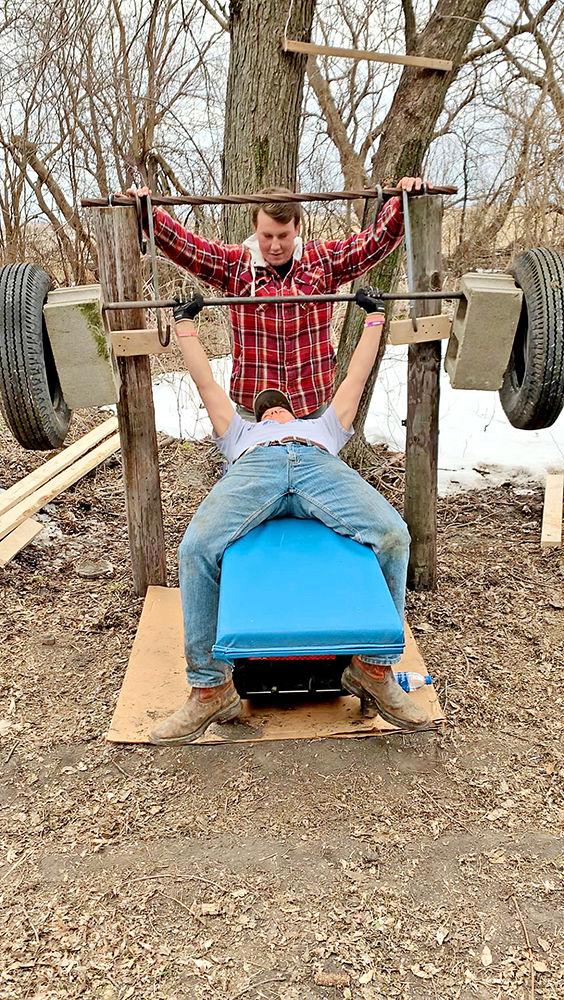 He can adjust the weight on his makeshift rack and estimates he can put 185-195 pounds at the heaviest on the bar.
Koopmans, who played outside linebacker for the Falcons' state-qualifying football team last season, also uses a rope attached to a tire and hung over a tree branch to work his triceps.
He pulls a sled with tires on it to get his legs moving.
He swings a heavy rope back and forth to work on his shoulders and he hits tires with a sledgehammer to work everything from his legs and arms up to his back and shoulders.
Koopmans said there are times that his low-tech workout seems more challenging than working out in a standard gym.
"Sometimes it's more difficult because I don't quite have the right clamps to keep on the tires, but it's definitely a workout," he said. "I'll definitely be sweating once I'm done."
West Sioux football coach Ryan Schwiesow tweeted a video of Koopmans doing triceps extensions on April 16.
Schwiesow tweeted, "There's tough and then there's wearing a flannel, blue jeans,= and work boots lifting an old rusty wheel doing tricep extensions tough."
Koopmans said he wears flannel and jeans much of the time because he's already outside working on something else.
"If I get a quick half-hour or 45 minutes to go get a quick lift in, then I'll go get a quick lift in and then go right back to work," he said.
Koopmans said he could not have done it without his father who helped him build it.
The younger Koopmans wants to prove everyone who thinks West Sioux can't make it back to the state football playoffs is wrong.
"I just want to make it to state this year and do as best as we can," he said. "That's definitely a goal for me."
Unlike Rocky, Koopmans said he does not even need a picture of Drago to motivate him.
"No, I just usually think about football and that's what really gets me going," he said.