SIOUX CENTER—The Dordt University women's soccer players will be sporting some high-tech undergarments next season.
Dordt announced on April 9 on Twitter that it is partnering with Catapult, a sports performance analytics company.
Catapult makes clothing that looks like a sports bra or a vest. It isn't the clothing that's important though.
"The vest itself is nothing," said Dordt coach Alex Durbin. "It's no more than just cloth. What the actual technology is, they call it a pod. It's no larger than I'd say a key fob."
The pods use GPS to track all kinds of information and data on the person wearing it and sends that information to the coach. For example, it tracks how far and how fast someone runs along with a percentage of their time spent walking, jogging or sprinting. It can even track impacts and collisions.
Durbin, a 2017 Dordt graduate, went to the Catapult website and got in contact with a representative not long after taking over as the head coach of the women's program in January.
"We've sat down multiple times and he shared his screen to kind of show me what the program looks like on the computer and how the different metrics that it tracks can be used," he said. "It's quite impressive and quite unique. So from basically mid-January until late March is when we decided that we were going to go with them."
The Catapult website lists three different wearable products: Vector, ClearSky and PlayerTek.
Dordt bought 10 of the PlayerTek pods.
The Catapult website describes the PlayerTek as "Intuitive and affordable athlete monitoring technology for teams at all levels and budgets." The website also lists Duke University men's basketball, Baylor University football, Xavier University men's soccer, the Sweden women's national soccer team and the Egypt men's national soccer team among its clients.
"This is not a technology that every program gets to use whether you're a professional, a semiprofessional, whether you're Division I, NAIA or anywhere," Durbin said. "This is some cool technology that we've really been able to make possible with donors and being able to hop on board with what we're trying to do here at Dordt."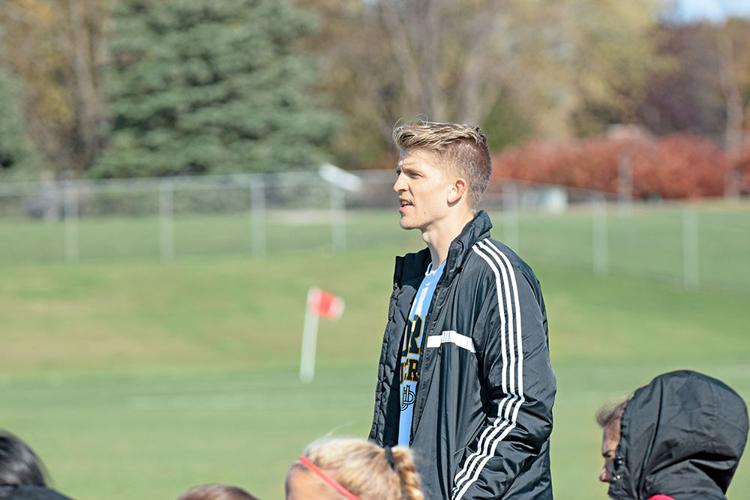 He said one of the cool aspects about the pods is they can be used in practice or games.
"You just throw it over your practice shirt, but for games you can wear that as well," Durbin said. "You can throw it on underneath your jersey and it's legal from a FIFA standpoint to be able to use it. We're excited to be able to use it both in practice and in games, so it'll get a lot of use."
One of the things the pods do is create heat maps of the field showing where players wearing the pods have been on the field and where they spend most of their time. Durbin said the heat maps are incredibly beneficial.
"It's very easy for an athlete to just say, 'All right, I'm a center back, I don't need to ever leave here,'" he said. "No, that's not it. If that's all your heat map is showing me that means you're not doing enough. That means you have to be able to make more creative runs. You need to be able to get out and switch positions with some people and confuse the defense."
Durbin added that one of the biggest things the pods do is track a player's work ratio and the coaches can change or adjust practice based off that. For example, if the work ratio for players is low after practice, Durbin and staff could make the next practice harder. On the other end of the spectrum, it lets coaches know if players are being worked too hard.
"It will be extremely beneficial to see where a player's work ratio is at the beginning of the week when everybody's super healthy, fresh and ready to roll compared to the end of the week when numbers are down and things are looking a little lower or if the last workout was extremely strenuous," he said.
If that happens the solution could range from fewer sprints to canceling practice entirely and having a pool session.
Dordt is scheduled to start practice on Aug. 10 and the first game for the Defenders is Aug. 20 against Clarke University. Durbin said the Catapult pods will be important for that quick turnaround. He said one option is to have four practices a day.
"Yes, that's great but those four trainings a day are absolutely taking a toll on athletes," he said.
The other solution according to Durbin is to tone things down so the athletes are healthy and rested on game day. Durbin said he has had conversations with Dordt's trainers on how the data can help with injury prevention and mitigation too. The only downside for Durbin so far is he has not been able to test them out in the spring due to the ongoing coronavirus pandemic.
"I still have plenty of things that I need to continue to learn because I haven't been able to use the program itself," he said. "Once I get more hands on with that and being able to actually look at data, that'll be easier. We're excited for what this technology is going to do for this woman's soccer program."