SIOUX CENTER—Vern Den Herder of Sioux Center, a former National Football League defensive end with the Miami Dolphins, last saw Don Shula in Miami.
Shula, a Hall of Fame coach with the Baltimore Colts and Miami Dolphins and the holder of the NFL record for most wins by a coach, died May 4 at the age of 90.
Den Herder last saw Shula shortly before Christmas.
He and other former Dolphins were celebrating their undefeated season from 1972, the only one in league history. That team had been named the best NFL team of all time by the league during the NFL and ESPN's celebration of the 100th season in league history. The team's gathering was built around the Dolphins game against the Cincinnati Bengals on Dec. 22.
"The Dolphins decided that we should have a celebration for that, so they brought us all in from that '72 team in celebration of that honor," Den Herder said. "It just so happened that it was during the time frame that coach Shula was having his 90th birthday. So we were invited and we attended his 90th birthday party at one of his friends' homes and we surprised him."
Shula, who turned 90 on Jan. 4, did not know his former players from his most famous team would be there.
"We were able to wish him happy birthday and to give him well-wishes," Den Herder said. "It was just an event. When I look back at that I am so thankful that he had the opportunity to be alive and to experience the honor that his 1972 team got from being awarded the number one spot in the history of the 100-year anniversary of the NFL. It just was a great thing for him."
Even though Shula had been in declining health for the previous few years, Den Herder said Shula still knew everyone there by name.
"It just was a great event," he said.
Den Herder played college football at Central College in Pella and earned all-conference honors three times. He then was drafted by the Dolphins in the ninth round with the 230th pick in 1971.
In Den Herder's first season with Miami, the Dolphins went 10-3-1 in the regular season before losing to the Dallas Cowboys 24-3 in Super Bowl VI. The next season Miami finished 17-0 after defeating the Washington Redskins 14-7 in Super Bowl VII to complete the perfect season.
While the Dolphins did not finish undefeated again the next year, they did go 12-2 in the regular season and beat the Minnesota Vikings 24-7 in Super Bowl VIII.
"At that time I thought it was easy getting there," Den Herder said. "You just had to work hard and do what the coach told you. But in the years following that I found out how difficult it was winning enough games just to get into the playoffs. It became clear to us that it really is harder than maybe what we thought."
Den Herder said that Shula was driven and told the team after their Super Bowl loss to the Cowboys that they need to remember how it felt to get that far and fall short.
"From that point on, our goal was not to get to the Super Bowl, it was to win the Super Bowl," he said. "From day one, those feelings were reiterated."
Den Herder, who played in four career Super Bowls, said the Dolphins were not specifically aiming for an undefeated season in 1972. They were just trying to win the Super Bowl.
"We really didn't know what we did," he said. "We knew we were undefeated but we didn't know how big a thing it was and how big that it was going to get. It's something that we really take pride in. It's become quite a big thing. But no, we had no thoughts of going undefeated or even any thoughts of how big an accomplishment that was."
Den Herder said he and the other Dolphins on the 1972 team take satisfaction in their one-of-a-kind accomplishment.
"We enjoy the fact that we're unique and that we're the only team that did it," he said. "I will say that if another team does go undefeated, we will congratulate them because we know how hard it is to do. I always say we would welcome them onto the podium with us, but until that point, we're going to enjoy the fact that we did something very unique."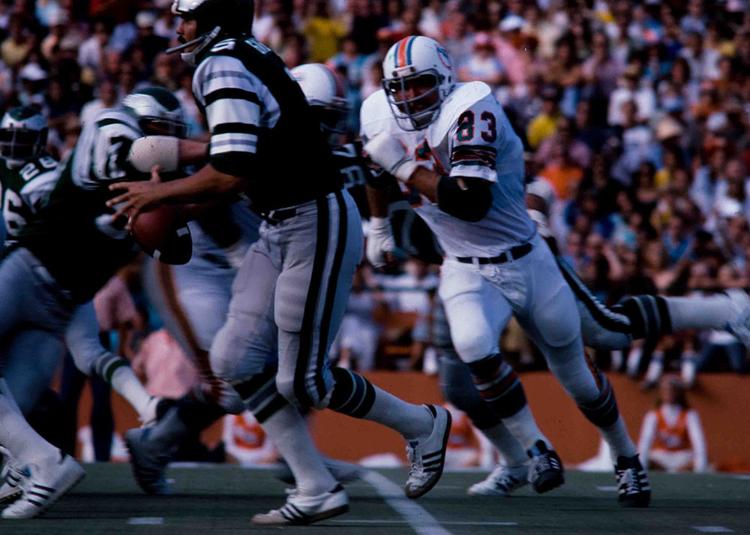 Den Herder played for 12 years in the NFL from 1971 to 1982 and spent his entire career playing for Shula and defensive line coach Mike "Mo" Scarry. He said those were two of the best coaches he ever had along with Ron Schipper at Central College.
"To have those two guys for all 12 years was just a godsend for me."
Prior the 1981 season, Scarry visited Den Herder in Sioux Center. The Dolphins wanted a younger defensive end to take over his position.
"They sent Mo to Sioux Center to tell me that in no way did they want me to retire," he said. "They still wanted me on the team, so I did that. I went back."
Den Herder played on running downs while the younger defensive end played on passing downs.
"I was given the idea that the handwriting was on the wall and that more than likely I wouldn't be wanted on the next year's team," he said. "I knew they were going to a youth movement so I retired."
Den Herder was working for Sioux Feed Confinement in Sioux Center before the 1982 season. He went home for lunch one day and the phone was ringing.
"I answered it and it was coach Shula himself," Den Herder said. "His first question to me was, 'Vern, have you been running?' I said, 'No, why? I'm retired.' He said, 'Well, we have two young linebackers that we want to include on our team and in order to do that we have to go with one fewer defensive lineman. So we want somebody who knows every position and that can play any position on the field on the defensive line. We need somebody like that and we want you to come back.'"
So he went back for one final year and the Dolphins advanced to the Super Bowl again but lost 27-17 to the Washington Redskins. Miami went 10-3 in a season shortened by a players' strike.
According to Den Herder, "The last thing he said to me on the phone before we hung up, he said, 'Vern start running,'"