REGIONAL—Changing up your workout routine every once in a while is generally recommended procedure.
However, for the athletes at colleges around the nation, the adjustments that have been made due to the coronavirus pandemic are a little extreme.
The student-athletes cannot be around their teammates or coaches. They cannot use the facilities on campus, or any other facilities outside their own home. They have to use whatever tools they can find to keep themselves physically and mentally sharp.
The strength and conditioning coaches at Dordt University in Sioux Center and Northwestern College in Orange City are doing their best to help that process along.
System in place
Dordt sports performance coach Kyle Van Wyk had an advantage in all of this.
When the 2010 Dordt graduate returned to campus to take the job in January 2018, his predecessor Adam Conway already had an online system for delivering workouts to student-athletes in place. The system the Defenders use is called TrainHeroic.
"I'm able to do it on my laptop and the students download an app to access it," Van Wyk said. "That was already in place when I got here. I can adjust it for specific student-athletes if I need to. As long as they have a phone, they have access to our workouts."
While Van Wyk has no personal contact with the athletes due to the government restrictions at this time, the app does allow for some demonstration when necessary.
"I can assign a link to a video that helps explain it if it is something we haven't done before or something they aren't real familiar with," Van Wyk said. "You can get more technical that way. I can use it to demonstrate how I want it done, which gives me some piece of mind that the students are not only going to do it, but do it safely."
The online route became the primary option quickly.
"It came in two phases," Van Wyk said. "The first was while the students were on spring break. At first we were just told spring break was going to be extended for a few days. At that point we had no inkling they wouldn't be coming back to campus. Then around March 26 we were told we were going to remain online only for the rest of the semester. Now, we're not sure what to expect before this carries itself out."
He said his workout plans have changed in phases as well.
"Over break I was looking at it from the perspective that almost all of them would have some access to gym equipment at their local workout facilities," Van Wyk said. "Now I have to assume those gyms are closed. There are some that have some sort of a home gym with a bench and a squat rack, but we have to figure they are doing a lot of body weight workouts for the time being."
While devising workouts, Van Wyk has a checklist of things that need to be done to help build more well-rounded athletes. He tries to work the muscles front and back and work on pushing and pulling motions. He sometimes utilizes unusual tools, like milk jugs or the tailgate of a pickup, to accomplish those goals.
In addition to strength, athletes in certain seasons need conditioning work too.
"We do a lot of tempo runs, which isn't a sprint but it isn't a jog either," Van Wyk said. "It's about 70 to 80 percent runs, and the best thing about those is all you need to do it is space. We can add to them by either distance or time. It all differs depending on the sport."
Van Wyk is the only strength and conditioning specialist on the Dordt staff. He also teaches classes in the health and human performance department in addition to prescribing workouts for 12 Dordt teams.
He said while the athletes are missing the competitive aspect of being in the same room for workouts and pushing each other, most athletes who have reached the college level have the right mentality to handle this situation.
"They need to display a high level of self-discipline," he said. "They have to move away from that mindset of where you need someone else to push you when you have a day where you aren't feeling that motivated and toward a mindset of just doing what is expected of you. I tell them 'Motivation is what gets you going but discipline is what will keep you growing.' You get out of it what you put into it."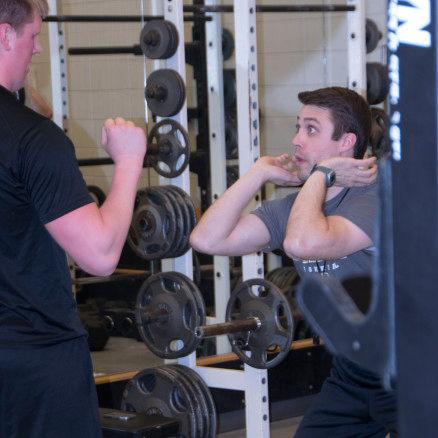 Team effort at NWC
While Van Wyk handles the task on his own, Northwestern strength and conditioning coach Kyle Ochsner has an assistant, a graduate assistant and five seniors who are taking strength and conditioning classes to help him along.
The five seniors — Emily Reynen, Riley Bennett, Colin Snyder, Drew Schutt and Cole Joachim — have shouldered a larger than anticipated role.
"One of the reasons I came back here and took the job was to help develop strength and conditioning as an academic program," said Ochsner, a 2012 Northwestern graduate. "We have what we call a practicum series. Starting in their sophomore year, the students are kind of at an introductory level. We meet once a week and find things on strength and conditioning from all sorts of media and investigate that.
"In the second year they take what they learned and they start to apply that to create plans to get the result they want. In between their junior and senior year they do an internship somewhere. Then once they get to their senior year they are each assigned one of our teams. We try to keep it to a smaller one, 30 athletes or so."
The Red Raider teams still were on their normal routines on March 11-12 after returning from spring break. The NCAA then started to suspend or cancel events and that quickly trickled down to the NAIA level.
"At first you could still train, but it couldn't be mandatory. I had to create a schedule so that our facilities wouldn't be overwhelmed with all the teams and athletes in there at once," Ochsner said. "I had just got it situated and was ready to hit send on the e-mail when the word came down that after Friday we were done."
Ochsner was stunned. He decided to drop everything he was doing and head out to the Northwestern baseball game.
"It was super somber the whole day," he said. "Normally, when you win your last game by the 10-run rule you are pretty excited, but everybody knew that was it. We were done."
Sports were called off and students had to leave campus, but Ochsner's senior students had eight weeks of class left when the pandemic caused Northwestern to go to online classes only.
"Once most everything was shut down it was hard to write a program. Anything we give to the athletes now can't be mandatory," Ochsner said. "We had a meeting and we had to develop at-home training programs. It is how we can adapt and keep everyone on the same page."
Northwestern did not have a computer program set up, so it decided to use its Instagram page to relay the information. That mode had an added bonus.
"We recognize we are not the only ones dealing with this," Ochsner said. "There are plenty of people from across the Northwestern community and around the country that are not allowed access to a weight room. It made sense for us to provide this service to anyone and everyone, which is why we used Instagram. As a staff of Christ followers, we firmly believe in our calling to utilize our gifts and resources for the greater love and service of others. This is one way in which we could display them."
He decided on the guidelines and parameters, but the five seniors are assigned to do all scripting and posting of the workouts. With five in the practicum it worked out perfectly.
"They each get one day per week," Ochsner said. "We also cycle them through so that they are not always programing the same parameter. They get the information, pictures and videos to me the afternoon before it's going to run and I simply tag them and post them to our @NWCPerformance Instagram page that evening in case there is an athlete that likes to get up early in the morning to train."
The parameters are power on Monday, work capacity on Tuesday, strength on Wednesday, work capacity on Thursday and power on Friday. Ochsner said it was important to make sure the workouts were easy to do and practical for someone who cannot access gym equipment.
He said the students have been creative in designing the online workouts.
"They are finding ways to provide exercises that are familiar using some different equipment," Ochsner said. "One of them used a doughnut spare tire. One used a propane tank. We want them to all have that underlying thing, the work capacity, strength and speed. If you have those three things you are going to be in great shape."
He wants to make sure the athletes do not lose anything during the break and can pick up right where they left off. While he cannot really check progress, Ochsner said the Red Raider athletes have found ways to push each other.
"You lost some of the team camaraderie and social interaction, but as long as they stay connected they can push each other," Ochsner said. "This generation is very used to doing things on social media. Some of the athletes are taping their workouts and putting them up there. When I see it I try to repost. We want to try to keep that momentum going."