MAURICE—"I don't even know where to begin. This feels like a nightmare. It's such a long story, and it's 2 a.m. so I will give you the cliff notes version."
That CaringBridge post June 9 came after a whirlwind of events June 8 that landed 7-year-old Teagyn Roorda of Maurice fighting for her life in a room at University of Iowa Stead Family Children's Hospital in Iowa City.
"We are exhausted emotionally and mentally and very, very scared for our sweet little girl," continued Joni Roorda in the post. "We need every prayer warrior out there to storm the gates of Heaven for her. We are all out of prayers, and need you all to intervene on our behalf."
Parents Lance and Joni are seeing the results of those prayers three weeks later after a virus attacked young Teagyn's heart, bringing her blood pressure almost to the point of coding to being able to sit up in a chair today.
"As a mom, I try not to make it about me but it's hard," she said. "There's still anxiety every time an alarm goes off. It takes me back to when she almost didn't have a pulse. We're taking it one day at a time right now. We can't say enough how thankful we are for those early and continued prayers. The support from family, friends and the community has been insane. We've gotten cards from people we don't even know, cards from across the country."
Teagyn's soon-to-be second-grade class at Sioux Center Christian School this fall also put together a basket filled with gifts, cards, toys and more for their classmate.
"This is so scary, and it's still very hard for us, but we feel very blessed to have the support that we do," Joni said.
'One scary day'
Teagyn had been battling a bug the last week of May. By Friday, May 31, she came home more exhausted than normal from a dance recital. She registered a 103-degree temperature, which she still had the next morning. A trip to the Sioux Center Health Medical Clinic revealed she had a viral infection.
"The fever broke so went to her second dance recital that Saturday [June 1]," Joni said. The next few days she seemed fine again until she started complaining her stomach hurt that Wednesday [June 5]. I could tell she wasn't feeling 100 percent; she was very sleepy."
Blood work and strep tests during an urgent care visit came back negative.
That night, however, Teagyn progressively got worse. She wasn't eating or drinking and she had 102-degree temperature by Thursday morning, June 6. She got IV fluids after a trip to the emergency room. More blood work showed elevated liver enzymes. Instead of returning to the local hospital Friday morning, June 7, for a scheduled ultrasound of her liver, Joni took her daughter to Sanford Children's Hospital in Sioux Falls because Teagyn seemed to have a hard time breathing.
"They found her oxygen was low, so they admitted her," Joni said, noting that a chest x-ray showed that her right lung "was very diminished." "We thought we were dealing with pneumonia."
Teagyn was hooked up to a bi-level positive airway pressure, or BiPAP machine, which could give her the most oxygen without being intubated.
"As they started hooking her up to more monitors, they noticed her heart rhythm was abnormal," Joni said. "Blood work showed heart enzymes were crazy high. The hospital said they were not equipped to handle this. We needed to be at a hospital with cardiac pediatricians."
Teagyn was then airlifted with her parents to Iowa City where they arrived about 2 a.m. Saturday, June 8.
"By about 5 a.m. Teagyn's blood pressure was to the point of being nonexistent," Joni said.
She was put on an extracorporeal membrane oxygenation or ECMO machine, which is a heart/lung bypass machine that takes over the work of the heart and lungs to give them a break so they can recover.
"The biggest concern that doctor said is that a lot of times when kids are that sick, their hearts will (flatline) before they get on the ECMO," Joni said. "Teagyn did not! This went as well as it could for Teagyn, and they didn't have any problems. It was still one scary day."
'We don't know the future'
Doctors determined later that day Teagyn didn't have pneumonia. Rather, her lung was filling up with blood because her heart was not able to pump it out.
To be proactive and prevent any more damage to her heart, doctors decided to put a catheter through Teagyn's groin to poke a hole through the walls between her left and right atrium and make it bigger with a balloon so that the blood can flow between the two.
"There were some very big concerns with this procedure, but fortunately, it went just as they hoped," Joni said. "They actually didn't need to 'poke' a hole because she already had an open 'flap' called a PFO, which about one in four people have."
Doctors are unable to explain why Teagyn's immune system looked at the heart as the source of the cold virus she had and started to fight it off, causing the heart to become inflamed. The result is a condition called miocarditis, or inflammation of the heart muscle that's causing abnormal heart rhythm, known as arrhythmias.
Teagyn spent 11 days on ECMO. She came off and has been breathing and eating on her own for about two weeks, but she's not out of the woods yet.
"Doctors talk about it in thirds — a third of patients with miocarditis continue to get better, a third stay about the same and a third have decreased function," Joni said. "We don't know the future."
'One day at a time'
Joni continues to post updates on CaringBridge.
"We pray and ask for prayers for Teagyn's heart to be completely healed, but also have daily focuses," Joni said.
Doctors are slowly weaning Teagyn off of an IV medication designed to squeeze her heart to help it maintain normal rhythm to see if her heart can maintain normal function on its own. Teagyn's also on a plethora of oral medications.
She's done a little walking with assistance, but it's been limited due to lack of strength and her right leg being in pain where the catheter was inserted.
"We think it's a combination of nerve and muscular pain, healing for that is a big prayer request," Joni said.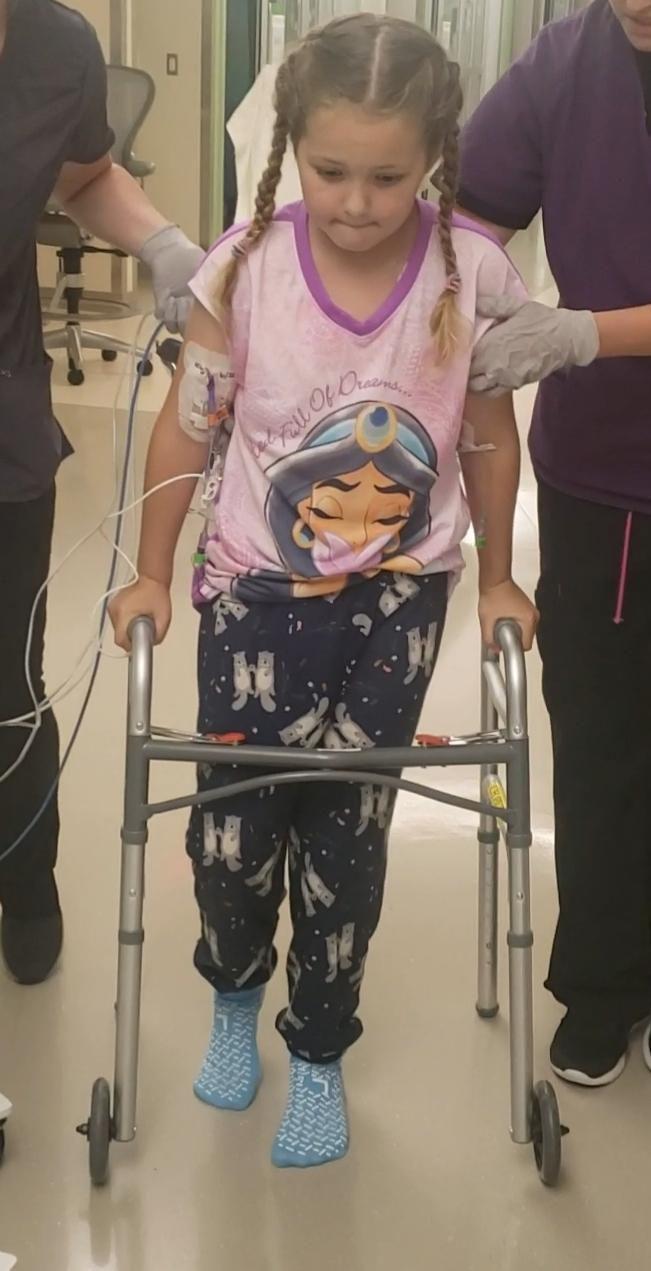 Teagyn had an MRI on Wednesday, June 26, to look for any scar tissue on her heart.
Another prayer request is for Teagyn's brothers, Colton, 12 and Gage, 10, who are being cared for by Joni's niece while she and Lance remain in Iowa City.
"We had plans to go on vacation. This is not exactly how we expected our summer to go, but we are thankful she's not missing any school," Joni said. "So many times on this journey we've seen God's hand at work. It's hard sometimes to have that focus, especially when we have no clue how long we'll be here hoping we can take our daughter home, but we're taking it one day at a time."
Stay up-to-date with Teagyn Roorda's progress online at: www.caringbridge.org/visit/teagynroorda.