SIOUX CENTER—Pine wood with red, white and blue paint on it has a simple, stunning quality that leaves Jim Keizer in awe every time he steps back from one of his finished creations.
"It's the American flag, something I fought for," said the Vietnam veteran.
Each Wednesday morning he brings wooden flags he and his wife, Vell, create to the Centre Mall parking lot in Sioux Center, sitting alongside other vendors who are part of the Sioux Center Farmers' Market.
Selling each piece is the highlight of his hobby.
"It's rewarding to know there are flags hanging in people's homes or outside their homes," Keizer said. "It's rewarding that people are buying flags. They may not have a flag flying but buying a wooden flag is still patriotism."
Pride in his country lead the 73-year-old Hull resident to the wood working project about a year and a half ago. The former owner of Keizer Plumbing & Heating in Hull turned to helping his wife make crafts in his retirement.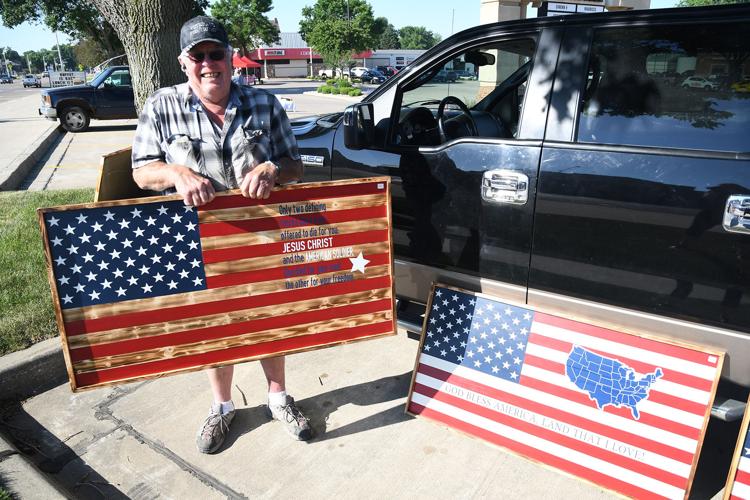 "I had somebody ask me if I would make a flag for them out of old barn wood," he said. "I got the idea to go to where I was born and raised northwest of Hull that was an empty farm place. I started taking siding off the barn and made about 25 barn wood flags."
He gave one to each of his siblings — four brothers (one deceased) and a sister — and sold the rest.
Another request for a wooden flag made out of pine, Keizer said, turned out even better. Others saw the outcome, asking for their own pinewood flag so Keizer has stuck to that material ever since.
Why he was interested in the first request and continues to make wooden flags remains the same.
"I'm very patriotic. Very. And so is my wife," he said. "I believe making flags helps the patriotism of our country. We need patriotism really bad."
Some of the rioting in recent weeks and division in the country echoes the cold feeling Keizer remembers upon coming home after serving overseas 1968-69. Keizer was a member of the Sheldon National Guard at the time, which was activated for duty overseas. He and his wife were married and had their first child at the time of his deployment.
Keizer worked as a machine-gunner or "grunt," he said, during his nine and half months in Vietnam.
"I was part of the infantry on the ground," he said. "We moved around the country in a helicopter. Got a lot of miles riding in a helicopter."
His job was to keep an eye out "for the bad guys" no matter where they were, if it was out in the field or in a bunker while in the LZ, or landing zone.
"At the LZ is where we picked up the mail or food," he said. "Each company took its turn by the LZ, which was about three days and then we were out in the field again. You got to take a shower when you were on the LZ, so I didn't mind."
Keizer said the longest time his company spent out in the field was a little more than 30 days during which they were brought food.
To this day he's still thankful he was never injured during his time in Vietnam.
"But when I came home, we landed first in Oakland, California — that was a cold feeling," he said. "We were scoffed at. There was people protesting the Vietnam War outside the airport."
Being greeted by family members at the Sioux Falls, SD, airport felt like a sigh of relief.
"I felt I was home," he said. "You can't beat that comfort."
Though the couple makes standard red, white and blue flags, Keizer often takes personalization requests, which he loves.
"The flag should mean something to everybody, so to have people come and ask about adding something else to it that they love, that they can enjoy in this country, I like that," he said.
Personalization has included decals or paintings of firemen, EMT personnel, law enforcement, tractors, deer, pheasants and more. Keizer said he also has a design for each school, public or private, in the area as well.
Keizer's main role involves cutting each of the wooden stripe and frame pieces as well as burning or painting the pieces the proper color. His wife stencils on each of the 50 stars. They work with vinyl sticker businesses in Hull and Rock Rapids if they're in need of vinyl words or pictures for a project. For hand-painted designs, they work with Konnie Leusink of Boyden.
They do the same for the 18-inch pinewood clocks they also make. Making clocks came out of an idea Keizer had to use up some pinewood scraps he had, which turned into something customers wanted more of so he kept doing.
One of his favorite clock projects involved using bullet casings to mark each of the minutes around the clock.
"Using bullets started out of a customer request and it's been popular," he said.
The Keizers have made about 150 wooden flags alone since they began and are excited about the community's interest.
"I love using my hands and using them to help make flags," he said. "We're having a ball doing this. We just absolutely love it."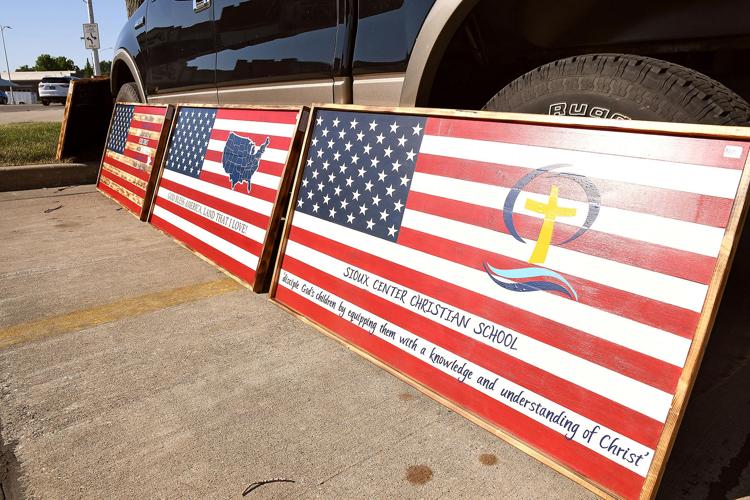 Keizer comes to Sioux Center each Wednesday morning and Rock Valley most Thursday mornings. The rest of the week, except for Sunday, he's working on customer orders.
"I decided to come to Sioux Center because there's a lot of traffic and I like Sioux Center," Keizer said. "I think Sioux Center is a wonderful town, and it's brought a lot of business."
He's enjoyed getting to meet new people.
"One question I hear just about every time someone stops by is, 'You make these?' Like they're surprised I don't get them from Amazon," Keizer said. "One of my favorite comments, too, is that pictures of these don't do them justice. You have to see these up close."
Keizer knows more flags are up in Sioux Center and Sioux County because of his work.
"That's exciting, that keeps me going," he said.
That and knowing even President Donald Trump has one of his flags. Keizer mailed one to the White House about two months ago.
"It took me a long time to make a flag that was absolutely perfect," he said. "I didn't contact anyone, just sent it. I got a thank-you letter about three weeks later. I wanted to do that because I think the world of Trump. I think he is the best president we have ever had. I wanted to let him know that a veteran in a little town in N'West Iowa is backing him 100 percent. You don't have to agree. I fought for that freedom to disagree, but people should still take pride in the flag, in our nation it represents — 'One nation, indivisible, with liberty and justice for all.'"