SIOUX CENTER—Jake Van Wyk put pen to paper about a year ago with the hope of making his dream a reality.
The 70-year-old professor emeritus of art at Dordt University began drawing his new art studio after his first one burned to the ground in November 2019.
"It feels beyond amazing standing here in this space, this new studio," Van Wyk said. "Silver linings accumulated in so many ways for me to be in this beautiful new building.
"We continue to be amazed by God's providence in helping us let go of the old and start anew. We've been blessed to have great help and advice from other artists and craftsmen, as well as use of Dordt studios to make this all happen."
Van Wyk of rural Ireton said it took about four months to clear out the burned studio.
"I was numb for months, digging through the smoked, charred and broken clay work, lost art and several hundred books," Van Wyk said. "Because it was so depressing, I couldn't do that work for more than five to six hours at a time."
"Slowly the salvage process started to reveal rays of hope. What I call 'silver linings' started adding up — there was an important exhibit of 40 works of mine on display at Mount Marty College so that was saved, and I saved about 75 percent of works behind glass and below top works in storage drawers."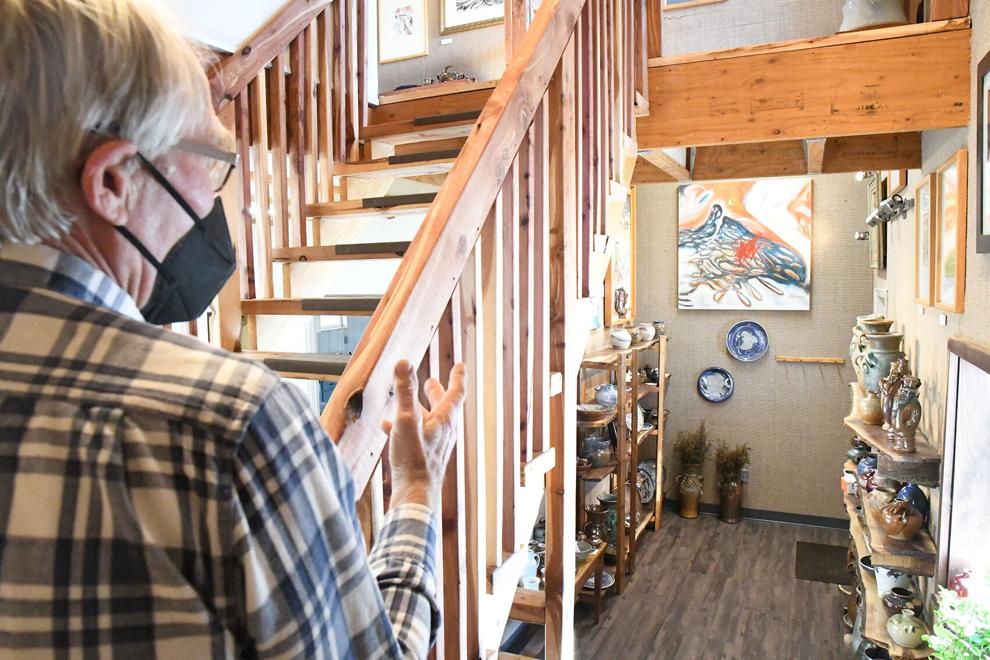 Stored crates and boxes in the corners of the attic storage revealed art and clay works that Van Wyk hadn't seen in more than 20 years. Hundreds of paper works on top of each flat file drawer could not be saved, but many pieces could be saved.
His son, Eric, also started an online GoFundMe campaign through which $10,000 was raised for purchasing a kiln and other equipment related to Van Wyk's artist work as the building had not been insured for the business portion.
Insurance, however, did come through covering various pieces of lost art.
Another silver lining, Van Wyk said, came when he and his wife, Trena, took a break from the cleanup work last winter by visiting their second home, a cottage in North Carolina. They had a studio property near their cottage they'd been trying to sell for 20 years and were able to sell it with ease.
"To shovel out your work, filling several dumpsters and burning hundreds of paperwork and frames — it was painful to see but almost a bit of a release," Van Wyk said. "Having that studio property sell felt like God was putting all the pieces together to fund a new studio in Iowa.
"The change of venue and location away from the devastation offered a refresh; I started drawing up a building. I started dreaming about a new space. I have to continue doing art. I've always dreamed of a studio that could be kind of a museum space as well. In the past it was always makeshift old stuff. … I wanted to start fresh, clean and new."
Van Wyk's new studio met his top three goals and he did it under budget.
"My initial goal was to establish a high-end efficient space that I could produce art in," he said. "No. 2, I wanted it to be a space that I could display the volume of work that I've done. It's a lot of work. … No. 3, I wanted it to be a visitor-friendly space where I can invite people to see art, display art, sell art and possibly hold classes."
The 2,000-square-foot studio, which is slightly larger than his previous studio, utilizes the concrete slab under which his previous studio was located. The larger square footage comes from creating a second floor over part of the main floor.
The main level includes a display area as one walks into the space, which flows into an area for print making, past a bathroom, then a space for his ceramics and 3D art work that has plenty of storage before leading to a steel frame in which his kiln will be installed in a couple of weeks. That's that last piece needed to complete his new studio, which has an upper floor for drawing, painting and archive space.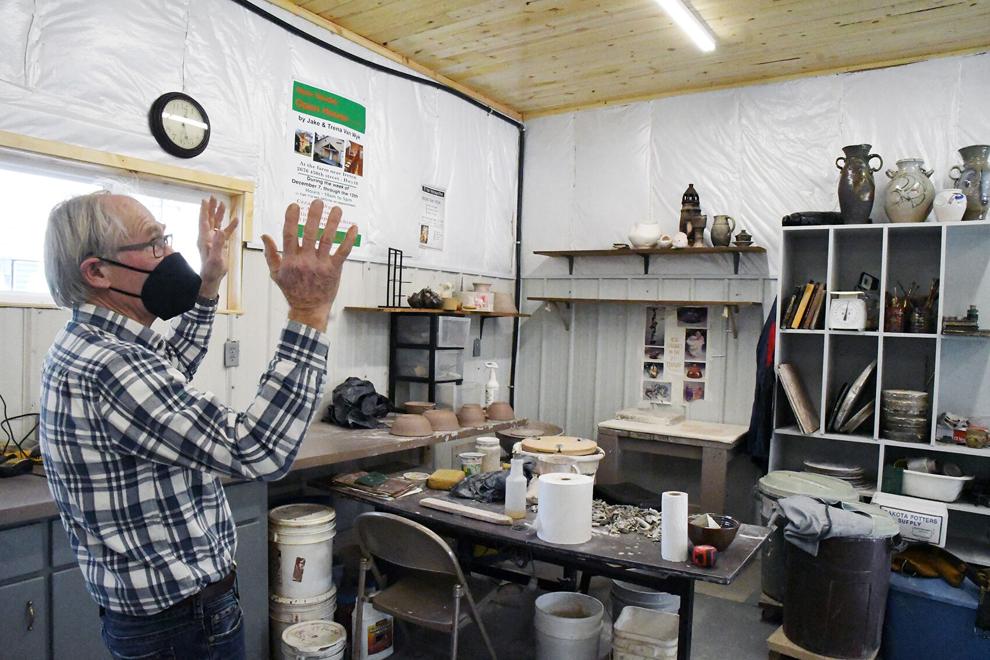 The display areas have museum quality backing and spotlights. There's also LED lighting throughout the building.
"PR Construction (of Ireton) formed my sketches into plans and engineered a building that was absolutely amazing," Van Wyk said, noting the company allowed him to work along side three employees to help with construction that took about three and a half weeks in June-July 2020.
He then hired a high school student, Levi Landman of Sioux Center, to help him put the siding on the building. Van Wyk and his wife completed most of the interior painting and applied polyurethane to the wooden floors, ceiling and parts of the stairway. The stairway itself was built by Delmar Vander Zee of Sioux Center, who constructed it out of planks made from a 55-year-old cedar tree the Van Wyk's cut down on their acreage. It was one of seven trees they had cut down, milled and used as part of the new art studio.
Van Wyk also had number of volunteers from his church in Sioux Center, including Paul Clousing and Steve Krull of Sioux Center, who provided extra help and muscle.
"COVID we saw as an advantage because we didn't want to travel, to risk going out and about so we had this project to focus on at home," he said, noting he and his wife put in 13-14 hour days for weeks on the project, succeeding in having everything done — with the exception of the new kiln in place — by the second week of December. "It was an incredible positive project. People were excited to help, it was a project of hope after such loss and in a year of concern and loss for others. It's quite something to be in this building after having just been dreaming about it a year ago."