SIOUX CENTER—U.S. Rep. Steve King (R-Iowa) spoke at the Sioux Center Pizza Hut on Monday, Nov. 25, about the presidential impeachment efforts, abortion and different comments for which he's been criticized.
His speech and ensuing dialogue with attendants were part of the Sioux County Conservatives' Pizza & Policy event that featured King and offered a chance for attendees to ask questions of the representative ahead of the 2020 District 4 election.
King started by going through a bit of impeachment history, looking at the different contexts in which Congress has begun impeachment proceedings against a sitting president.
Impeachment efforts against President Donald Trump began Nov. 8, after Trump was elected to office, King said and it's been a politically-driven effort from the start.
"It's a political equation, and the equation we're dealing with now isn't about what's right or wrong or what happened," King said. "Instead, it's about do enough people want to put their political career at risk saying they want to get Donald Trump out of office."
Following Trump's election came about the Resistance movement and with that, the insertion of terms such as Nazi, fascist, white supremacist and white nationalist into regular political dialogue with which to label political opponents, King said.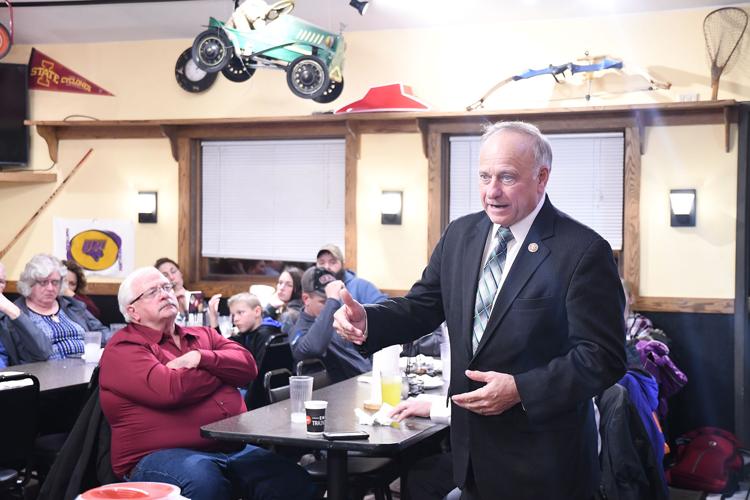 King said there's nothing worth impeaching over in regards to Trump's conversation with Ukrainian President Volodymyr Zelensky about Joe Biden and his son, Hunter Biden.
"What is it? I'm still looking," King said. "We know that Joe Biden went on national TV and bragged that he had extorted the result he wanted out of Ukraine."
One good thing he'll say about the impeachment effort is it means Democrats haven't had the time to advance their own agenda in the House.
King went on to describe himself as a constitutional Christian conservative who stands on principle rather than what is trending.
He said last year kicked off a series of attacks against him, with criticism from Steve Stivers, chair of the NRCC, made early in January legitimizing the attacks and by mid-January, he had been removed from his committee assignments over comments about white supremacy, white nationalism and Western civilization he had made in an interview with The New York Times.
King said those comments were taken out of context, and that punishing him for being misquoted isn't right.
"Nothing like this has ever happened in the history of politics. Matter of fact, there are only four people who have served without their committees in all the history of the United States," King said.
Listing three of those four, King said they were removed for crimes they had committed, with himself the exception.
"I've been treated like a federal felon for a misquote in The New York Times," King said.
He characterized his primary challengers as piling on top of a political opportunity, likening it to "joining the other team."
"We have those people who are Never Trumpers and establishment people who pile onto this because they want to call the shots," King said. "Well, if you give them a victory and them calling the shots, the left will be giddy for a generation and they'll use this tactic over and over again."
He later called white nationalism and white supremacy "odious ideologies" that he hasn't advocated for, instead saying that he is a proponent of Western civilization and the culture that comes with it.
"It is a superior civilization. It exists everywhere where Judeo-Christianity laid the footprint for civilization, and out of it came free enterprise capitalism, the rule of law and we have the Bill of Rights," King said.
He encouraged voters to voice their support for him by contacting the governor's office and Republican House Minority Leader Kevin McCarthy (R-California) so that he might regain committee positions.
"If the governor came out and did a press conference tomorrow, I think Kevin McCarthy would put me back on the committees the next day. I think she needs to hear from you," King said.
King is setting his sights on the judiciary committee, "but my voice isn't going to be on that panel unless we get that changed."
Speaking about his Democrat challenger J.D. Scholten, King said that voters "don't know yet where he stands on issues, but it is the opposite of what this district believes. I know what this district believes. He's going to vote Nancy Pelosi for speaker, he would come down on the side of abortion and more taxes and more government and more spending."
As for his political work in Congress, King cited his efforts to support the renewable fuel industry, to defend the Second Amendment, to repeal the Affordable Care Act, to stop illegal immigration and to fight against abortion.
The rate of abortion is a ghastly legacy and represents a rejection of the most innocent of people, King said, but he sees progress being made for the pro-life movement.
King said respect for the rule of law needs to be restored in America, in particular by taking against illegal immigration, with amnesty encouraging future illegal immigration.
He added that legal immigration is a fine feature of America as it lets the best people come in and become a part of the country and its culture.
"I want them to be a part of us," King said. "I don't want them to reject us. I want them to be a part of us."