SIOUX CENTER—For 65 years, Northside Body Shop in Sioux Center has served the community, and now the business looks ahead to a third generation of ownership by the Van Riessen family.
Bret Van Riessen, 37, began buying shares in the family business that started with his grandfather, Art, in 1955. Bret is transitioning into the ownership role from his father, Rob, who plans to retire at the end of the year.
To mark the transition and let the community meet Bret and the business if they haven't yet done so, there will be an open house 4-6 p.m. Thursday, Oct. 29, at Northside Body Shop, 885 First Ave. NW, Sioux Center.
Art, 89, never envisioned the car repair business becoming a family enterprise. He said he always liked working on cars, so there was never a question that he'd go into this kind of work.
After graduating from high school, Art started work at Sioux Body Shop in Sioux Center on June 1, 1950. He worked his way up, starting out as the shop's gofer and handling simple tasks like sanding. After about a year, he took on more duties such as taking out dents and painting.
"I learned everything from those guys. They taught me a lot of stuff," Art said.
After that, Art went on to work for Vos Motor Sales for two years and then at Ron's Motor Sales for one year.
His old bosses from Sioux Body Shop offered to sell the business to him. He did so with business partner Irv De Vos. Art was 21 then, and he and De Vos celebrated their business, now named Northside Body Shop, with a grand opening ceremony July 22-23, 1955.
At the time, the business was located along Highway 75, where Centre Mall is now.
Over the course of 18 years, Art and De Vos worked together before De Vos stepped away from the business following a heart attack.
It took a while for Art to leave the business, as he only officially retired three years ago. He enjoyed being a part of the work and doing smaller tasks like sanding up until then.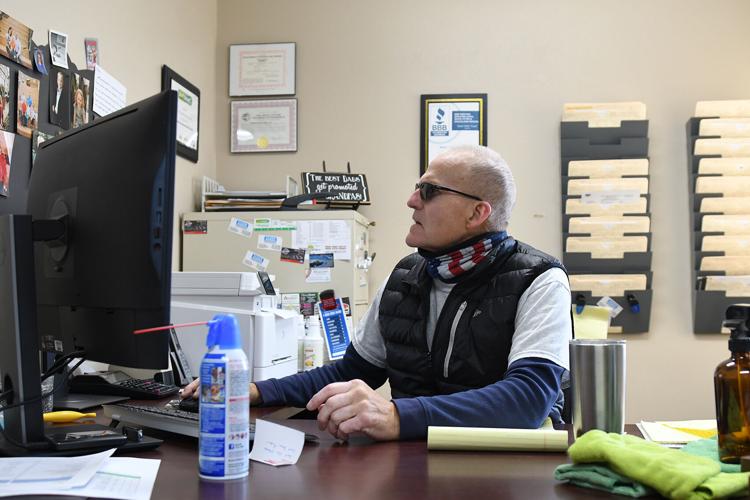 Rob, 65, hopes to enjoy some retirement himself, perhaps at the end of the year. It's a move in part because of his continuing cancer treatments since 2017. Of course, he'll still be around to lend a hand and give any advice when Bret needs it.
He said that having to leave the shop for his treatments has provided Bret with many opportunities to put his leadership to the test and get used to running the place in his absence. In that time, Rob said he's seen Bret flourish in the role.
Rob started working part time at Northside as a teen in high school. His early jobs at Northside included sanding and sweeping the floor.
"It eventually got to the point where I could fix dents and more talented help would check it," Rob said. "Then of course you start painting."
There were mistakes made early on, but they served as lessons to Rob.
He graduated from Sioux Center High School in 1973. After initially going to Morningside College in Sioux City, he got his business degree from Dordt College in Sioux Center in 1977. When he'd come back home from college, he'd help out again.
Rob recalled that his father was a picky about his cars, making sure they were clean and in good shape. Art's attention to detail extended even to Rob's cars, Rob said.
Car care, he said, "was part of being in the Van Riessen clan. He was fussy and I was just as fussy at first, but not so much now. I still like clean cars. He taught me that you can wash the whole car, but if you don't clean the wheels on it, it still looks just as dirty."
In 1977, about June, Rob began working full time at Northside. At the time, they had half the space to work in and more employees.
"Just like him, I had some good teachers," Rob said.
Working with his father came easy enough. There weren't many times that they disagreed.
"I remember the first time he went away for a week and I was in charge," Rob said. "Writing estimates was the scariest thing, making sure you had everything on there and figured it out right."
In all his years of working at Northside with his father, Rob never really considered working elsewhere. He enjoyed working on cars, enjoyed the other employees at the shop and got along with Art well, so there was never any need to consider alternatives.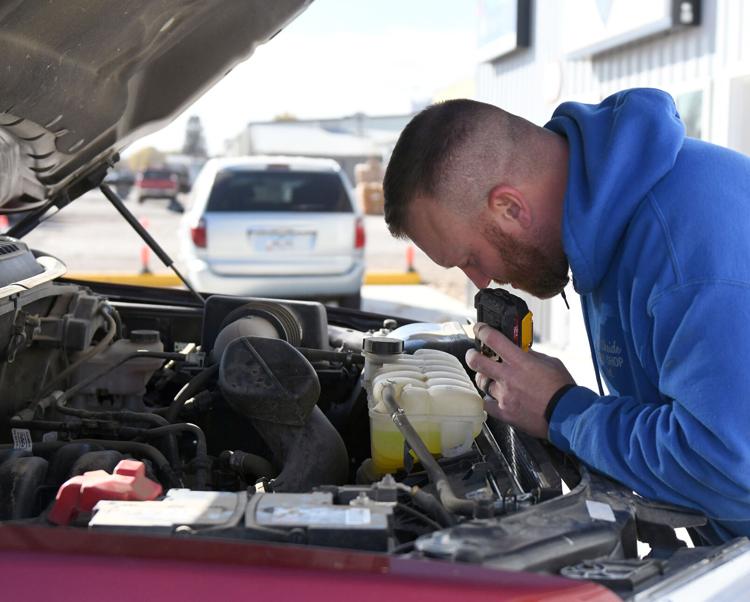 Bret, however, had no intentions of working with cars for most of his life. That's why he went to Central College in Pella from 2001-05 for his degree in psychology with an emphasis in child development. He put that degree to work at the Boys and Girls Home in South Sioux City, NE, working with teenage male sex offenders before moving to San Antonio, TX, in 2008 to work as a juvenile probation officer. He later got a job with a private company that kept track of high schoolers with truancy problems.
But when they had their first child and wanted to move back to Sioux Center to be closer to family, Bret needed a job; he called his father. Rob had some skepticism about it, but he agreed and gave him a job.
Bret began working full time at Northside in August 2013.
"I think the guys had some skepticism, too, that I was coming back and trying to piggyback off the business, but I came back and I had my mind set on it," Bret said. "Like with them, I had to learn on the fly and I had great teachers out there."
Rob said it's been great to see his son grow into the role since joining.
"For me to hear from a customer that he's a good one, polite and handles the situation well, for me to hear that, that tugs on your heart," Rob said. "It let's me know that God is good and this is good."
The three credited Northside's longevity to two groups: their loyal customers and the hard work and commitment from their employees.
"I see Northside continuing as a successful business as it has for the last 65 years," Bret said.