SIOUX CENTER—Two Sioux County residents went the whole hog on a dream and love the results.
Marv Rietema of Sioux Center and Owen Sandbulte of Carmel teamed up to raise a boar for the Big Boar Contest at the Iowa State Fair. Weighing in at 1,188 pounds, a 3.5-year-old Crossbred, Brutus, claimed second place Aug. 8.
Captain, the 3.5-year-old Crossbred bested the competition to claim the Big Boar title, weighing 1,254 pounds.
Slim, the 6-year-old Crossbred owned by Laurie Farms of Indianola, earned third place, weighing in at 1,170 pounds.
Brutus was one of six boars entered into the contest.
"We're tickled to death we got second in the first year we ever tried this," Rietema said.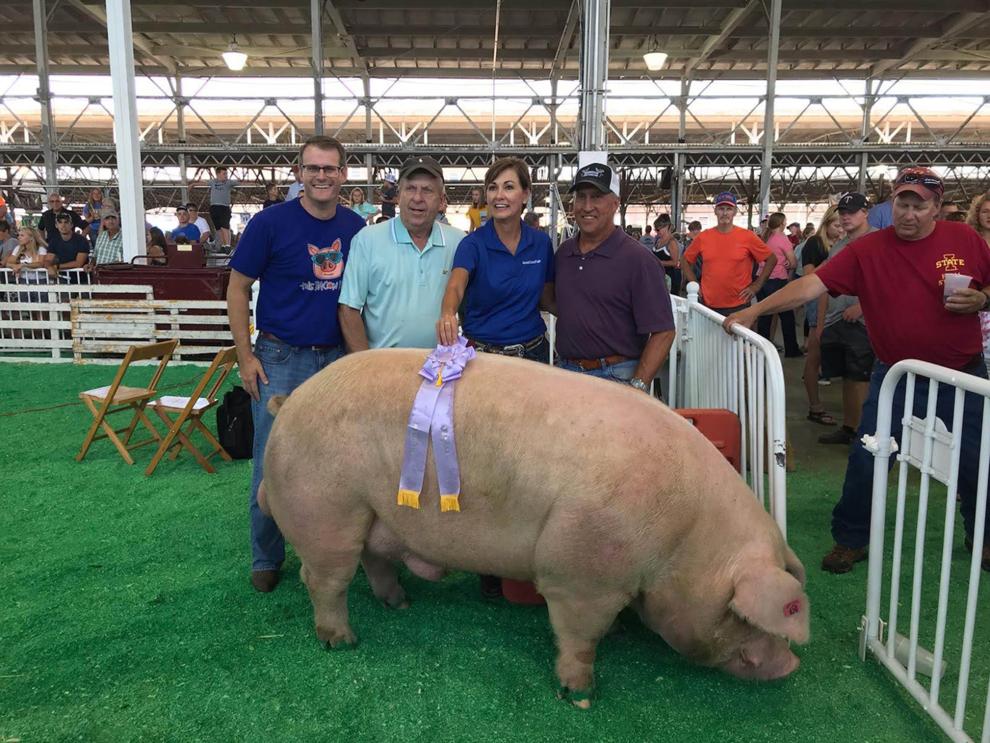 The duo joined together on the venture a year ago.
"I've maybe missed the state fair twice in the past 50 years," said Rietema, 70. "One of the biggest things I've enjoyed has been looking at the livestock at the fair over the years. I've always been intrigued by the big boar. I made up my mind to add that to my bucket list of things I wanted to do in my life."
Not having a housing facility himself, Rietema knew he'd have to talk someone into helping him with such a project.
"There's not a lot of people you can talk into helping with something like that, but I made some phone calls," Rietema said, after finding a hog with solid legs he felt could handle the "big boar" kind of weight. "I used to have pigs at Owen's place. We've maintained a friendship over the years. I didn't really think he was going to say yes when I asked him, but he did."
The rest of the year involved lots of good feed and care to bring the 850 pound boar up to size.
"I didn't really know what he was getting into," said Sandbulte, 59. "I didn't know what a big deal it was. Only in the past couple of years have I even gone to the state fair, but I said yes because I love animals. I'm a competitive guy. I was up for the challenge. I didn't question it so much as it sounded like an adventure to me."
A lot of feed and treats like marshmallows, watermelon, eggs, granola and chocolate milk go into a project like this.
"And I thank Owen from the bottom of my heart; he not only spent a lot of time with Brutus, he gave up a part of his barn for this pig during the winter when he could have had cattle in here. He was dedicated to my crazy dream. It's been a good partnership."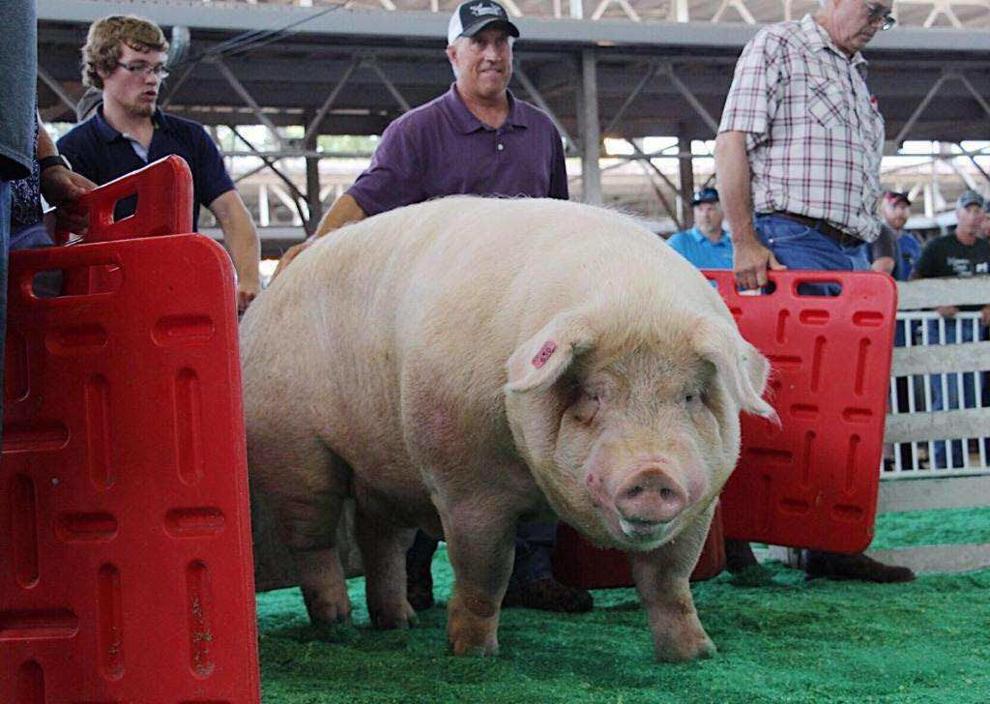 The 2018 big boar winner weighed in at 1,164 pounds.
"It's amazing to think Brutus would have outweighed that hog, so it changes every year," Sandbulte said. "Knowing that and just watching people's reactions to seeing Brutus. Hearing all their questions. He had such a bigger look to him that the winning hog, so many more people took their picture by him."
"Getting people's interest — that's what I think is exciting about all this," Rietema said. "We want to tell our story, the story about agriculture. We want to get people interested in where their food comes from. This kind of thing gets people asking questions, gets people interested."
When Iowa Gov. Kim Reynolds and Lt. Gov. Adam Gregg make a point of being part of the Big Boar Contest, that also gets people's attention.
"It got my attention," Sandbulte said. "If they're making time to be a part of this because they know how much pork is raised in Iowa, this contest is a big deal."
Sandbulte said the arena was standing room only during the contest.
The duo learned a few things this year they hope to apply for next year's contest.
"We'll be back; there's no doubt," Rietema said. "I think we can do it."
In the meantime, Brutus will be heading to Spencer to be on display Sept. 7-15 at the Clay County Fair. Then he'll be trailered down to Dallas to be on display Sept. 27-Oct. 20 at the Texas State Fair.
"We wanted to go big or go home and we did it," Sandbulte said. "We're excited for next year already."