SIOUX CENTER—The Sioux Center Police Department has a new officer in its ranks, and he was sworn in during Tuesday's Sioux Center City Council meeting.
Agustin Martinez's first day on the job was July 21. So far, the work has met his expectations.
"You get a lot of different types of calls like medical calls, helping out ambulance to simple things here and there like dealing with speeding," Martinez said. "It's not your typical job where you have this one thing you'll do, because every call is different, so you don't know what to expect."
He said his wife, Elle, and his family were proud of him and his new job.
Of course, there's plenty of training that goes with law enforcement, and that has gone well for him so far.
"I have so many hours to log. It's pretty much a list you have to do, like in-house training that you need to complete and get signed off on before you can start doing some of the duties," he said. "From there, it's kind of learning things day by day."
Then in April, he'll go to the Des Moines Academy for 16 weeks of training.
"I want to be approachable and easy to talk to. My biggest thing is that I'm here to help and I want to put that vibe out there," Martinez said.
He added that another aspect of his service will be the ability to aid communication and relations with the town's Hispanic population.
"I see a lot of people struggling with the language barrier. Growing up, being 7 years old and filling out an application for your mom and dad, I saw that first hand," Martinez said. "It's one of those things where if I can help out, where I want to be very approachable with them, too. I'm not here to get you in trouble; I'm here to help. That's the biggest thing."
Martinez has called Sioux Center home since his family moved to town when he was in the fifth grade. He would have been about 10 years old then.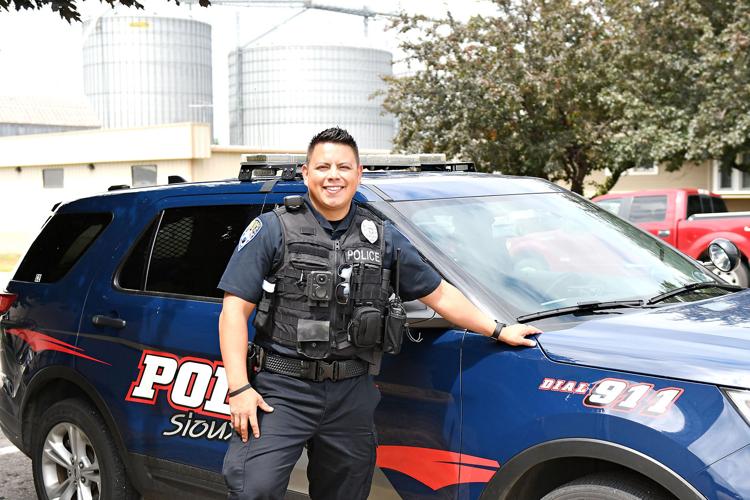 The now-29-year-old graduated in 2012 from Western Iowa Tech Community College in Sioux City with a degree in automotive technology. From there, Martinez started a job with Kooima Company in Rock Valley, working at the manufacturer for five years.
In 2016, Martinez joined the Iowa Army National Guard, becoming a member of the 2168 Transportation Company out of Sheldon.
"I wanted to give back to the community," Martinez said. "I was 24, so I wasn't after the college benefits. I wasn't after any of that. I wanted to serve."
He hasn't been deployed, but he's found his time in the guard so far to be useful even in civilian life.
"You can transfer a lot of what you learn in the guard into the civilian world," he said. "I'm in the process now of getting my CDL just because I am in the guard and the process is cut short."
Martinez has served as a volunteer fire fighter with the Sioux Center Fire Department since 2017.
"It was one of those deals where I asked myself,' How can I help the community out?'" he said. "And that opportunity came up."
His previous job has been working as a virtual design and construction technician for Interstates since 2018.
"I met a lot of good people there," Martinez said.
The same instinct that led him to join the National Guard and volunteer at the fire department led him to get into law enforcement.
It had been something that had long been on his mind, and a friend who works as a police officer in Storm Lake helped push him further.
"He always talked about how much he enjoyed it and helping people," Martinez said. "That's right down my alley and what I like to do. Growing up around here, this place is pretty much a small, safe town. I was like, how can I help make Sioux Center safer? I thought that would be a great opportunity."