SIOUX CENTER—Meet Erin Reichle and Jenna Sneller.
They're not sisters or cousins or even distantly related, but they can be easily mistaken for each other and are often seen together. The Sioux Center residents even work at the same Sioux Center business.
"We became instant best friends when our boyfriends at the time, now husbands, introduced us and encouraged us to move to Sioux Center to be married and start our families," Sneller said, about when they met in 2008. "We enjoy a lot of the same things, like spinach and artichoke dip, pizza with pepperonis and green olives and raw chocolate chip cookie dough. We often times wear the same outfits and are always encouraging one another with God's word. So we asked ourselves, 'Why not share God's love and clothes with others, together?'"
So they launched Guided Grace in September, which is an online-only store featuring boutique clothing. They also recently added devotionals.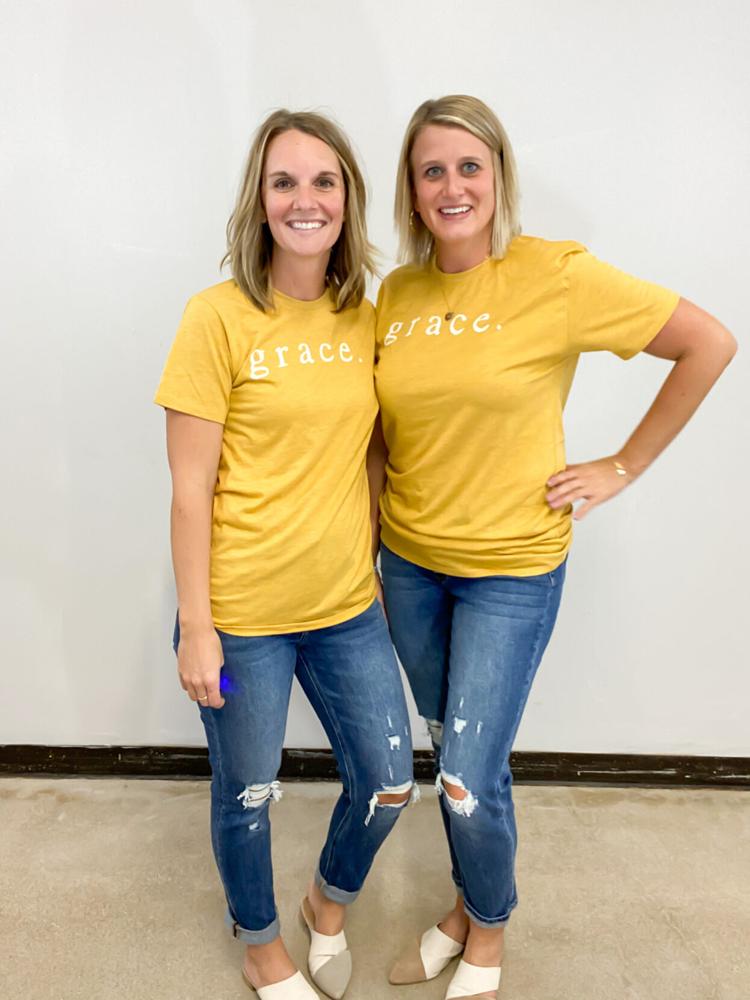 "We just wanted to do something together," Reichle said. "We love our jobs and understand each other's strengths and weaknesses. My mom and grandma owned a clothing store when I was young so that's kind of where I got the idea."
"And I'm easily persuaded to do almost anything," Sneller said. "I didn't think twice about it. I knew we could do it."
The business got its name from their two oldest daughters. Reichle's daughter, Sofia Nita, got her middle name from Reichle's grandma Juanita, which means "to guide." Sneller passed down her middle name to her oldest daughter, the late Mya Jean. Her middle name means "God is Gracious." Together they become Guided Grace.
"There's no science to what we pick out, I think we just think about what us as moms could wear professionally but also not to work just out for fun or what our friends would like to wear," Sneller said.
"It's been fun shopping for items," Reichle said. "Being able to do something fun with my best friend is pretty great. The response we've gotten from people so far has been awesome."
While they know Sioux Center has some boutiques, they didn't have just Sioux Center in mind when they came up with this idea.
"We were thinking of all our friends from far away we could help," Reichle said. "We're not from here, we're from small towns where women don't have access to boutiques and that's part of where we've had really good response from."
Reichle is from Mallard and Sneller is from Adrian, MN.
As a personal touch, they include a recipe with each customer's order.
"We care about each of our customers and want to share a little something we enjoy," Sneller said.
They hope to keep a steady pace of growth.
"Hearing how people near and far are excited for us has been fun," Sneller said.
"So many comment that we're actually doing the thing we want to do," Reichle said. "A lot of women are hesitant to jump and do something crazy. I guess that's what you could say we did."