SIOUX CENTER—An architect with Confluence Landscape Architecture laid out his work so far envisioning the future development of three Sioux Center-owned properties.
The presentation was given for informational purposes during the June 25 Sioux Center City Council meeting.
When the conversation about planning for the three sites — the former Bleeker farm property north of the NAPA Auto Parts store, the former site of the hospital and 54 acres of land north of Walmart — began with Confluence at the start of the year, it was with a few goals in mind.
"We talked about making sure we had the highest invested use of those properties, that they fit the community well, that they are accessible and really become part of our community and part of the highway corridor," said Sioux Center economic development director Dennis Dokter.
Confluence has worked to give Sioux Center a plan that could serve as marketing material so when businesses come looking to move somewhere, it has something ready to help them find a place that fits them and the community, Confluence architect Matt Carlile said.
Part of that was coming up with a good blend of industries at each of the sites that helps guide the future development of those sites.
When looking at the former Bleeker property, now a field, Carlile first looked at the neighboring properties.
"Just to the south you've got Jimmy John's and some other improvements that are moving north," he said. "Then it does transition into some more industrial work with the stockyards and the like that way."
Although sketches and renderings were developed and provided for this and the other two sites, Carlile said those are anything but the final layout for these locations.
"It's a puzzle piece idea. We mean to put the puzzle together for you, but we're giving you the outline of it. You put the outside together first in most cases. The pieces in the middle may move around, but we want to make sure we understand the parameters and different uses that can go into those locations."
It also helps draw in business owners, he said, giving them a visual aid for seeing their business at those spots.
Carlile said the 10-acre Bleeker site would be home to a mix of office space and retail space, with the potential for some light industrial companies as well.
Its location along Highway 75 makes it a desirable for potential businesses as well.
The same is true for the former hospital site in the heart of Sioux Center, Carlile said.
"One of the key things we heard is to give Sioux Center something new, and it needs to be an awesome space," Carlile said. "This is really your opportunity to do something in town. It's a piece of property you already have that can make a giant impact on town."
What they came up with was a mix of office and retail spaces.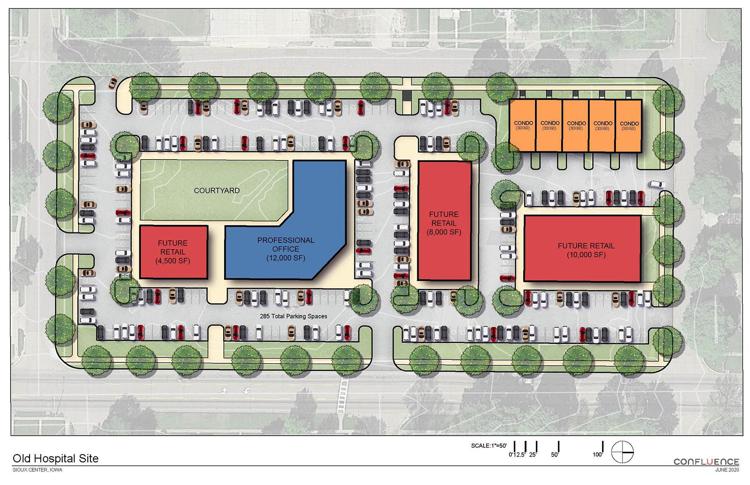 "What we've shown now are three separate retail buildings and then some sort of office use there that brings those folks to the center of town and activates that space on a regular basis," Carlile said.
There would even be room in the northwest corner of the site for a few condominiums, he added.
"The biggest thing we went back and forth on thinking here was economic viability and making sure we made the most out of this space," he said. "Being this is in the heart of town, we want to make sure that instead of having massive parking and one building on the south end, having two separate things there that could draw people to this location."
As for the Den Herder and Rietema site, it's the biggest of the three, Carlile said, and a lot of conversation has been had on this space's future, especially as they tried different configurations for roadways and connections to the highway.
"We did a number of things. We thought through roadways before we actually got to the level of drawing parking lots and buildings," he said.
They also thought ahead on westward expansion at that site, and what might be a logical location for crossing over the railroad tracks.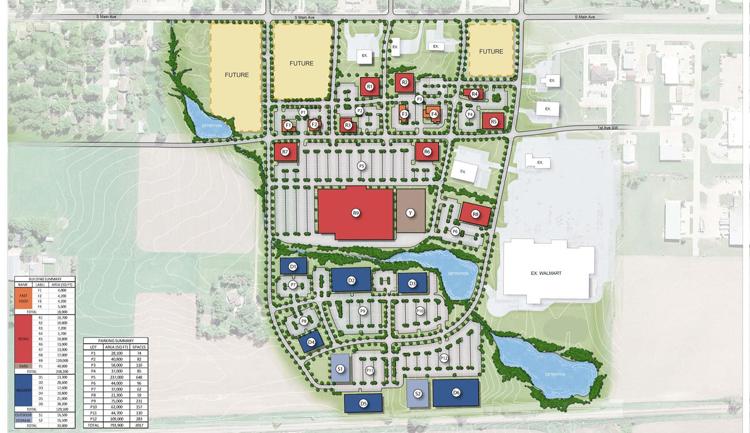 There was also thought on putting in another roadway to access the property, but such a plan would be contingent upon current landowners.
"We all agreed that made sense, but we also don't know if that's possible because there would be others involved in that discussion," Carlile said.
The land would be a suitable place for fast food restaurants and retail and light industrial businesses to move into.
The developed plan shows a spot for a big box store similar in size to Walmart.
"It's tough to say much about big box stores at this point, especially with the COVID situation and where the retail world is at this point," Carlile said, "but as Sioux Center grows, you're going to have folks come to you. We wanted to reserve one big box retail type of space, whether it's one big box or two or three junior boxes that want to locate in the same location."