SIOUX CENTER—Being thankful isn't something that always comes easy, especially in the face of pain. But one Sioux Center man has continued to exercise gratitude and his sense of humor after more than six months of surgeries and treatments.
Bob Janisch, 57, of Sioux Center was starting to load cattle at 1:30 a.m. May 20 in Aberdeen, S.D. A truck driver with 31 years of experience, he had gotten the first group of cattle into the front of his trailer, called the nose, when one of them turned around and charged him, crushing him.
"When you load your nose, you have to walk up the ramp and you got the gate behind you. I walked into the trailer and never locked the door behind — never have. I put one foot inside and the critter looked at me and seemed to say, 'You're going down.' I didn't get a chance; he was right there and took me out," he said. "I just remember this black head and two black eyes saying, 'You're going down.' … I'm glad I didn't lock that door because if I did, I don't think I'd be here."
The main thing he remembers after that was one of the other men helping load the cattle yelling to open the gate.
It's not that anything in particular went wrong or was done wrong; Bob likened it to a car accident, something that just happened out of nowhere. Cattle, after all, are still wild animals and are unpredictable.
"Maybe the same critter you pat on the nose one day and the next day you're lying in the mud because of that same critter," Bob said.
His injuries were severe.
As his wife, Brenda, explained, "When the ambulance came to the scene, his heel was all the way to the back of his head."
"I was trying to train for the Olympics, for gymnastics," he said with a laugh.
He was transported to Avera St. Luke's Hospital in Aberdeen. His shoulder was dislocated and so was his hip. Although doctors were able to set his shoulder back in place, his hip was another matter. The ball of his femur that connects into the hip had broken, so a hip replacement surgery had to be done then.
Bob's four knee ligaments and meniscus were damaged and there was a break to the knee itself.
His popliteal artery was crushed; that required a helicopter ride from the hospital in Aberdeen to Sanford USD Medical Center in Sioux Falls for a bypass surgery. He was hospitalized in Sioux Falls for 63 days before spending a week at Sioux Center Health.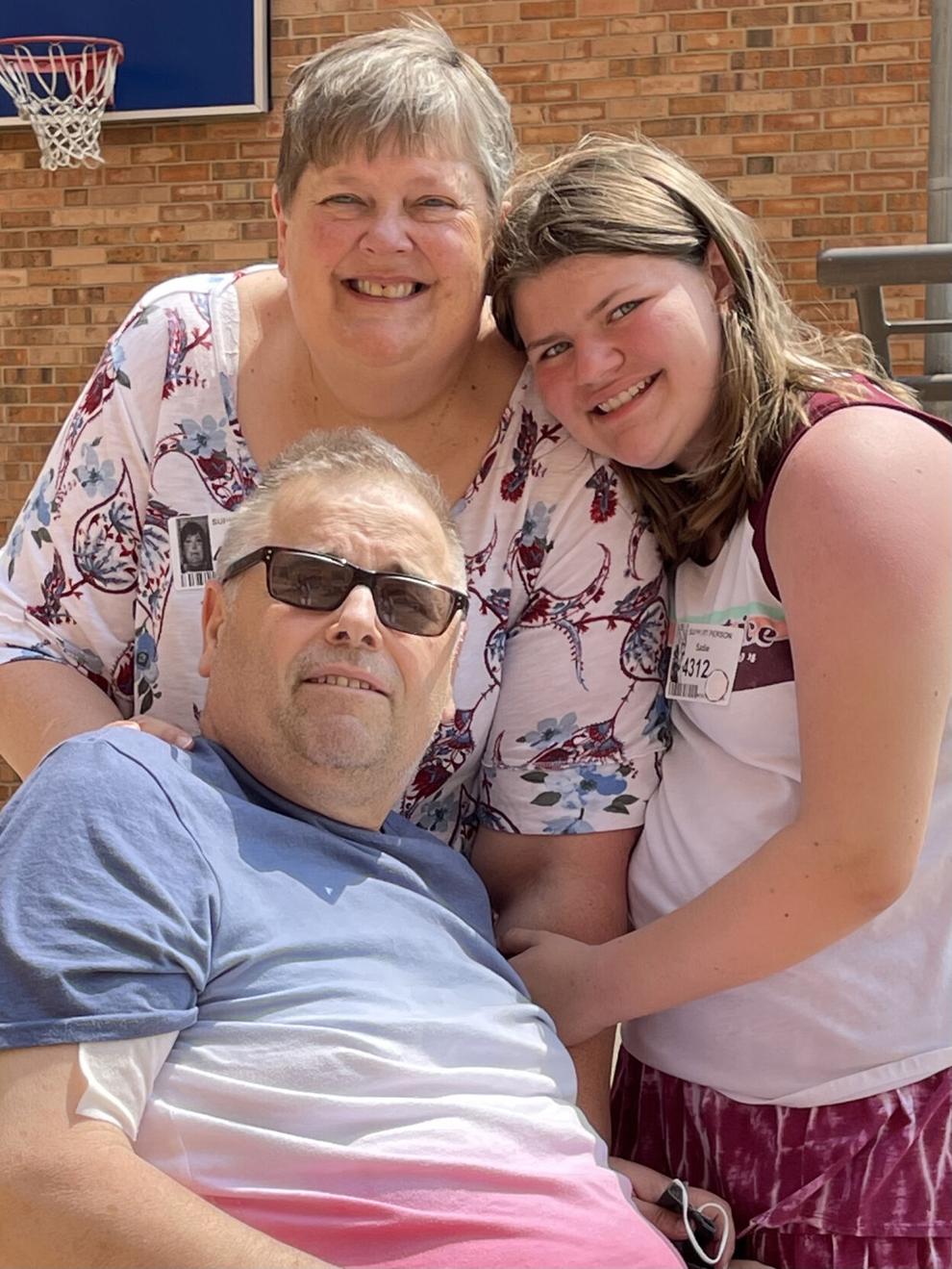 Infections were as much of a problem as the injuries. He developed rhabdomyolysis, severe swelling and compartment syndrome in his right leg. To address those, long incisions were made along both sides of that leg.
"That's been my big fight," Bob said. "They had to fix that before they could fix my knee because surgeries draw infection. Being this knee was so damaged so bad, they were afraid it'd cause more problems until we got these things solved."
Bob praised the work of the many surgeons, doctors, nurses and therapists he's worked with.
A lot of work lately has focused on repairing his leg, culminating most recently with a knee surgery Nov. 5.
"He has an appointment on Dec. 7 where they're going to look at how much mobility he has in his knee, if he's able to consistently get it to a 90-degree angle," Brenda said. "Then they'll look at doing surgery for the ACL and PCL a week later."
Debridement and skin grafts round out the list of procedures he's gone through in the last six months. His shoulder still gives him issues, though, as it dislocates frequently. A reverse shoulder replacement in the future will take care of that.
It's still going to be a long journey until he's done with it all, but his main goal is to get to the point where he can walk again — after that, the goal is to be able to drive.
"It's been a long struggle but it's also been hard on my family, too, my wife and kids," Bob said. "But I've been blessed; I'm still alive. I could be paralyzed or have had head injuries or be dead. My life was spared."
Some of his visitors have asked how he's handling this spiritually, if he feels any kind of anger or resentment for this having happened to him. Bob is up front that there has been tremendous pain throughout this, but anger and bitterness haven't been a problem for him.
"It's all good; I'm not mad about nothing," he said.
He and Brenda gave thanks for the outpouring of support they've had since his accident, from family, friends, their church and the community. They've had help with child care and meals and have enjoyed the visits.
"I've had people from coast to coast call me to see how I'm doing, old classmates I haven't seen for 38 years," he said.