SIOUX CENTER—In a 4-1 vote, the Sioux Center City Council approved keeping on-street parking for the east side of Highway 75 as part of the enhancement project.
The Sioux Center City Council originally heard last October that the Sioux Center Chamber of Commerce building on the corner of Main Street and Third Avenue Northwest would not allow for right turning trucks often going to Farmers Coop Society, resulting in the building's removal being included in the preliminary highway design work.
Sioux Center utilities manager Murray Hulstein told the council at its March 8 meeting that the Federal Highway Administration stated that removing the chamber building as part of the Highway 75 enhancement project would require significant delays to go through Federal Highway Administration processes.
"To make a long story short, if you want to remove the chamber building you'd have to go through a process and that process would likely put that building in its place for sometime into the future without being able to touch it," said Trent Bruce of DGR. "We don't want to go down that path because of the long-term implications associated with it. This option we present to you today is sort of the path of least resistance to accomplish the same thing and you're seeing the pains of that. The path of least resistance still has some friction that we have to work through."
The council spent more than an hour mulling the options for the Main Street and Third Avenue Northwest intersection and two blocks downtown that were presented by Bruce before its vote at its March 30 meeting.
"The bottom line is that by retaining the chamber building in the design, we have to figure out how to get truck traffic to turn around that Third Street corner," Bruce said. "We've looked at several options, including how to a get median in and on-street parking and still maintain function of the street."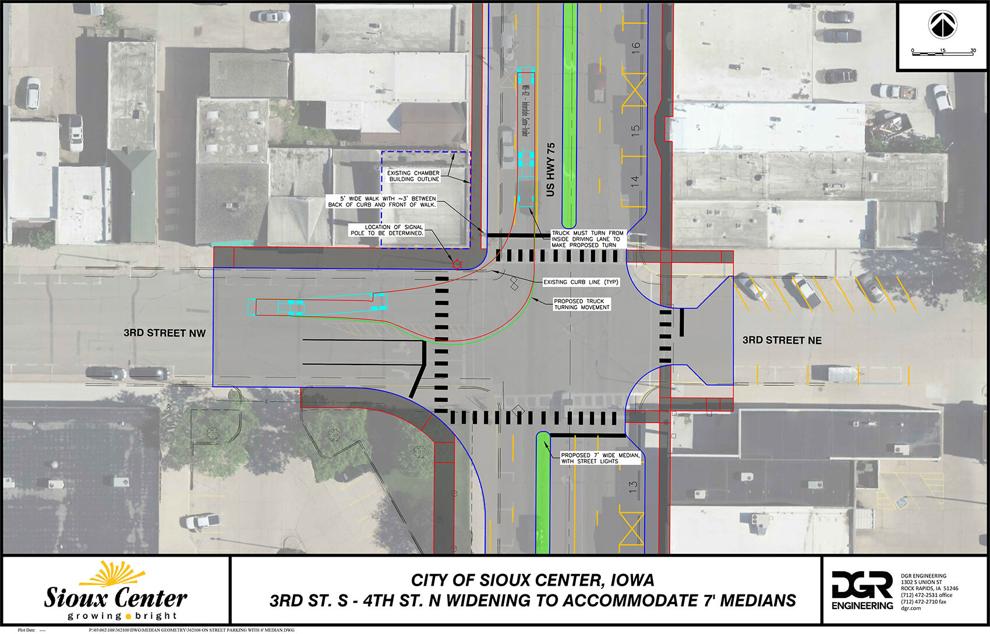 The options the council needed to consider revolved around approving:
1) Narrowing or removing the center median,
2) Removing the east side parking,
3) Creating "an awkward intersection" with the intention of recreating the intersection in the future after the chamber building can be removed and
4) Possibly creating one-way east bound only traffic for Third Street Northwest.
The council reviewed the options, voicing the intention that whatever they chose would be a short-term solution until the chamber building could be removed to allow the intersection to be recreated in the future. Council members questioned whether they could reach out to state politicians for assistance in removing the chamber building.
Hulstein noted that city staff had gathered plans that go back to 2006 for the block in which the chamber building sits to try to make the case that the city's intentions have been to remove the chamber building for a long time.
"That received zero traction," Hulstein said. " I don't want to elevate your hopes that it's going to work but we can keep trying."
Though he voted in favor of keeping on-street parking, council member Randy Vreugdenhil recommended a design without the parking.
"If we don't need it 50 years from now, get rid of it now; pull the Band-Aid off," he said.
"I don't personally agree," said council member Eric Moerman. "We need to figure out how to keep that included."
He also supported including medians.
"Our focus has to be safety and if we got rid of the medians, that would defeat some of the purpose on why we delayed doing this project," he said.
Bruce said creating streetside parking will be a challenge due to the sloped grade of the sidewalk. The parking has to have less than 1 percent slope, which may require walking a certain distance to get to an area without a step up to the sidewalk if that's their preference, depending on which business they park in front of. Engineers will also need to be careful to design the parking so that step between the sidewalk and passenger doors can open toward the sidewalk.
"There's the dilemma in all this," said mayor David Krahling. "I think 50 years from now there won't be parking but is there an expectation for downtown business owners to have parking currently. What does that look like? What costs are involved? How do we do that? Is there a part of this that becomes the 25-year solution even though in 50 years we'll have spent more money because we're going to redo it again?
"I think Highway 75 is going to go through downtown Sioux Center for the next 50 years. I think it's going to get busier to the point where parking won't be safe. I have some concerns about the safety of this parking and the less buffer we have between parked cars and traffic lanes. I think some drivers are going to be courteous to give space to parked cars but others won't. I think no parking would be a big adjustment and a tough adjustment for the short term."
Hulstein said city staff met with a number of property owners in the two blocks that would be impacted by no parking, sharing that "some are more willing to work with this and some are more opposed to it."
Council member Jamie Van Ravenswaay was the sole "nay" vote after the discussion.
"I'm in favor of no parking, we would just have to figure out an alternative," he said. "If we're doing the project now and we want to do it right for safety, I think there are a lot of aspects that make sense to work on no parking now."
Engineers have been reviewing changes to other intersections as well.
"We're honing in on some of the details of realigning some intersections and closing off some intersections to focus on pedestrian safety and highway function," Bruce said. "The focus recently has been on particular intersections such as closing Seventh Street Southwest as well as closing on Seventh Street Southeast, making it a dead-end street to not allow for turning off that road onto the highway as well."
Bruce said the deadline is end of April-early May to finalize the highway's design concept.
Streetscape update
Before Bruce's update, the council spent about 15 minutes hearing the highway streetscape recommendations shared by Jon Jacobson of Confluence.
He said residents and a local streetscape committee indicated that streetscape is an important part of design, centering on safety and Sioux Center's identity. His recommendation laid out elements for each section of the highway that carry a unified theme and reflect public feedback, including medians with pedestrian safe havens where possible, clearly identified crosswalks, landscaping and street tree plantings, options for pedestrian-scale lighting, stone elements and signs.
"Now we can really begin to work on the details, working with the DOT and explaining to them what the community's feedback was and what our objectives are," Jacobson said.
These details will help determine which elements will be included in the highway reconstruction and in possible future projects after construction.
"We continue to focus on being both stewardly and making this a project that reflects Sioux Center," Hulstein said.
Bruce said the design team will use the council's direction as they continue preliminary design, which is nearing completion.
Highway 75 construction is slated for 2023 and 2024, with anticipated completion in 2025.