SIOUX CENTER —The city of Sioux Center has entered into a 10-year contract with Premier Communications in Sioux Center to upgrade and service communication needs for various city departments.
"Communication needs are growing for many of our departments," assistant utilities manager Adam Fedders told the Sioux Center City Council at its meeting Thursday, Jan 2. "We are looking for real time data from our substations, sewer lifts, wells, various SCADA systems."
Fedders said the existing communications system is not meeting this need. He said city staff spent the past year researching two options — of building its own fiber network or partnering with Premier — to upgrade the existing communications network.
That research led Fedders to recommend a 10-year contraction with Premier for approximately $36,000 a year for which Premier will provide construction to all sites, locate services, equipment, backup power, maintenance and future upgrades.
Fedders said the city has owned a small portion of fiber network cable but the cost to install, manage, maintain and upgrade a new fiber network would have been much more costly.
"Looking at what's most feasible, what's most economical and looking at the maintenance, management if there's an outage and upgrade possibilities through Premier and not having us hire someone else makes this the best option," he said. "I think one of the things we pride ourselves in is partnership through cooperation and this is a great way for us to do that by us partnering with Premier and Premier partnering with us to provide the service that hopefully will provide a service for years to come."
The city is also looking to improve the security needs of its facilities with this fiber network installation and upgrade.
"Looking also at the physical buildings — the cameras, key fobs, etc., having a fiber network help us be able to control and access those kinds of things from one local system," Fedders said.
After the 10 years, the partnership will continue on a month-to-month basis unless the existing contract is changed.
The city's new fiber network would be operational by summer.
"The people in this room understand progress through cooperation, but this is a big deal to Premier and to the city," said Scott TeStrote, chief of sales and marketing at Premier Communications and a former city council member. "It's a great opportunity, quite honestly, I think to showcase this type of cooperation to other communities throughout the state. It's a big deal to us, we take this very, very serious and are thankful for the opportunity. We understand the cooperative spirit and we're excited about it."
Oath of office
Also at the meeting, the city council swore in those elected and appointed to various positions.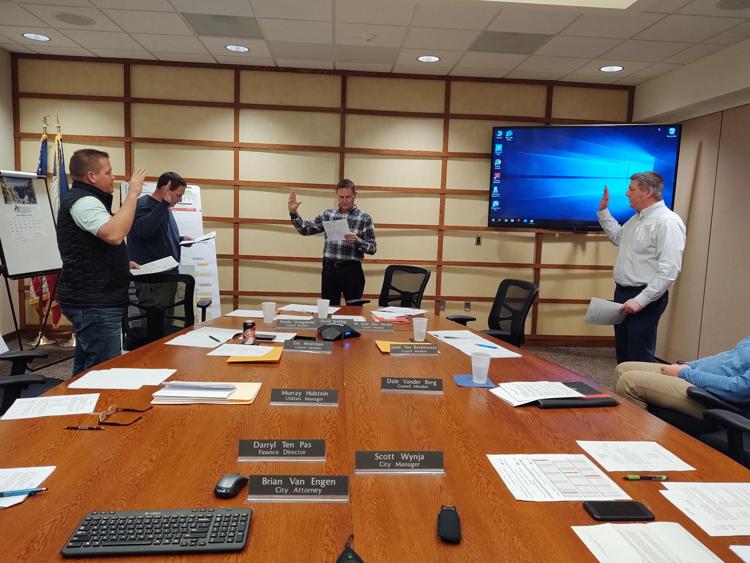 Dale Vander Berg was sworn in by mayor David Krahling. He was elected in November 2019 to a four-year term for an at-large council seat, which represents Sioux Center as a whole.
"I am looking forward to serving in this role," Vander Berg said. "Sioux Center has a long history of having visionary leaders that are progressive and make good decisions for the benefit of the citizens of Sioux Center," he said. "I will need to learn from the current and past council members as I take up this new endeavor."
Vander Berg has been president of Peoples Bank in Sioux Center for 21 years and has also been a volunteer firefighter for more than two decades. He serves on the Sioux Center Health Building Committee and served from 2004-19 on the Sioux Center Board of Adjustment.
Vander Berg grew up in Sioux Center and graduated from Dordt College in 1991. He and his wife, Amy, and their two children live in Sioux Center.
Also sworn in at the council meeting was mayor David Krahling, re-elected; council member Eric Moerman, re-elected; mayor pro-tem Randy Vreugdenhil, reappointed; city attorney Brian Van Engen, reappointed; city manager/city clerk Scott Wynja, reappointed; utilities manager Murray Hulstein, reappointed; treasurer Darryl Ten Pas, reappointed; police chief Mike Halma, reappointed; and fire chief David Van Holland, re-appointed.
Other matters
In other matters Thursday, Jan 2, the council:
Approved the Sioux Center News, The N'West Iowa REVIEW and the Sioux City Journal as the official newspapers for city publications.
Heard no other proposals for the 15-acres of land the council approved at its Nov. 26 meeting to sell to AgriVision Equipment Group, a John Deere implement dealer, after holding a public hearing. City development director Dennis Dokter said the city was required to hold another public hearing on the sale of the property to consider any other proposals to develop the property because the area is located in an urban renewal area. No other development proposals were made for the property. "Plans are moving along nicely," Dokter said, noting the closing date on the property should be the end of February or early March.
Approved new and reappointments to various city boards, committees and commissions. Brian Van Bruggen was appointed to complete Dale Vander Berg's term on the Board of Adjustment through 2022. Len Rhoda and Jason Moeller were reappointed to five-year-terms on the Sioux Center Park Board. John Van Engen, Bill Roelofs, Mary Roetman and Dennis Dokter were reappointed to two-year terms on the Low Rent Housing Agency. Jamie Van Ravenswaay, Jessica Mulder and Nate Bullock were reappointed to three-year terms on the Recreation and Arts Council. Ron Oostra and Cheri Hulstein were reappointed to five-year terms on the Heritage Board. Scott Wynja, Harold Schiebout and Paul Clousing were reappointed as representatives on the Sioux County Regional Airport Board.