SIOUX CENTER—Dressed head to toe in cold weather gear, Rowan Oostra plants his knees into the snow next to his fourth hole in the ice during a recent visit to the frozen water at Sandy Hollow Recreation Area.
There, he drops in his fish finder to see if anything might be biting.
The screen indicates fish and just moments later Oostra reels up a small bluegill.
Though too small to eat, Oostra had planned to toss it back in the water anyway as he mostly prefers catch and release fishing.
"It's more about the hunt and find," said the 15-year-old Sioux Center resident. "That's really what makes ice fishing so fun and interesting because you don't need a boat. Just some simple gear and you can walk across the frozen water and seek out where the fish might be."
Just about every weekend once there's at least 5 inches of ice on the bodies of water he visits, Oostra can be found doing his favorite winter activity: ice fishing.
What started out as his dad's favorite way to cure some winter cabin fever in Iowa has become Oostra's cure too. Whether it's an hour or two on the ice or an overnight stay, the freshman at Unity Christian High School in Orange City has grown to love ice fishing. He's even become a Clam Outdoors Jr. Pro. As a way to share some of his enthusiasm for the sport with other Sioux County youth, Oostra will be the guest instructor of Sioux County Conservation's Ice Fishing Clinic set for 9-11:30 a.m. Saturday, Jan. 21, at Sandy Hollow three miles east of Sioux Center.
Oostra will present an indoor session 9-10 a.m. at the Sandy Hollow Clubhouse to discuss the types of fish that can be caught at the local pond and equipment being used. Families can go on the ice 10-11:30 a.m. Those who come are encouraged to bring a sack lunch or snacks and a bucket to sit on. Sioux County Conservation staff will pre-drill the holes, provide bait and poles.
There is no cost and entry fee to the park is waved. Ages 16 and over actively fishing must have a valid Iowa fishing license. Preregister is required at www.mycountyparks.com/County/Sioux/Events.aspx.
"It's such an underrated winter activity," Oostra said. "Really, if you have the right layers, warm winter clothes, it's a great way to get outside and enjoy some fresh air."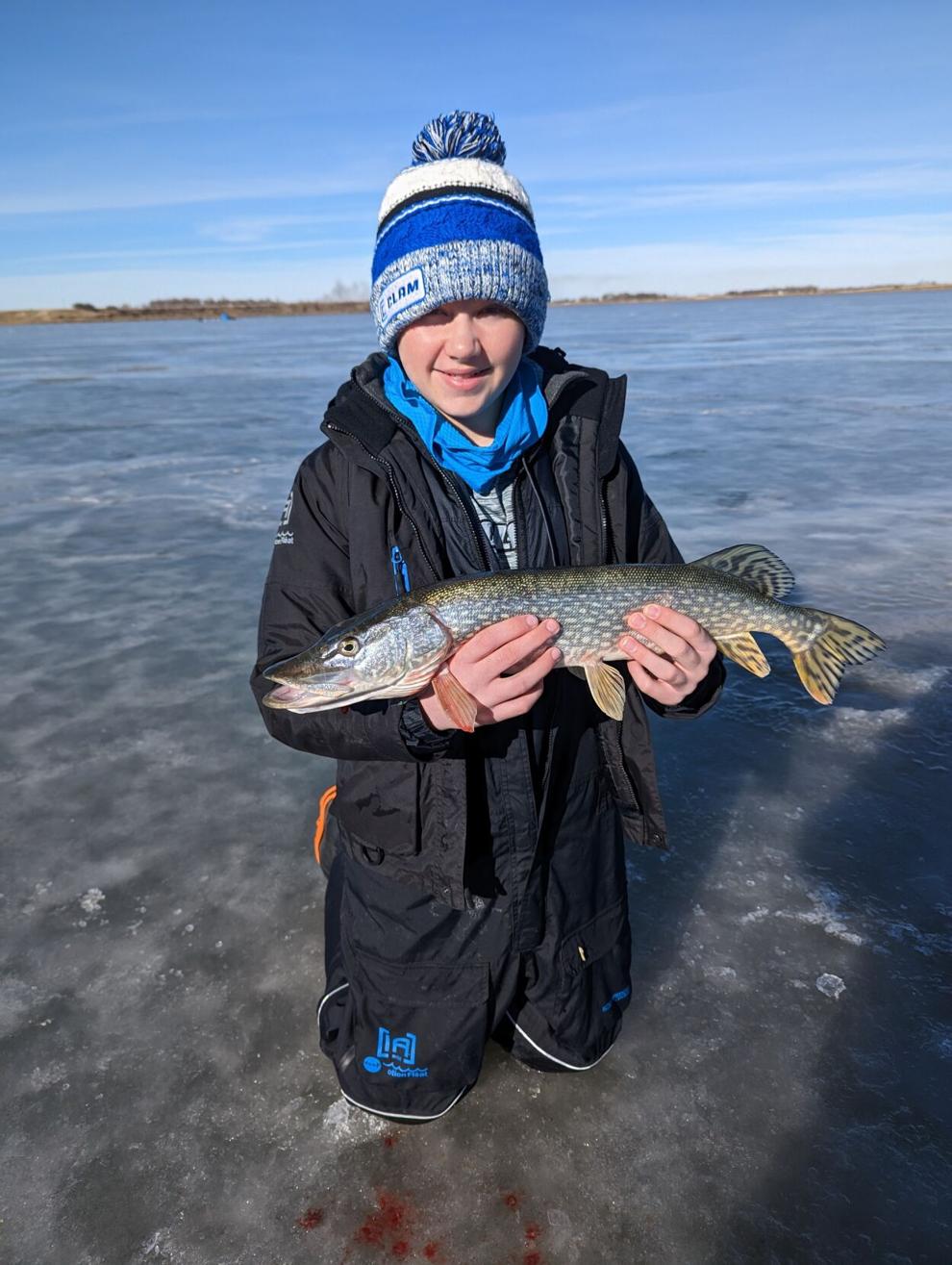 Those layers were a winter jacket, snow pants, a hat, mittens and snow boats until about a year or so ago when he upgraded to an ice suit thanks to a sponsorship through Clam when he became a Clam Outdoors Jr. Pro. He partners with them to test and talk about some of their products, which Oostra does through his YouTube channel called "Rowan Oostra Outdoors." Oostra started the channel, which has 273 subscribers currently, about two years ago as one way to share his passion for the outdoors.
"I thought that could be a fun way to share our fishing, hunting and camping adventures with others and maybe something to do professionally some day," Oostra said, noting it may take a few years to get to that point, but in the meantime he "just hopes it encourages others to get out and enjoy the great outdoors and possibly pick up a few fishing and hunting tips, too."
Oostra said he's been fishing as long as he can remember. Often during the summer it's a whole family experience that includes his mom, dad, younger brother and sister and extended family.
Come winter, ice fishing turns into smaller groups but has the same fun if not more sometimes, Oostra said.
"Fish bite differently in the winter, they're a little slower but they're still fun to find and catch," he said. "There's something about pulling your catch up out of the hole in the ice that's really fun. You don't need to go for the big catch. That's fun but just finding is part of the fun, too."
Each winter, Oostra can be found on ponds from the Iowa Great Lakes, to Lake Pahoja in Lyon County to Husdon, SD, and father west into South Dakota. He's caught just about everything — bluegill, crappie, bass, catfish, walleye, carp and trout to name a few.
He has done an overnight stay on the ice at least once each winter for a number of years now, which he'd love to start doing more as he gets further into high school.
Whether it's Saturday's ice fishing clinic or his YouTube channel, Oostra hopes to inspire other kids to give ice fishing a try.
"It's something that's really fun and too many kids and adults misunderstand or just don't have much opportunity to give it a try," Oostra said. "The ice fishing clinic through Sioux County Conservation is the perfect chance. I hope to spark some kids' passion for enjoying the outdoors."