SIOUX CENTER — A Sioux Center teen is getting a closer look at what it means to be a part of the Sioux Center Fire Department.
Having a father on the department meant 16-year-old Karter Hoogendoorn already knew a thing or two about what it means to be a volunteer member, but still, he wanted to be part of it himself. He joined the department in August as a Junior firefighter.
"My dad's been on the department longer than I've been around," Karter said of his father, Kent Hoogendoorn, who's been on the department for 19 years. "Him being a part of the fire department has always been a part of my life, and I just felt I wanted it to be a part of mine as well."
Karter, a junior at Netherlands Reformed High School in Rock Valley, is one of two junior firefighters on the Sioux Center Fire Department. The junior firefighter program is a two-year program for those who are juniors and seniors in high school. Some, but not all, of the criteria are that students must have a good GPA, be a good standing member in the community and have a clean criminal record.
As part of the program, the junior members attend the monthly fire department meetings. Throughout their time with the department, they learn lessons that explain what fire is, how it's created and what the most effective extinguishing methods are. They're also given their own set of gear, introduced to the tools of the firefighter trade, where tools are located on the truck, proper water hose use and safety on the scene.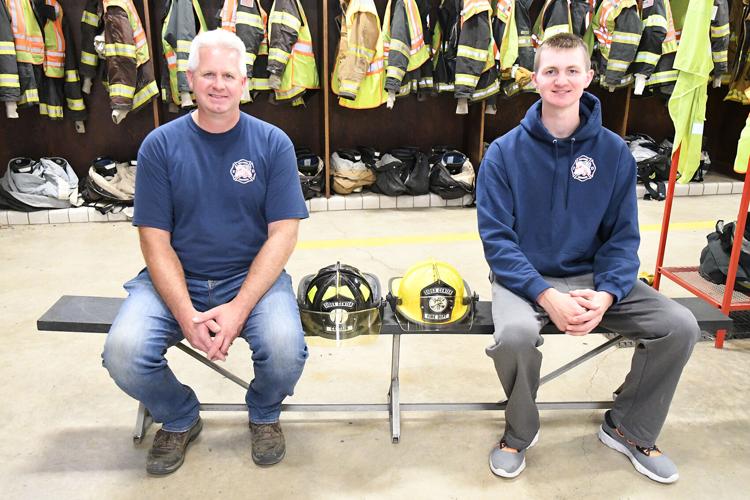 "We don't get to drive the truck, but I'm not sure I'd want to just yet," Karter said. "I've just started. I feel like I might know a little more than others with my dad having been on the department, but doing something and learning it for myself is different from just knowing things through what my dad did.
"I've wanted to be on the fire department for a long time, this is my way to get to do that," he added.
Kent joined the fire department 19 years ago with his brothers-in-law, Curt and Alex Van Voorst, who are still on the fire department.
"I saw it as a service to the community," said Kent, who works for Pioneer Seed. "It's something I knew would take time but could be a way to help the community."
The junior firefighter program has been a part of the department for longer than Kent can remember and it's something he told his three children about but said the choice was up to them to join.
His oldest son, Kaeton, made that choice in the past. Now, Karter's made that choice.
"It's exciting to see them want to be a part of the department," Kent said.
"It's not really about spending time together either because we're always doing different things during the trainings," Karter said. "I wanted to see for myself what it was like to be on the department."
Junior firefighters become part of the team.
"That's what I've enjoyed about being a member of the fire department — the fellowship and family feel," Kent said. "Anytime there's a bad call or bad accident, that makes the job tough, but we work through it together. That fact that we're all volunteers yet, too, I think is a testament to the community as well."
Offering the junior firefighter program has been a great recruitment and training tool for the department, too, as some of the junior members have gone on to be full members of the department.
"Some have taken a break in college and come back, and other junior members have gone on to be volunteer or full-time firefighters in other communities," Kent said. "What it teaches, I think, is that being a firefighter is committing to more than just responding to fire and rescue calls. We're a very active fire department and we have high expectations for members to attend meetings and trainings, to participate on committees, to put in the training hours and help work together to maintain the equipment. And we do it because we enjoy it. It takes work, but it's rewarding."