SIOUX CENTER—Sunkissed Tanning in Sioux Center has new owners and a new name as of Dec. 1.
Phil and Wendi Kats of Sioux Center purchased the business from Dan and Breanna Vreugdenhil of Sioux Center.
The couple hope to have signs for the business' new name, 1:16 Sun Salon, up soon.
Wendi, 48, is no stranger to the business, as she's worked at the tanning salon for eight years, first as manager for six years under previous owners Greg and Jackie De Jong of Sheldon and then as a part-time employee under the Vreugdenhils.
"Now I'm managing and I pay the bills," said Wendi Kats, 48. "That's a little terrifying but exciting too. I love coming here, especially chatting with our clients."
The couple renamed the business after one of one of Wendi's favorite Bible passages, Genesis 1:16.
"It's the verse about God creating the sun," she said. "We've been pretty blessed over the years. We wanted to make sure God had His hand in the name and our salon in general."
1:16 Sun Salon has 14 sun beds with three different levels as well as tanning lotions and goggles along with Advocare products.
With winter being her busy season, the only other changes besides a business name have been a fresh coat of paint in the hallways with plans to paint the rooms one at a time next summer.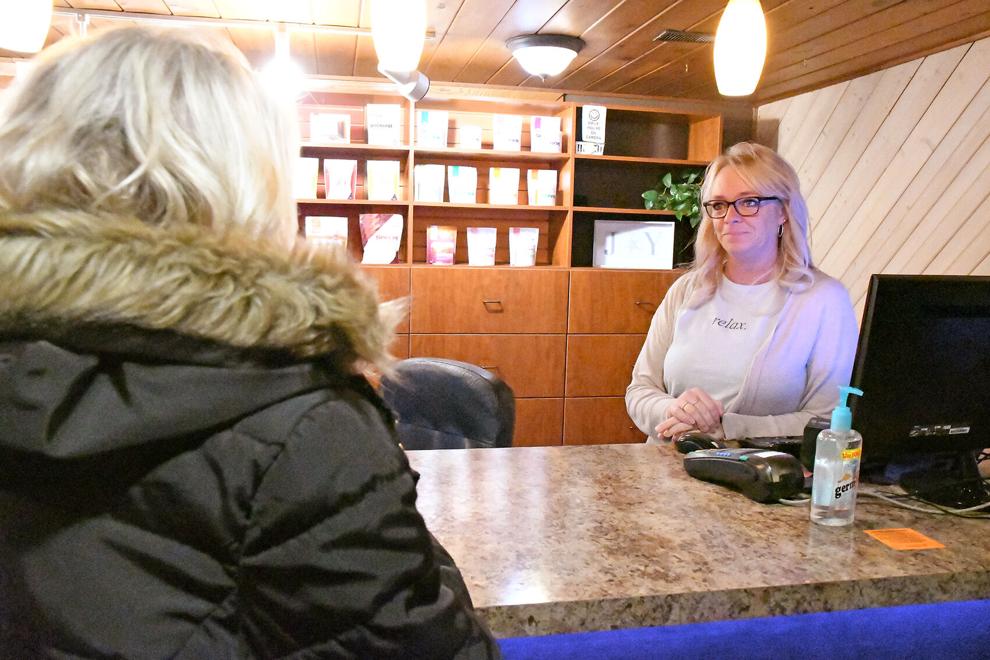 "It had been a darker color the whole time I've worked here," she said. "With our business being in a basement and having a new owner, I just felt it was time to lighten it up."
Though people interested in preparing for a winter vacation to a tropical destination make up many of her winter clients, Kats said the tanning salon has a growing number of clients who come in during the winter not for the tan but for treating seasonal depression.
"That dose of light, of vitamin D, they say is so helpful," she said. "One man, who started coming last winter and only comes in the winter, said he struggled to get out of bed before he started coming. He said in the summer he feels like a million bucks, but in the winter, just knowing he can come in here makes getting out of bed easier."
Spring break, prom, graduation and gearing up for summer makes spring her second busiest season.
"Then I have some clients who only tan in the summer because they work inside all day but want to be on the lakes for the weekend," she said. "Getting to know the people — what they enjoy, what they do — makes this job so much fun. The relationships draw me here.
"I might be a chatty people person so I love the conversation. That's the fun part about when it's busy, I get to see more people. In the summer I don't have as many people but get to know them better. It's a nice mix."
When she was approached by the Vreugdenhils to consider buying the business, Kats said she certainly took some time to think about it.
"I had to do a lot of praying," she said. "Originally I had wanted to go down to part time a while back with kids getting married, but I found out it was too early. I missed this place. It's so much fun to be back full time."
With her husband on board to provide computer and technology assistance, a son helping with maintenance and a daughter-in-law training to help out with customer service, Kats said owning the business as offered the whole family a new way to work together.
"We've had some people come in lately who've never tanned before," she said. "We're thinking through some things to help that continue or bring in others in the future. I enjoy teaching new people how to tan smartly. I look forward to getting to do what I enjoy."