SIOUX CENTER—Kelsey Kramer expected to have her soldier home for the Fourth of July.
What she didn't know is that Sgt. Shane Kramer was able to come home a few weeks early from his nine-month deployment to Kuwait.
"It feels beyond good to be back," said Shane, 28, of Sioux Center. "How I came home made it even better."
His wife, 25-year-old Kelsey, thought her outing Saturday, June 15, to 4 Brothers Bar & Grill with her father, Randy Haarsma of Sioux Center, and mother-in-law, Linda Kramer of Magnolia, MN, was just that — a fun supper out.
"That's actually my parents' anniversary," Kelsey said. "Shane's mom texted me that morning saying she wanted to come down to take my parents out for their anniversary and that I was welcome to come along. My mom wasn't around, but his mom still insisted on going out to eat. She said she had to go to Sioux City, it still fit in her plans so that's what we did."
Kelsey didn't think much about their booth seated near an exit. She wasn't even sure why the waitress returned to their booth with a package.
"When my mother-in-law got up with her phone, I thought she wanted to take a picture of me opening up the package," Kelsey said. "Then I noticed a waitress with her camera out — and there was Shane! But he made me look what was in the package before I could give him a hug."
"I winged it and it worked, for the most part," Shane said, smiling. "I was so happy [restaurant owner] Klint Kass was willing to let me do this surprise.
In the package was a T-shirt that said, "Outta my way. I get my soldier back today."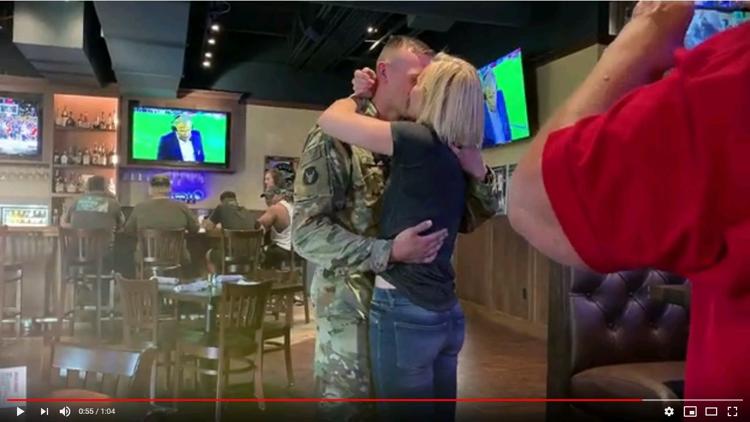 Deployment
Shane was one of more than 650 members of the National Guard's Rosemount-based 34th Red Bull Infantry Division deployed from St. Paul, MN, in late September 2018 in support of Operation Spartan Shield. The soldiers, who come from 220 communities in Minnesota, Iowa, Wisconsin, and North and South Dakota, were based in Kuwait.
The group first headed to Fort Hood, TX, for about a month of premobilization training, then shipped out for a nine-month stint in the Middle East. They returned to Fort Hood the first week of June for demobilization follow up.
This is Sgt. Kramer's second deployment. Operation Spartan Shield was different from Kramer's previous deployment in 2011-12. He said in this type of deployment he had the opportunity to develop leadership skills, to teach, coach and mentor the soldiers around him and learned from the soldiers around him.
Shane worked as part of a Signal Corps, which creates and manages communications and information systems such as internet and satellite feeds for the command and control of combined armed forces.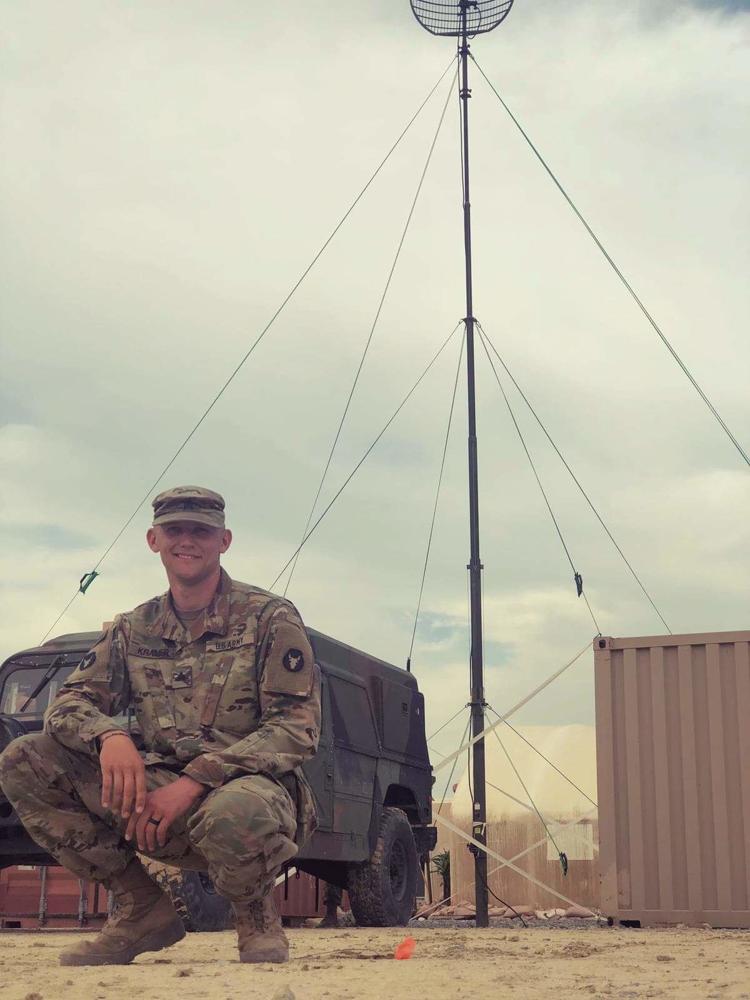 "We work really hard in the beginning to set everything and then you're like a lifeguard of the military — you wait for something to happen," Shane said, noting his unit also supplied other units throughout the area of operations with same assets like internet via satellite.
Kelsey admits to being a bit anxious about her husband being deployed.
"It wasn't easy. The holidays especially were hard," she said.
But technology made almost daily communication possible for the couple despite the eight-hour difference between Iowa and Kuwait. Most of the couple's communication happened via text through WhatsApp, a messaging and voice over IP service owned by Facebook.
"It was so much better than my first deployment," Shane said.
"Shane being gone was very hard but also very humbling," Kelsey said. "When they say distance makes the heart grow fonder, I 100 percent agree with that. I appreciate him so much more. I realize how much I enjoyed him being around, how much our relationship means to me. We're really close anyway, we do everything together."
Summer trip
Now they're packed and ready for a two-week vacation the first two weeks of July before Shane's six weeks of advance leadership training in Georgia to start mid-July.
"Because I'm attending that, I was able to come home a little early," Shane said. "I knew I was going to be selected to come home a little earlier because of the schooling. It was hard to keep that a secret."
---
WHY JOIN?
Shane knew upon signing up with the Army National Guard in January 2009 that deployments would be part of his future. He remained motivated "to be part of something bigger than himself," he said.
"I had a ton of reasons why I wanted to join the military, the main ones are that in high school I didn't have a whole lot of consistency," he said. "I thought the military could help me with that. And also provide a sense of purpose, drive, pride, selflessness."
While in middle school, Shane made a promise to a cousin.
"I had a cousin who always pushed me to be the best I could be. He died when I was in high school," Shane said. "Joining the military is making me into someone he would have wanted me to be. I keep doing it to make him proud."