SIOUX CENTER—There will be no summer break for the Sioux Center Sack Pack Program.
That's because the group will continue to provide meals for children in need throughout the summer months, something it hasn't been able to do before.
According to Sioux Center Sack Pack Program board member Jean Ellis, the idea behind the program is simple: to provide a couple of meals for children during the weekends, when school lunches are no longer an option.
There are no rules for who may receive a sack pack, no qualifications to meet. It's simply a matter of signing up, with the understanding that names are kept confidential.
Items included in the meals are simple and the few that require cooking are as simple as it gets.
Included in the sacks are a carton of apple of apple juice and a carton of fruit juice, either a cup of Jell-O or pudding, a cup of applesauce or a fruit cup.
A packet of macaroni and cheese is always included and they receive ramen noodles, oatmeal, a granola or cereal bar, raisins, a snack pack and a microwaveable bag of popcorn.
Each bag of prepared foodstuffs costs between $4.50 and $5.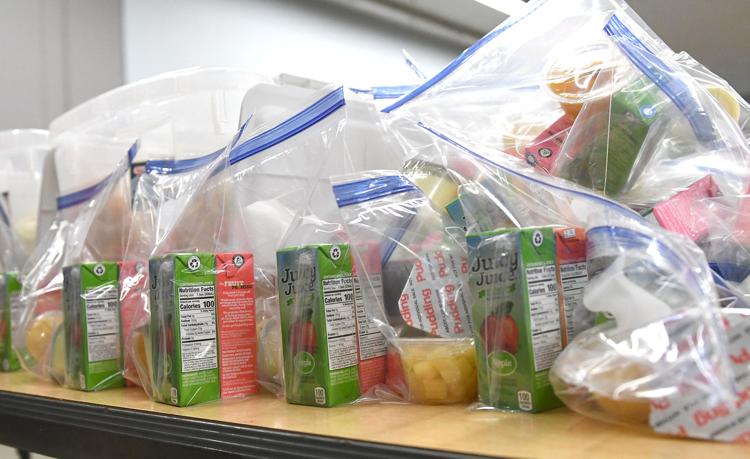 These sacks are then dropped off at the school buildings, including the preschool buildings and Sioux Center Christian School.
As Ellis can say from her years of experience with the Sioux Center Sack Pack Program, "It takes a village to feed our kids in our community."
Of course, the distribution has changed as a result of the coronavirus pandemic. Ever since the schools closed their doors in mid-March, the Sioux Center Sack Pack Program has brought their packages on Fridays to the three meal distribution centers the Sioux Center School District has set up.
"Now that the school has decided to continue with lunches in the summer, we decided we wanted to continue doing Sack Pack," Ellis said. "In the past, we hadn't been able to figure out how to get food into kids' hands during the summer. Now we're able to do it."
Usually, 12-15 volunteers help pack the lunches twice a month, but the coronavirus has changed that too. Now, they've cut back the lunch packers to just the board members, who number about 10.
Even with the fewer hands, they've put in hard work to pack the 270 meals every week.
The main challenge the program faces is funding, especially after its main fundraising event — an annual springtime auction put on by Hunter Free Kids of Sioux County — was canceled due to the coronavirus outbreak.
As a May 18 post on the Sack Pack Sioux Center Facebook page explains it, funds are going to be particularly needed this year to provide the additional expense of summer lunches on top of their usual work during the school year.
Donations can be:
 Sent to Sioux Center Sack Pack Program, PO Box 27, Sioux Center, IA 51250.
 Dropped off at Kroese & Kroese, 540 N. Main Ave., Sioux Center.
 Dropped off at Peoples Bank, 1701 S. Main Ave., Sioux Center.
 Done through Venmo @SackPackSiouxCenter.