SIOUX CENTER—An opening day is in sight for Children's Park.
Sioux Center Parks Department officially plans to open the park and begin offering shelter house rentals Sept. 1.
A tentative Sept. 10 ribbon cutting ceremony is also in the works for a project that's been a year in the making. Wet weather in the fall and spring plus scheduling conflicts in the spring for general contractor JR Construction of Sioux Center pushed the original June 1 opening date back by three months.
The main delay has been getting the parking lot and new bike trail head lot paved, which happened last week.
The new paved parking area will have 79 parking spots with 10 of those being handicap designated.
"It's a big relief to see the concrete go in," said city parks director Lee Van Meeteren. "From the parks standpoint we're really excited to open this park again. We view the shelter house as multigenerational facility and we're hopeful to get 50 years out of it like the last one."
The new climate controlled, 3,600-square-foot shelter house can seat 110 people and includes a kitchenette, bathrooms and classroom space for Sioux Center Arts.
"We're excited about this because this gives Sioux Center Arts home, a destination that all things arts have a space," Van Meeteren said. "They'll be able to use their space even if there's a rental of the other space going on. Or, if the arts department needs a larger space for a class, they can move out into the larger area if it's not being used."
A new bike repair station complete with bike rack, tools and an air pump to fix up is also in place along the new trail head in case of a repair need on the trail.
Van Meeteren said construction of the second park bathroom is set to start this week with the goal of wrapping up construction before winter.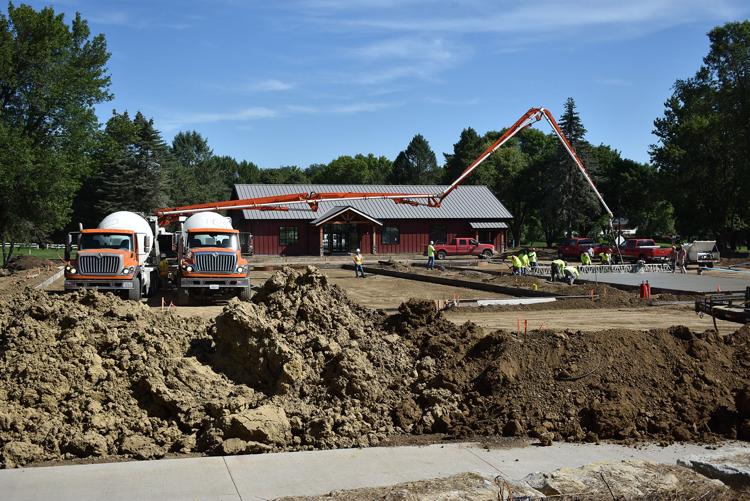 Landscaping and lighting are also being worked on this week and the days leading up to the park's opening.
The west shelter house, which has been closed for more than a year due to its dilapidated condition dates, back to the 1960s and will be torn down.
Building a new shelter house, parking lot, bathrooms and trail head is phase one of two for renovation plans to Children's Park. Phase two for next year includes updating the open shelter houses, park equipment and the disc golf course.
With 19.6 acres, Children's Park is the community's biggest park after Open Space Park.
"To have that vision from council and management to allow the parks department to do this park remodel says a lot about their vision for Sioux Center for continuing to grow our green space," Van Meeteren said. "I view it as getting people out into the community and connect. That's how you connect when you share a space and the continued support for the parks system, its playgrounds and keeping it all updated is a testament to Sioux Center."