SIOUX CENTER—For a decade, Marv Maassen has stayed busy giving new life to old spaces through his business, Maassen Makeovers.
The 60-year-old Maurice native wasn't always thinking about starting his own remodeling business. Marv didn't start construction work until he began going to Sioux Falls Seminary in 2007. He had plans to get into the ministry and did some work with Rise Ministries in Sheldon.
These days, he continues to do ministry work with inmates at the Sioux County Jail, something he's done for 11 years now.
But while Marv went to seminary, he spent his days off working with Signature Builders in Sioux Center, with many of the people there serving as mentors to him.
At the same time, his wife, Jacki, had her own home decor business Accents, formerly located in downtown Sioux Center.
With her eye for design, this work suited her, but some of the customers would request a few simple jobs to be done, such as removing wallpaper in the kitchen or touching up a wall.
It was Marv who ended up taking on those small jobs for two years as a sort of extension of Jacki's decor business.
In 2010, they decided to make this its own business: Maassen Makeovers, with the motto of "Wall to wall, we do it all."
They lived up to that slogan, too, taking on jobs ranging from concrete work to drywall to countertops to landscaping.
There are only two jobs Marv doesn't take on any more: laying carpet and shingling.
At first, there were worries about how much work would actually come in.
"If we were going to do this thing, then it needs to fill our schedule. Otherwise, what would I do if we have a slow time?" Marv said.
That hasn't been a problem for the business, thankfully.
As Jacki said, "God has blessed us. God has blessed Marv with tons of work."
Jacki helped out with some of the work, but since then, she's taken up real estate work with Vision Reality. Jacki has been in real estate for five years.
Marv operates in about a 30-mile radius, since he doesn't like to drive for work longer than that.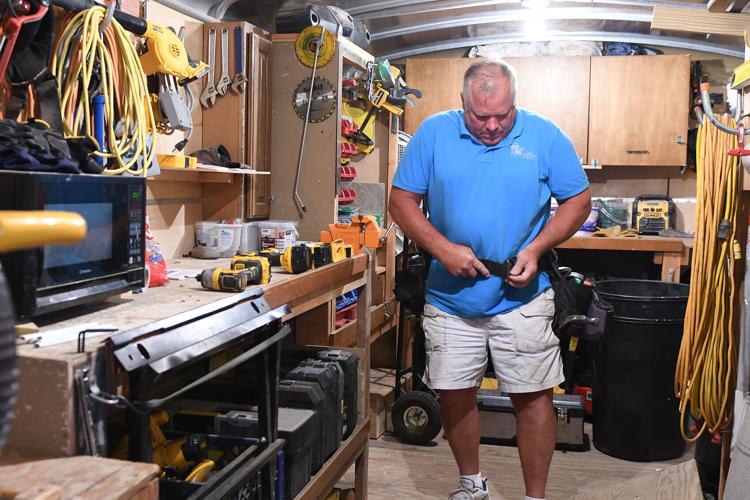 They had been doing this while living at the farm, Maassen Dairy near Maurice. As it turned out, most of the work he had was in Sioux Center, so he and Jacki decided to make the move to Sioux Center in 2014.
Marv has used his home as an opportunity to try out different techniques and ideas before implementing them for another client, such as when he installed a walk-in shower in the finished basement.
Maassen Makeovers has three part-time employees, and Marv is content with the size of his company and the amount of projects he takes on.
"At my age, I don't want to bother with the manpower it takes to do big projects," he said.
Two things have kept him in this line of work for more than a decade.
He enjoys working with the clients, collaborating with them on their projects and taking it from an idea to a finished space that fits their vision.
And then there are the projects themselves. With the variety of things he tackles, there's always something different to look forward to.
"What I do is a neat little market in the community, and I foresee doing this until I retire," Marv said. "I love all the different jobs, I love all the different people. I just love these options, that I can go and do something different."