SIOUX CENTER—One family's gift of a puppy to Partners for Patriots could make a lifelong difference for a veteran in need.
That's the hope of Teresa Dekkers of Sioux Center and her family after they donated Shadow, a black lab, from a litter of 11 puppies. The Dekkers family breeds puppies to help pay for tuition at Sioux Center Christian School and Unity Christian High School in Orange City.
A relative of Dekkers introduced her to Partners for Patriots and its search for puppies to pair with a veteran in need.
"When we had our big litter and there wasn't a lot of interest in the puppies, my husband and I decided if we had one or two that seemed like they'd be a good fit for this that we would donate to Partners for Patriots," Dekkers said.
Partners for Patriots is a nonprofit organization that obtains, trains and gives specially trained service dogs to disabled veterans, free of charge. Although it began in Tennessee, it's now based in Anthon.
Training dogs to aid veterans who have post-traumatic stress disorder is one of the hallmarks of Partners for Patriots; However, the dogs can be trained to assist with a variety of disabilities, such as mobility issues, according to its website, www.partnersforpatriots.org.
Trained dogs can help owners with balance issues or retrieve dropped items, help the owner get out of a chair, open doors or take off shoes, socks or jackets.
Citing statistics, Partners for Patriots says every 80 minutes in the U.S., a veteran with PTSD commits suicide. For vets struggling with PTSD, a trained dog could be a lifesaver, giving Partners for Patriots its mission.
With that in mind, Dekkers is excited about the one of her dog's puppies being a part of someone's healing journey.
"Part of the reason we wanted to donate a puppy was because we're grateful for all the people we know and their families who have sacrificed so much by joining the military," she said. "It's one way for us to say thank-you for their service."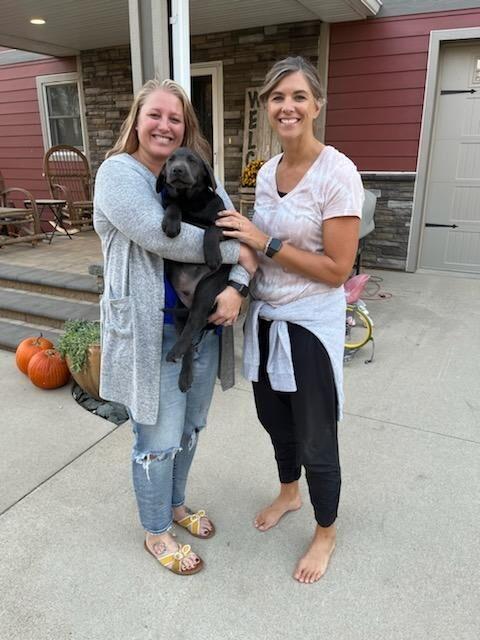 Shadow, now 12 weeks old, was given to the Mosterd family of Sioux Center to raise and train for the next 13-15 months, depending on his development and progress.
Despite being avid dog people, Kayla Mosterd and her husband, Nate, said don't have much dog training experience as the family acquired their two dogs when they were already mature and trained. One is a black lab and the other is a beagle, both 9 years old.
Kayla had come across a shared Facebook post from Partners for Patriots vice president Gerry Holtrop of Hospers requesting puppy raisers. It caught her attention, and she followed up with Holtrop to learn about Partners for Patriots.
"We talked for a good hour about it and then I talked with my family," Kayla Mosterd said.
Together, the family is working on getting Shadow potty trained and crate trained.
"They want the dogs to be comfortable going in there and sleeping but then eventually able to leave the door open so if the veteran is struggling in the middle of the night with a dream, he can come out and comfort the veteran," Mosterd said.
Basic obedience and the ability to fetch a number of everyday objects such as a dropped wallet without leaving bite marks are other things the family is going to work on with Shadow.
The other important task is to get Shadow acclimated to wearing service vests and to distracting environments with lots of people or even other dogs.
Kayla said with three active kids, there will be plenty of opportunities to work on that with Shadow.
"Once he's older and potty trained, we'll start taking him along to restaurants and getting him situated. We're told they like the dogs to be able to sit for an hour and a half, two hours, just lying on the floor of the restaurant. We'll see how that goes because my kids don't even sit that long," she said, with a laugh.
Although the Mosterd family hasn't had Shadow for long, he's been a good learner so far. There have been a couple things he's a bit stubborn on, however, such as going on walks. Once they get him on the leash, he'll take hold of the slack and stop.
"It takes him a bit of coaxing to get him to go, but once he gets going, he does pretty well," Kayla said.
After his 13-15 months with the Mosterd family, Shadow will go on to Cindy Brodie, co-founder of Partners for Patriots director and lead trainer. With her, Shadow will receive some additional training and a final test to see if he's ready to be paired with a veteran.
Mosterd has gotten a lot of questions from people about how things will go once it's time for Shadow to move on. She expects it will be hard, especially for the kids, but it'll still be worth it.
"If we shy away from stuff that's hard and we don't teach our kids to do something that might be hard but in the long run will benefit someone else, then what are we doing? This is giving us an opportunity to show our kids that's OK to do something hard," Mosterd said. "It's not easy. We have three kids and three dogs. Mornings are crazy before school, but it's giving them a responsibility and an opportunity to someday consider helping others."