SIOUX CENTER—As of Jan. 25, Pella Corp.'s Sioux Center plant has taken on production of casements for one of the company's most popular lines: the Lifestyle triple casement window.
Casement windows are hinged at the sides and swing outward, opening and closing with a crank that folds away when not in use.
Denny Van Zanten, Sioux Center's plant manager, said this top-selling wood line was being produced at the company's home factory in Pella but increased demand for additional products to be manufactured at the Pella site led to the decision to move the Lifestyle triple casement window line to another plant.
Sioux Center was chosen to take on production of the line for a number of reasons, including its excellent team members, open floor space and the factory's success in hiring.
"This is one of the most impactful things to happen to Sioux Center in the plant's 20-year history," Van Zanten said. "It is truly a watershed moment on our timeline. Our team is honored to be producing this product for Pella."
He explained that the Lifestyle triple casement line is a trendy, in-demand product that has some of the most desired features and options homeowners are looking for when purchasing windows.
Pella Corp.'s website describes the product line as being the No. 1 performing wood window for energy efficiency, having sound resistance and value, having three panes of glass and has blind and shade options for between the glass.
Moving the production of a product line more than 250 miles across Iowa was no easy feat. The first phase began in early 2020, when 55 pieces of equipment were moved, modified or created to support the move from Pella to Sioux Center.
"Our team has embraced the 'We can do it' attitude, which has allowed us to make this transition as efficiently as we have," said Aaron Fink, the Sioux Center Plant's senior engineer.
The second phase started Dec. 23 and was even larger than the first phase. Ten truckloads of equipment came from Pella to Sioux Center, which was installed in January and was up and running by the targeted Jan. 25 deadline.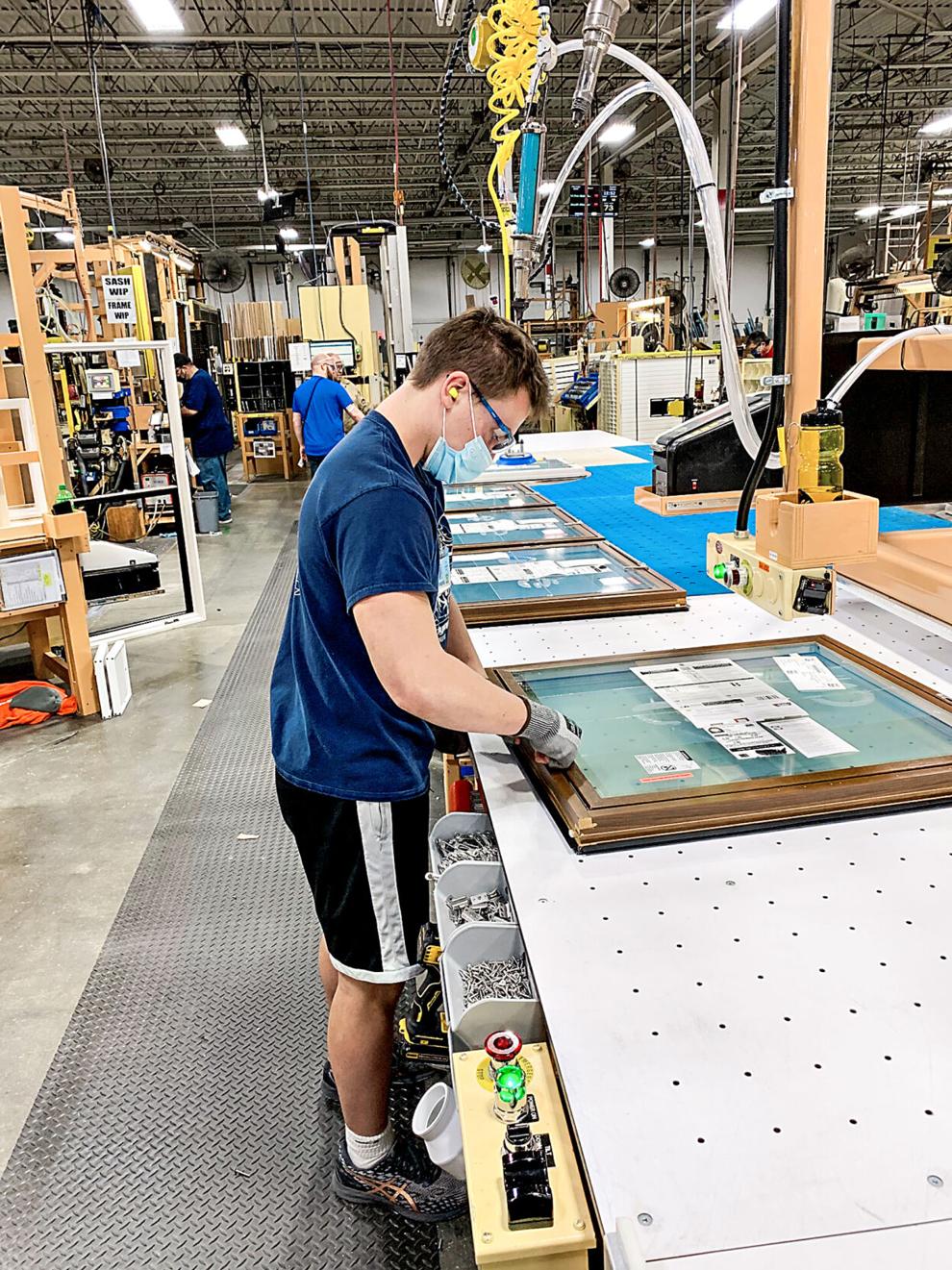 "Moving large sash assembly machines were some of the biggest challenges," said Brad Van Berkel, another one of Sioux Center's senior engineers. "It took three semis to carry each SAM to its new home where they were reassembled and requalified for service. We had to work around two snowstorms in late December, but the team was definitely up to the challenge."
While the Sioux Center plant had a little open space, Van Zanten said the equipment for the product line was installed in a lot less square footage than it had in Pella.
"So we're about full in terms of equipment," he said.
Additionally, there were many training trips back and forth between the two plants for workers learning the new production process.
"It has been an amazing effort between the Pella and Sioux Center teams," Van Zanten said. "Everyone focused on making sure each team member received the necessary training to achieve the goal of making the move successful. We have excellent team members in Sioux Center, and this move has created many new job bid opportunities for our current team as well as creating 50 more job openings for new hires over the next few months. The Pella site has been hiring as well, so this is a true win-win scenario."
Pella's plant in Sioux Center has been hiring to fill the new positions created by this move and will continue to hire throughout the first half of 2021.
The transition comes as Pella's Sioux Center plant reached another milestone, too. The year 2020 marked the plant's 20th anniversary, having opened in Sioux Center in the fall of 2000.
Van Zanten said the business set up a various tables and brought in about 14 different meals to allow employees to celebrate in a socially distant way due to the coronavirus pandemic regulations in place.
"It wasn't an ideal way to have a party, but we wanted to do something to honor the work of our employees and the milestone of our plant," he said.
The Sioux Center plant originally made just one product line — the architect series casements. About a decade later, it added the Lifestyle dual-pane window casement product line.
In 2019, Pella Corp. redesigned another window series, renaming it the Pella Lifestyle Series triple pane.
Moving the production line for the Lifestyle triple casement window to Sioux Center may add about 50 jobs to the Sioux Center plant that has about 320 employees.
"Part of what's really cool about moving the line to Sioux Center is that we're adding people but also creating new opportunities for our team members who are already working here, Van Zanten said. "This creates the opportunity for our existing employees to seek a higher level job, a promotion or work in a different area or different shift. That's very exciting to me to give people a new opportunity to develop themselves and our company."