SIOUX CENTER—Deb Rensink of Sioux Center thought she had life figured out.
Then after more than 25 years working as a registered nurse, God unsettled her and led her toward ministry.
Thursday, Oct. 17, she'll officially be named the 2019 Addink Community Service Award recipient during Promise Community Health Center's annual "An Evening of Promise" celebration and fundraiser because of the work she's doing through a nonprofit ministry she began last year.
The award recognizes and honors an exceptional individual or family that makes volunteerism and community service a way of life.
Rensink, 61, began Whispers of Love, Hope and Joy primarily to serve the spiritual needs of women and children survivors of domestic violence.
"This is not about me," Rensink said. "What I do through this ministry is about bringing the light and love of Jesus into any and all encounters."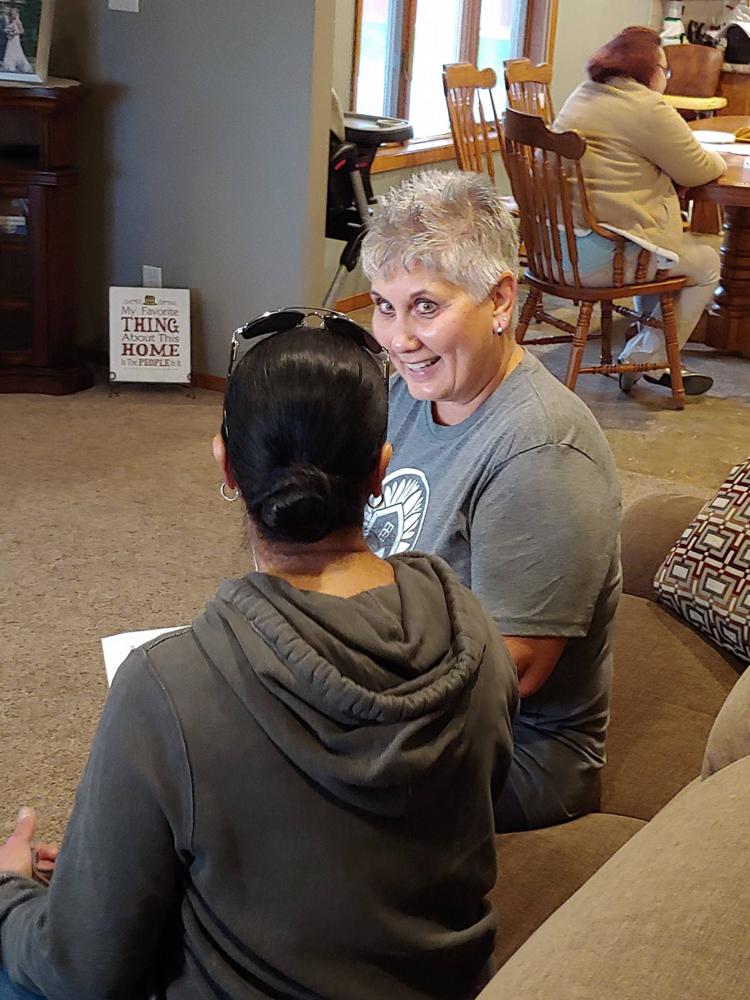 Rensink completed her master of divinity with the Reformed Church in America from Western Seminary in 2014. She served as director of outreach and service followed by congregational care pastor in two separate congregations in N'West Iowa, respectively.
"Through those brief experiences I felt as if my voice had been silenced as female clergy and there were some painful breaks," she said, "so I waited to see where God would lead me."
In June 2016 she heard stories from three different women in three different communities in three weeks that led her to where she is today.
"The first week, my (husband) Mark and I went to a fundraiser in Alton," Deb said. "A woman attending found out I was a pastor, and started sharing with me about emotional abuse she had suffered. She had spent time with her pastor, but felt that she hadn't been heard. She really felt injured from that encounter. A week later, Mark and I had gone on a bike ride and were putting away our bikes when a woman walking down the sidewalk stopped to talk with us. She shared about a family member who had been abused. She told me she didn't know how to navigate through what had happened, or how to find healing for the family member and herself. The third week we had gone out with two other couples. One began to share about a family member in an abusive relationship. Because they felt unheard and unsupported by their pastor, they had started to back off their church."
God had her attention.
"God used all of that — the feeling of my own voice being silenced but that I also have this spiritual gift of healing. That people open up with me. I knew God was calling me to work with abuse, but I didn't know anything about it. I grew up in a warm, loving home and always felt supported. I decided to see where it would go and just trust."
A meeting with Shari Kastein, the director of the Family Crisis Center based in Sioux Center, provided the lead she needed.
"Having the nursing background and believing in holistic healing, I have a need to care for people," she said. "The director shared about the Iowa attorney general asking its organizations to always seek out where it is that people aren't being served. In hearing that and learning more about FCC, they could meet the physical and social needs of survivors but not the spiritual. In that moment the holy spirit revealed to me that before the whole person can be healed, the whole person needs to be cared for."
After about nine months of conversations and searching for a ministry model that could help her meet the need of area survivors, Rensink couldn't find any.
"I became aware of a very large gap where there is no ministry to survivors of domestic abuse," Rensink said. "The church is very absent."
Rensink's focus through Whispers of Love, Hope & Joy is three-pronged: to provide spiritual care to the survivors and families, to spiritual care to the staff, advocates and others working alongside survivors because they, too, experience vicarious trauma, and educating pastors, lay leaders and congregations about domestic violence.
"As Christ's ambassadors, we exist to support survivors as they create new meaning for a wonderful life going forward," Rensink said, quoting her mission statement.
Her vision is to restore human dignity to survivors of intimate partner violence by offering hope, compassion and healing so that life sustaining skills are restored.
"It's a pretty robust vision when you think about it and all by one person at this point, but my dream is to have this replicated elsewhere because it's not happening," Rensink said.
Her work to bridge the gap between the faith community and survivors looks different every day.
Each week she hosts gatherings in her home for survivors. Other times she and her husband host fun outings around the community. Sometimes Rensink may be found within the halls of the Family Crisis Center, listening to the needs of staff and advocates or simply praying over them.
Much of the time she's on the road, meeting with survivors in their home be it in Sioux Center, Spirit Lake, Storm Lake or anywhere from which a survivor has reached out in search of faith-based support.
Though Rensink partners with the Family Crisis Center as a starting point to introduce herself to some survivors, she's continually working to find ways to connect with any survivor who is in search of such support.
Often, Rensink goes in to just be present with the people she works with, and provides a safe, calm, healing and prayerful presence.
"I just allow them to speak because for some of them they haven't been allowed to talk, and they need to find their voice again," she said. "I don't try to fix the problem: that's often not what they need from me. I'm just present with them wherever I find them."
She holds to the guiding principles she has developed: offering compassion to the brokenhearted, healing for the hurting, dignity in the darkness and hope for the hopeless.
Those principals led to the second annual vehicle service day Saturday, Oct. 12.
Last year was the first time Whispers of Love, Joy & Hope, ATLAS of Sioux Center and a Sioux Center-based men's Bible study group partnered to put on the event. Twenty-two vehicles were serviced at Rensink's farm, while the women were given a tutorial on how to take care of their vehicles.
"We wanted the women to feel empowered when they left us, and know that they would be safe in their vehicles," Rensink said. "It was very humbling to see some of the cars. We realized how blessed we are to have men in our lives who aren't abusive and make sure our vehicles are in good shape."
A total of 18 vehicles were serviced this year thanks to donations of oil from Co-op Gas and Oil and Arnold Motor Supply. A $2,500 grant from America's Farmers Grow Communities (sponsored by the Bayer Fund) was used to provide winter survival kits to the survivors of abuse.
Due to illness and weather, the numbers were lower this year. However, the volunteers were able to do some tire rotations and make some additional vehicle repairs.
"It was quite the morning. Made my heart sing with praise," Rensink said. "It's great to see the way survivors have connected and how people are engaging with each other through this event and others. We can't do life in isolation. When women leave a bad situation, they often lose their support network and need to find a new community. Even though what they go through is so horrific, they need to know God knows their heart, and all of the pain will pass. With God's help, we can help them build a better life."
---
AWARD NOMINATION
Pastor Deb Rensink of Whispers of Love, Hope and Joy was also named the 2019 Addink Community Service Award recipient.
Rensink was nominated for the award by Kelsey Vande Berg of the Family Crisis Center. Vande Berg is grateful for the support Rensink provides to their clients and staff.
"Pastor Deb frequently hosts dinners at her home for holidays, since many of our clients may not have somewhere to go," Vande Berg wrote. "She answers phones at our main office weekly, which is a huge need we have right now! She helps clients move out of housing when they're ready to go, tapping into her connections in the community to get trailers, moving companies, or just more people to help them move. Pastor Deb has even opened up her home to clients when needed. Pastor Deb fills so many roles that our staff are not always able to fill, due to time or budgetary restraints. She is an integral part of our team, and it's hard to believe it's largely volunteer work!"
"Volunteers bring together communities and enrich the organization and people they serve," said Amy Kleinhesselink, co-CEO for Promise. "Promise Community Health Center recognizes a volunteer each year with the Addink award as a way to express our gratitude and honor to all those who give their time."
The Addink Community Service Award was created in 2012 to recognize one individual or family who has made a positive impact on the community through volunteerism.
The award is named after Ken and Barb Addink of Sioux Center in recognition of their lifetime of involvement in community activities, including the establishment of dental services as Promise.