SIOUX CENTER—As of April 1, the Sioux Center Public Library launched a month-long fundraiser to help missionary and Sioux Center native Taunya Merilus begin a summer reading program.
All donations given through April 30 will support Kingdom Kids Ministry in Haiti being developed by Merilus, 44, and her husband, Garry, who live in Simonette.
"Each year during National Library Week, we would reach out to patrons to encourage those who support the library to donate funds for us to use for one of our programs, most often it was for the summer reading program, but this year we've already gotten so many donations — almost double what we've gotten the last couple of years — so when we were called about a partnership opportunity with Taunya, we felt led to do this," said Heidi Ouwinga, the library's administrative assistant and marketing and meeting room coordinator. "It's exciting to try raise money for others."
The library is also sharing its summer reading program resources to help Merilus, the daughter of Larry and Donna De Weerd of Sioux Center, develop her summer reading program.
Library staff also plan to promote Kingdom Kids Ministry throughout the summer alongside the local summer reading program.
"We're excited to try out helping another ministry, especially with books being involved," Ouwinga said. "And connecting our local library youth with another youth-based ministry fits perfectly with our summer reading theme this year of 'Reading Colors Your World.'"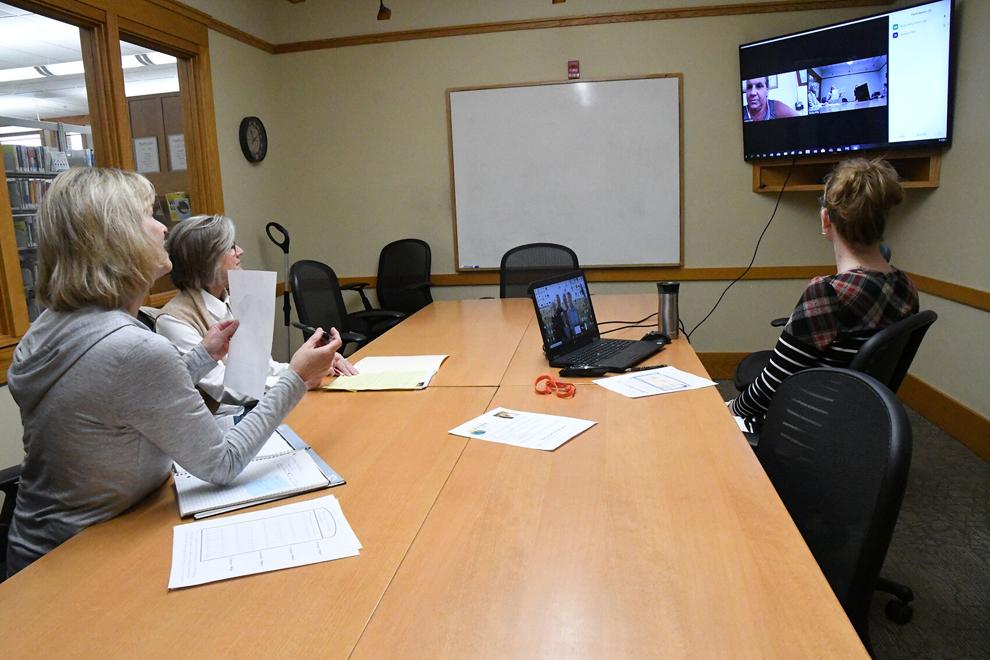 Kingdom Kids Ministry
Taunya and Garry have a desire to reach out to the children in and the youth in the Simonette community, with the main goal of creating an after school program that could transition into a space place for youth to also be at throughout the week during the summer.
"School finishes about 1 in the afternoon. We would like to have kids come to our property and provide a place they can receive help with their school work," Merilus said. "The students receive a lot of homework and often a parent isn't home to help or doesn't have time to help them. And if they don't keep up with their homework, it's hard for them to catch up if they get behind."
The couple's goal is provide tutoring and mentoring through their after school program along with a meal and weekly Bible teachings.
"We want to be a place they can create positive relationships, create a space that develops good community and where they can learn more about the Bible, about Jesus," Merilus said. "We're just ready to get started but still raising funds to prepare for kids to come."
Becoming a missionary
Before moving to Haiti in 2013, Merilus worked about seven years as a day care provider in Sioux Center. After the destructive 2010 earthquake, she traveled with Vi Bella Jewelry founder Julie Hulstein to Haiti. She found herself going back a few more times after that.
Then she connected with Dell and Renae Grooters of Rock Rapids, whose daughter was living in Haiti and had married a Haitian. The couple founded the nonprofit organization, Touch of Hope, to raise funding, in part, for an existing orphanage, Tytoo Gardens in Simonette.
The orphanage was in need of some manager help; it needed some people on the ground, and Merilus was asked to be one of those people.
Her decision was not made overnight.
"I prayed about it, but I think within about three months I knew I was going. I think it was the Lord just laying it on my heart and telling me to go. The Bible verse that says, 'Go and make disciples of all nations' stuck out to me. I loved my day care; I loved Sioux Center and the community, but all nations meant not just Sioux Center. I had to go."
2020 changes
The past year was a year of unexpected change for Merilus.
Her "biggest and most amazing change" happened Sept. 19, 2020, when she married Hatian Garry Merilus. At the wedding, closest family and friends were able to join in the celebration.
"It was a beautiful day," she said.
The couple moved into their home last fall.
Merilus is also in the process of adopting 8-year-old Kerina, who has been living in her care for two years. She prays for the adoption to be complete within the next six months.
She also stepped away from Tytoo Gardens.
"Garry and I have been asking God how He can purposefully use us in the lives of the Simonette community where we live," she said. "Some of the needs in the community we are feeling burdened by are the children and young adults needing mentoring and discipleship, kids needing a safe place to hang out and develop positive relationships, children needing help with their homework after school and, most importantly, the kids and youth knowing and feeling God's love for them and having knowledge of biblical truths God has for them."
That urgency for youth to find their identity in Jesus, knowing Him with their heart, mind and soul was seen deeply this past year.
"We believe the youth need to know God's plan for their lives is so good in the midst of the coronavirus pandemic, the ongoing unrest in Haiti and so much uncertainly in so many things in their lives," Merilus said.
New reading program
With hopes Kingdom Kids Ministry will become an official nonprofit soon to be able to launch its after school program yet this spring, Merilus is looking toward the summer.
It's the couple's desire to hire two staff to help with continued tutoring, operate a Vacation Bible School week and do a summer reading program.
"A lot of schooling is memorization so reading is not always enjoyable and is not something they're really accustomed to," Merilus said. "This would be a real wonderful transition to be able to offer our youth."
Part of the problem, too, is that children's books outside of school are hard to find, especially in their native language of Creole, and youth don't know or are not taught how to take care of a book, such as not leaving it outside.
"My hope in offering a reading program is that we can provide books on our property for kids to stay and read," she said. "Much of the schooling is done in French so to be able to have books in Creole and French would help the kids understand both languages better, help them comprehend it, not just memorize it. My hope is that kids can learn that reading can be fun too.
" … I'm totally blown away that my hometown library is offering to help in sharing resources but in offering this fundraising support," she continued. "It's such a blessing."