SIOUX CENTER—"No one ever came to grief through riding horses. No hour of life is lost that is spent in the saddle," Winston Churchill once wrote.
It's a sentiment that Cesar Sandoval heartily agrees with.
The 43-year-old lives for riding his horses. Owning his own horse has been the fulfillment of his American dream.
As a boy growing up in Barrio de San Juan Xoconusco in Mexico, he didn't have a horse of his own. But his grandparents did own horses, and that served as his introduction to them and to riding, using those horses to go all over.
"When I was in Mexico, I never thought I'd own a horse," Sandoval said. "We never had a car or anything like that."
He's made Sioux Center his home since 2004, and he met some men from Jalisco, Mexico, when he used to work near Hull. They shared his passion for horses.
"We started doing rodeos and shows, and I needed my own horse to do that," Sandoval said.
In 2005, he bought his first horse.
Through his hard work, Sandoval saved up and around 2013, he bought his prized horse, a Friesian named Secret. He keeps Secret and a quarter horse at the stable at the Bar-K-Cattle feedlot where Sandoval and his family live.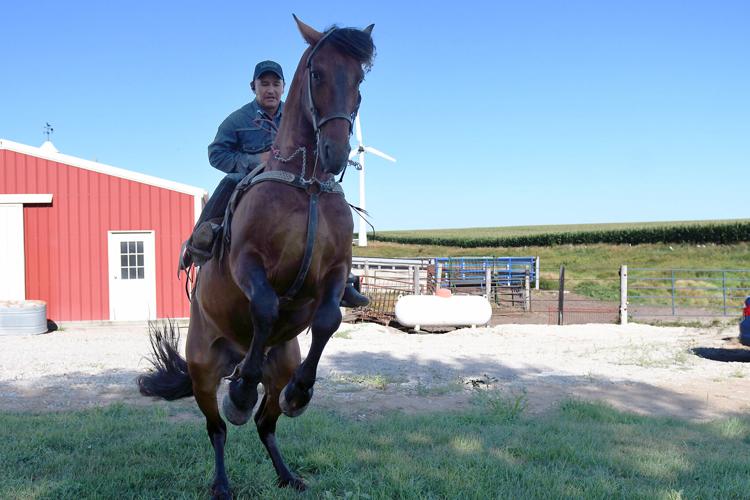 "I don't have more because these horses cost way too much money," Sandoval said. "They're expensive. Sometimes you got to tighten the belt to have something like this, but it's something I like."
Since Sandoval wanted to use Secret for performances and parades, he sent the horse off to be trained, which was a two-year process. But by the end, he got back a horse that was easy to work with, calm around traffic and crowds and could dance.
Secret has his own distinct personality. He likes to be babied, Sandoval said, and he enjoys attention and any chance to show off for others. He's also a bit mischievous and likes to take off his halter himself when left unattended.
Sandoval and Secret put on a lot of miles to perform at events. Together they've been in parades at Rock Valley, the Kansas City area, Storm Lake and to the Cinco de Mayo celebrations in Omaha, NE.
"When you go to these shows, people come to you and they talk to you, say nice things," Sandoval said. "I go to town, sometimes kids stop you and pet the horse. It makes me want to do that."
Secret has a long mane, as is normal for his breed. To protect the horse's hair between shows, Sandoval braids Secret's mane.
"It's a lot of work. It's not easy to have a horse. To do the braids, it takes me about an hour," Sandoval said. "Having a horse, I tell people, you have to ride it and use it. It doesn't make sense to have a horse and have it sit."
And there is a lot of expense that goes into keeping horses, from the food to shoeing.
"It's kind of like having another woman," Sandoval said. "But it's something you like to do. This is my hobby and what I like to do. I get off of work, I come here, saddle my horse and go to ride, come back and go home."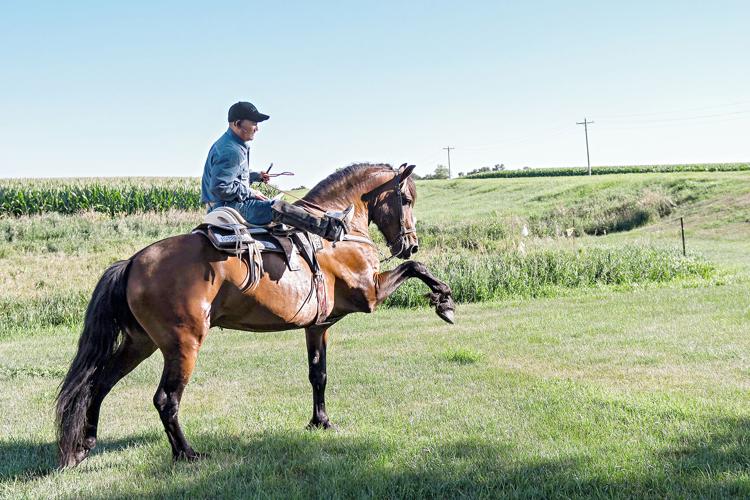 He doesn't need any encouragement to continue to ride. Sandoval makes riding a priority and takes Secret or his quarter horse out for a ride every day after work, so long as it isn't raining.
Whichever horse he uses, Sandoval goes on a 6- or 7-mile route that takes him into town.
He gets the occasional question about why he likes to ride in town, but it's something he can't really answer beyond the simple response that he just enjoys doing so.
"People sometimes think I'm crazy because I ride horse every night, but I don't get tired of it. I like it," he said. "Sometimes I stop by houses and dance my horse for people. It makes them happy."
So far, Sandoval has been safe using the roads, with one exception, when a teenager in a pickup tried to get another one of his horses to buck. Sandoval and his horse went down, and his saddle broke, but he was safe from any lasting harm.
Otherwise, people do a good job of sharing the road with him and his horses.
His passion for horses is something that's being passed onto his five children as well. This is especially true for his 3-year-old daughter, Zamar, who will cry for a chance to ride.
Sandoval still loves his home country, but he's also quick to praise America and the life that it affords him and his family.
"If I never came to the United States, I'd never have something like this," Sandoval said, adding, "When you work hard, you can have whatever you want. When you don't work, no matter where you are, you're not going to have anything. I work really hard, so that's how these things came. To tell you the truth, when people come to work, we can build our dreams and feed our families better. I got a lot of things from here."