SIOUX CENTER—The city of Sioux Center is moving into a new phase in its planned update of Highway 75.
"The project is moving along, right in line with I'll call a good timeline," Trent Bruce with DGR told the city council at its July 19 meeting.
Preliminary design documentation has been submitted to the Iowa Department of Transportation, he said, leaving the DOT to review the documents with state engineering standards and right of way issues in mind.
The next phase of the project will be finalizing designs and starting the right of way acquisition process, which will feature a public information meeting in August.
"I believe there are 119 parcels that the DOT is looking to acquire," Bruce said. Those parcels range in size from whole properties to as small as 20 square feet.
As for the design process, much of the focus at DGR has switched to focusing on improvements to the intersections along the city's Highway 75 corridor.
Starting on the south end of town at the 20th Street intersection by Pizza Hut, plans include a traffic signal to be installed. However, installing such a thing isn't just a city decision; it would also require approval from the DOT.
"That's the way we're presenting it," Bruce said. "If they don't allow us to put it in, and at this point we don't think that'll be the case, it'll at least be set up so that it can be put in because all the infrastructure will be there."
City manager Scott Wynja said the city has continued to press DOT for a traffic signal at that intersection.
"We were at the fire station tour today and it was mentioned another two accidents happened at that intersection," Wynja said. "It's being reiterated the need for a traffic signal. We keep pressing that."
On the east side of the highway between 20th Street and 16th Street, a wider sidewalk would be built to better accommodate pedestrian traffic.
"That 16th Street intersection, we are looking right now at what we can do at this intersection to facilitate more traffic movement as the community develops," Bruce said, adding, "As this area of town continues to develop, we would hope to incorporate some improvements into that area that will allow us to accommodate future traffic expectations there."
Across from 14th Street Southeast, the plans are to consolidate the accesses from the three businesses there: Advance Auto Parts, In Clover and State Farm Insurance.
"They'll come off at 14th Street with one access and provide access to all three of those properties," Bruce said. "The property owners have all been involved in those conversations and DOT has been as well. There are some details we're working through on that, primarily right of way related questions that have come."
Work will be done to undo the offset intersection of 13th Street Southwest and Southeast, a move meant to improve traffic safety.
"Obviously the traffic on 13th Street Southwest is not significant at this point, but in the future, it certainly could be if development continues in the southwest area of town," Bruce said. "That'll be aligned so we can accommodate those future traffic expectations."
There won't be much work in store for the Ninth Street intersection beyond installing a newer traffic signal. The one there is 16 years old.
"One of the things that we're trying to do along with this corridor is to link all of the traffic signals throughout town so that they're all on the same system. It's just part of the advancements in traffic signal technology," Bruce said. "One thing that will come into play with your particular system is that you have a really long corridor, so you won't see the interactive pieces you might see in other communities or on the internet because the distance between them is quite a bit."
Seventh Street Southwest has drainage issues and grading challenges that the Highway 75 project would seek to address. Across the highway at Seventh Street Southeast, it's proposed to close the street off to the highway. Conversations with DOT on that are ongoing.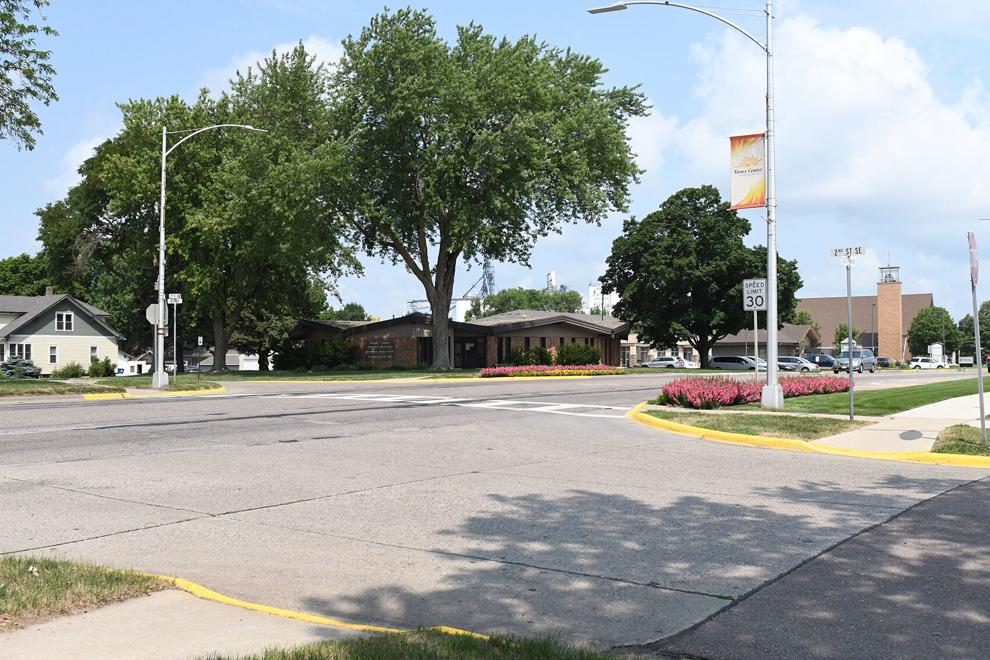 Turning restrictions will be put in place at the Second Street South intersection.
"This will allow for a southbound left turn only onto Second Street Southeast. You will not be able to turn left off of Second Street or continue straight through off of Second Street West to Second Street East," Bruce said. "That's the same concept we've been talking about. Nothing new has changed on that concept since we last spoke."
What is new is a similar plan for Fifth Street Northwest.
"As you travel north on Highway 75, you'd be allowed to turn left into Fifth Street Northwest. Again there's nothing on the east side, but you would not be able to turn north out of that street, but it will allow for traffic movement onto the west side of town," Bruce said.
Maintaining smooth traffic flow at the Seventh Street North intersection is another concern in the planning process.
New development just to the north of the intersection is also being accounted for, with particular attention on the access points to the highway. At the moment, plans call for a main entrance into the development across from Eighth Street Northeast.
"That's the summary of where we're at and what we're focused on right now," Bruce said. "There are a lot of little details we need to work through. We have about one year to do that."