SIOUX CENTER—Seeing pieces of her hair fall in front of her eyes gave Edy Van Essen a sense of relief Monday during her turn in the stylist's chair.
She hadn't had a haircut at Renae's Salon & Spa in Sioux Center since March 6.
"For a person with short hair, that's a long time," said the Sioux Center resident, noting she had an appointment changed twice during the eight-week closure. "The salon was wonderful in keeping me updated, rescheduling my appointment. It feels so good to get my hair cut. I'm smiling under this mask."
Her stylist, salon owner Renae Visscher, laughed behind her face mask too.
"It feels like a relief, a blessing to be open," Visscher said, pausing. "I'm getting choked up … It was fun to be home and yet stressful, knowing bills are still coming in while we're closed. It feels so good to be here."
Visscher has put in almost 12 hour days starting Friday, May 15 — the first day Gov. Kim Reynolds cleared salons, barbershops, massage therapy businesses and tattoo establishments to reopen in all 99 counties.
Those establishments are subject to capacity restrictions and guidelines that include social distancing and increased hygiene practices.
Salon customers are asked to wait inside their vehicle until their appointment time. Appointments are required; no walk-ins are allowed at this time.
Masks are also required. Renae's asks customers to bring one if they have one but also has some homemade masks available at the door. Also at the door is a contactless thermometer for taking a customer's temperature and hand sanitizer.
Only one parent may accompany their child during an appointment.
Customers are asked to wait to sit in styling chair until they're directed to do so by their stylist.
Customers also are asked to limit their personal items, including no food and drink.
Stylists are asked to use Barbacide to wipe down their stations and shampoo bowls before and after each client as well as clean the chairs a client was sitting in.
Every client must also be given a new cape.
Those and a list of other new precautions Visscher has put in place are intended to keep her employees and customers safe. They're also in compliance with social-distancing and sanitary guidelines required by the Iowa Department of Public Health.
Rescheduling eight weeks of haircuts or color appointments hasn't been done in Visscher's 35 years as a stylist.
"I took six weeks off for each of my three children but was able to come in doing my regular work after each," she said. "Now each of our stylists are working a lot of hours to get caught up. It's different working with these types of precautions but we all have hope that they're temporary and love being able to see our clients again."
Studio South Salon & Spa in Sioux Center also has many of the same precautions in place.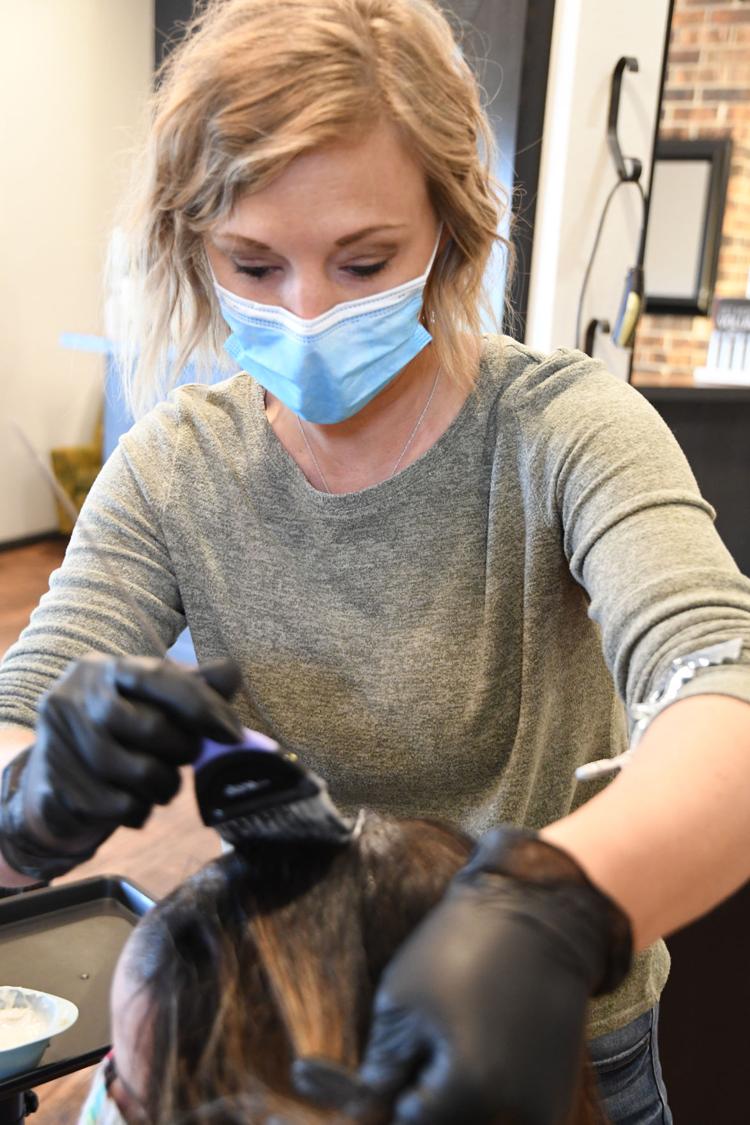 Stylist Abby Van Kley noted that she's texting clients when her chair is ready for them. This way she can also open the door for them to have one less contact point for her clients in the building.
She's also putting in 12-hour days this week to start catching up on clients seeking her services.
"Opening feels good," she said. "I'm cautiously optimistic that things are getting back to normal. While we don't know how long things will be different, we want to do what we can to help our clients feel welcome and safe."
After working 16 years as a stylist, Van Kley considers many of her clients her friends.
"I do this because I love people," she said. "We get to learn a lot about each person while their in our chair. I've missed that time and can't wait to hear their stories again."
Jennifer Lenters of Sioux Center, owner of Massage by Jen, opened Monday.
"Though I took a year off work after my first child, 10 weeks off with my second child and six weeks off last year when I broke my ankle, this was a different kind of 'break,'" she said. "Being told I had to be close and when I could be open is different."
A big difference is that she turned her massage room inside her home into a home-school classroom, which had to be cleaned up and sanitized before Monday's opening.
While procedures are still being tweaked, Lenters said precautions she'll have in place include wearing a mask while the client is face up as well as lots of disinfecting between each appointment as well as taking each client's temperature before their appointment.
If customers would like to wear a mask they are to bring their own. She's also messaging clients the day before to check in and make sure they are feeling well and haven't been knowingly exposed.
"I just want people to be smart," she said. "I miss my clients but I only want to see them if they're healthy."