CARMEL—Farming is always a stressful occupation, but the coronavirus has introduced a new wave of uncertainty to the crucial industry.
Farmers in and around Sioux Center have been impacted by the uncertain livestock markets, which were already downward before the restrictions, as well as the reduced operating hours and capacity at meat packing plants.
Stressed is certainly one way to describe 39-year-old Eric Van Roekel. A fifth generation farmer, he raises 600 cattle at his family's farm near Carmel and custom feeds about 3,600 hogs.
There are many unknowns about what the future will look like — whether it's the markets, packing plants — and that makes it challenging for farmers like Van Roekel to hedge their bets.
Van Roekel has talked about buying more calves, but there's no telling how much demand there will be by the time they're market ready.
"So, it's like we better stick with what we got," he said.
His cattle are about two months until they're market ready, but Van Roekel is changing his marketing plan to spread things out over four months.
As for pigs, he's had some loads canceled on him. The main thing he's done to minimize weight gain is to tighten the feeders.
Van Roekel has tried to stay focused on work rather than talking about the markets; talking about that kind of thing means you start to think too much about the negatives and just brings more stress, he said.
"The only thing I can do is prayer," Van Roekel said. "I hope I'm making the right decisions, and in the end, I'm doing the best I can. To me, the first three, four weeks was tough to grasp what's going on. Now, it's just a matter of we just got to settle down here and do the best we can. However the dust settles, we tried."
Van Roekel has looked at introducing new things at his farm, too, such as starting his own butchering operation. He's thought about doing such a thing before, but he's only begun researching all that would go into such an endeavor to see if it'd be worth the investment.
If anything positive comes out of this, Van Roekel hopes it spurs changes in how packing plants operate and maybe even how much producers get from them.
"We've built an industry where if one cog goes wrong, it ripples everywhere, to the consumer, to us farmers. It's pretty reliant," Van Roekel said. "We've said that for the last number of years where if something goes wrong, it could be a bad deal, and here we sit with this."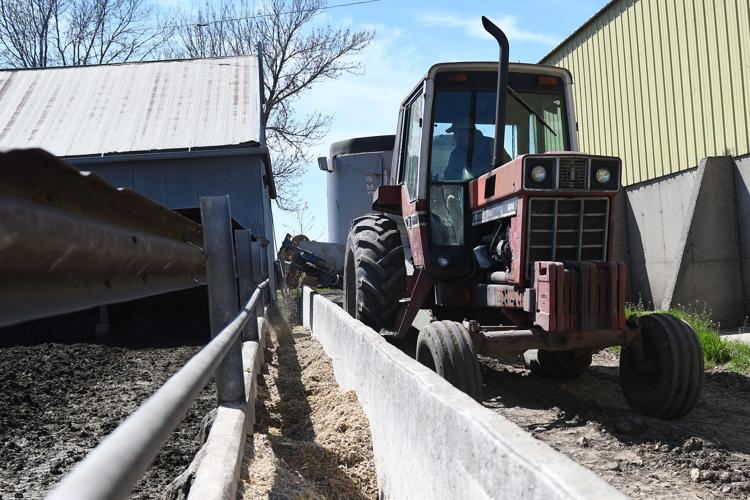 Pork important
According to the Iowa Pork Producers Association, in 2017 the pork industry alone accounted for 3,736 jobs in Sioux County, bringing in $1.4 billion in sales, $24.6 million in state and local taxes and $55.5 million in federal taxes.
Those same 2017 numbers indicate 413 hog farms in Sioux County, raising a total of 1.2 million hogs.
Tim Schmidt of Hawarden serves as the president of the Sioux County Pork Producers Association, in addition to being a hog farmer himself.
He manages a 225 sow farrow-to-finish operation.
The time that sticks out in Schmidt's mind is Easter weekend, when Smithfield Foods in Sioux Falls, SD, announced it would close indefinitely due to an outbreak of the coronavirus among its workers. With more than 800 employees, the plant remained closed for about three weeks before partially reopening last week, according to the Argus Leader.
By Monday, April 13, the markets really saw a hit, Schmidt said, but plants had been lagging before then, too.
"There were slow downs at many of the plants with absenteeism in the workforce. I've heard stories of loads getting canceled and a lot of them rescheduled for later," Schmidt said. "But things were slowing down, slowing down to the point where people were falling behind in their marketing and the plants were falling behind in their kills. That had been happening probably since about the third of March."
And farmers are left with few options for market-ready livestock.
For hogs, that means keeping them in the barns for a few extra weeks, increasing food and water expenses, in addition to other care.
"Guys are walking through and making sure everything is OK with them, and that continues every single day. Every day past that expected day of marketing is just added time and expense into that," Schmidt said.
Farmers have turned to several tricks to reduce the weight pigs are putting on in the meantime.
"A hog feeder has a bit of a gate that lets feed out at a certain level. They lower that down so it just comes out at a real trickle, and the pigs need to work a bit harder to get that out of there. They've got that down as tight as they can so that the pigs are still having their nutritional needs met but are having to work a bit harder," Schmidt said.
Increasing the temperature of the barns makes the hogs sluggish and reduces activity and appetite.
Fiber could be added in the diet, reducing the energy in their food. Likewise, cuts on protein could be made.
"I was talking with a producer who had a large number of hogs who were shipping directly to Sioux Falls. That was shut off," Schmidt said. "He's been able to move some of them to various other states, and basically, he's been able to get his trucking paid for, but ended up probably giving the hogs away. All that time, effort, labor and income he put in has gone for naught."
For any farmer or producer feeling overwhelmed, despairing or anxious, Schmidt suggested calling the 24/7 hotline, 1-800-447-1985.
Called the Iowa Concern hotline, it's an extension and outreach number by the Iowa State University. The corresponding website, www.extension.iastate.edu/iowaconcern, provides further resources.